In 2017, the Victoria & Albert Museum in South Kensington mounted a landmark, immersive exhibition, Opera: Passion, Power and Politics, which attempted to tell the 'story of opera' from its origins in late-Renaissance Italy to the present day. The title was a fitting one, highlighting the triumvirate of human emotions, desires and dealings which course through operatic dramas both historical and modern.
And, in none more so than Handel's Agrippina, a satirical take on ancient Rome which was composed in 1709 when the 25-year-old composer was in Italy, and which gave him his first operatic triumph. In the seventeenth and eighteenth century, opera libretti were often based on ancient historical characters and events, which interrogated human vices and virtues. When performed and received within an intensely political atmosphere, they must have invited audiences to make connections to, and see parallels with, their contemporary world. It's been suggested that Handel's librettist, the poet Vincenzo Grimani, who had been made a cardinal by Pope Innocent XII but who had nothing but contempt for the latter's successor, Clement XI, used the history of Agrippina, drawing on Tacitus and Suetonius, as a means of parodying the Church authorities in Venice.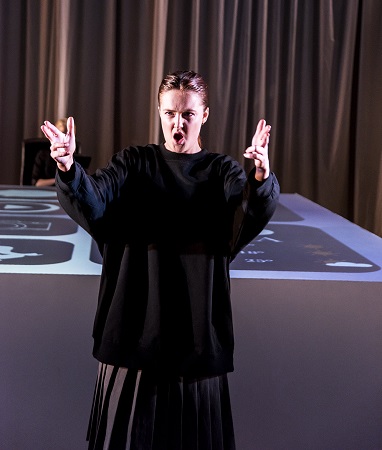 If the politics of ancient Rome seemed relevant in Handel's day, then the corrupt machinations, decadence and brutal power-grabbing of those Roman rulers certainly chime with our modern-day political landscape. Indeed, the historian Mary Beard has observed that the most common question she has been asked by journalists during the last few years is, 'Which Roman emperor is Donald Trump most like?'
For director Ashley Pearson, in the present day 'information is power'. And, so she sets Hampstead Garden Opera's production of Agrippina in Silicon Valley, on the 'campus' of a tech industry giant. The intrigues, as Agrippina schemes to instal her son Nerone as emperor, take place around and atop designer Sorcha Corcoran's large, square, white boardroom table which is itself a smart-phone interface. It serves as both raised stage and swipe-screen. The 'power' icon is firmly in the centre. Apps, emojis and text swirl across its surface and are projected onto the drop-curtains behind.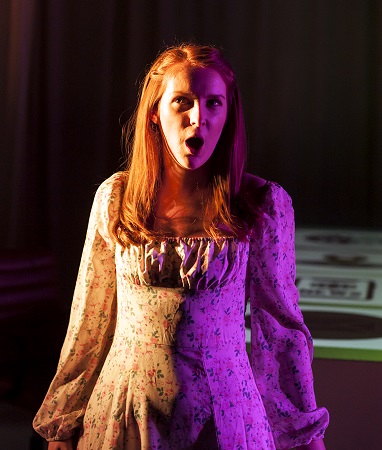 It's a neat concept, reminding us that political subterfuge and corporate power often go hand-in-hand, greed and the hunger for power being infernal bedfellows. I'm not sure, though, that Pearson fully captures either the tragic dimension which, in their arias, lifts the characters above caricature, nor the ironic irreverence of Handel's humour, though the latter does sparkle more wickedly in the second part of the performance – a 'Zen pool' is uploaded to relax Ottone, who is flummoxed by a blog about 'What women mean when they say …', and a weather-forecast rain cloud lingers loweringly over Nerone. And, the ending injects a note of darkness into the wit.
The production is double-cast, and at the performance I attended the young singers were consistently technically secure and dramatically engaging. Phoebe Rayner's doltish Nerone was a bullish adolescent, swinging between petulance, masculine bravado and over-excitement. Rayner's mezzo-soprano is richly coloured but agile and rhythmically precise too. She sailed through Act 3's 'Coll'ardor del tuo bel core', in which Nerone makes his passionate pitch for Poppea's love, with vigour, verve and brilliant tone. And, she was excellently supported by brisk and lively playing from the HGOAntiqua Orchestra conducted by Thomas Payne, with especially ear-catching contributions from the oboes (David Price and Grace Scott Deuchar).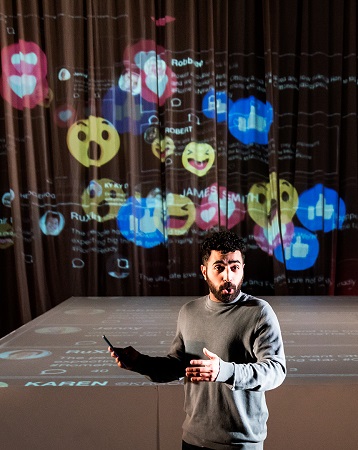 Welsh soprano Lisa Dafydd was a cool-headed Poppea, particularly in the scene in which Poppea hides several members of the Roman army in her apartment and makes them overhear each other's wooing of her. Dafydd enjoyed her role manipulating her male admirers, and negotiated her florid arias with agility, even tone, judicious vibrato and excellent breath control. The part of Ottone was originally written for a female mezzo-soprano, but today it is often performed by a countertenor, and here Eliran Kadussi was in beguiling voice, mischievously conveying the musical and dramatic irony, but also capturing the moments of pathos, as in 'Voi che udite' where Ottone pours out his sorrow at being accused of betrayal by his beloved Poppea and Emperor Claudius, whose life he had saved. I've heard Kadussi sing several times, in GSMD productions, and the sweet, full tone and stylish execution that I've admired on those occasions again offered much enjoyment.
The role of Claudius lies a little bit low for Jacob Bettinelli, but his bass-baritone is nimble and he projected well as the 'dimwit' emperor, more interested in women than ruling, who vies with Nerone and Ottone for Poppea's attention. There's some 'fussy/funny business' for Agrippina's two suitors, Pallante (Laurence Williams) and Narciso (Dominic Mattos), involving kneeling, a bouquet, and hand-knee-finger-lip routine, and it gets a bit tiresome, but both singers performed with accomplishment. Tenor Sonny Fielding made the most of the small part of Lesbo, becoming so infuriated with his inept masters that he quit with stylish indignation!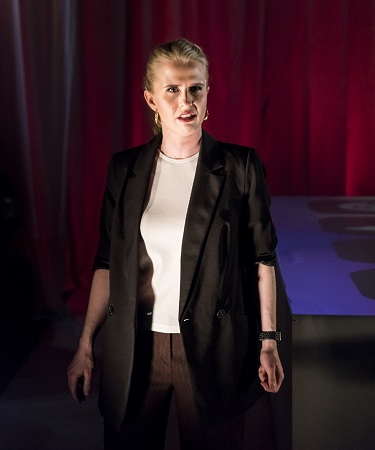 Ultimately, though, everything revolves around Agrippina and Anna-Luise Wagner had terrific presence as the quick-thinking strategist who will stop at nothing until she gets what she wants. Wagner has an impressive arsenal of facial expressions and arch eye-brow waggles to complement her flexible, bright-toned soprano, which is even and secure across the registers. She gained vocal authority in Acts 2 and 3, even though her Act 2 aria, 'Pensieri, voi mi tormenti' had to compete with a tempest projected on the back curtain, revealing a particularly rich middle voice. Elsewhere, her coloratura had lots of zing and zest, conveying her limitless ambition.
At the close of the opera, with muddle-headed messiness Claudio eventually declares that Nerone will be emperor and unites Poppea and Ottone.  The goddess Juno is summoned to pronounce a general blessing.  Pearson doesn't present Lydia Shariff's 'V'accendano le tede i raggi delle stelle' as a 'happy ending', though.  As Mary Beard has pointed out, Roman history can 'challenge modern self-righteousness and moral certainty', and – with knowledge of the fates awaiting both Poppea and Agrippina – this production, billed as 'the coronation that goes wrong', wryly invited us to reflect on the fact that power without moral purpose will result in emptiness and grief.
Claire Seymour
Agrippina – Anna-Luise Wagner, Poppea – Lisa Dafydd, Nerone – Phoebe Rayner, Claudio – Jacob Bettinelli, Ottone – Eliran Kadussi, Narciso – Dominic Mattos, Pallante – Laurence Williams, Lesbo –Sonny Fielding, Juno – Lydia Shariff; Director – Ashley Pearson, Conductor – Thomas Payne, Assistant Director – Emily Beech, Set Design – Sorcha Corcoran, Costume Design – Alice Carroll, Lighting Design – Catja Hamilton, Projection Design – Douglas Baker, HGOAntiqua Orchestra
Hampstead Garden Opera, Jacksons Lane Theatre, Highgate, London; Sunday 14th May 2023.
ABOVE: HGO's Agrippina (c) Laurent Compagnon