One imagines that, when compiling their programme for this recital at Wigmore Hall, Iestyn Davies and Thomas Dunford sat down and drew up a list of their 'desert island' favourites. But while England's Orpheus did offer the capacity audience a welcome sequence of 'greatest hits' by Purcell, Dowland and Handel, that's not to suggest that the programme was not designed with an artistry the equal of the musicians' execution. And, while the music may have been familiar, the duo's interpretations unfailingly revealed new things and prompted fresh thoughts and feelings.
The first half of the recital presented sequences of works by Purcell and Dowland, separated by and concluding with Handel; after the interval, works by the three composers were interspersed by the movements of Bach's Cello Suite No.1 in G. There was a wonderfully embracing fluency about the delivery of the programme, with items segueing smoothly, guided by Dunford's improvisatory transitions. Indeed, there often seemed to be imminent mischief in the air, a sense that the music might take flight and stray in unforeseen directions, as the lutenist teased his singer, made him wait for his entry. It was charming, affectionate but also added a pleasing 'edge' to the harmoniousness.
The programme started, of course, with Purcell. 'Strike the viol, touch the lute' was a clarion hymn of praise to music-making, shining with an energy and brightness that Dunford tamed in the delicate postlude, to introduce 'By beauteous softness mixed with majesty' from Now Does the Glorious Day Appear, Purcell's ode for Queen Mary's birthday on 30th April 1694, the assertiveness of the opening song now replaced by a lovely wistfulness. With ravishing tone, Davies sculpted the details – the melismatic ecstasy of 'softness', the slight pressing forward at the mention of "her awful power" from which "none could be free" – with tenderness, supported by the lute's sighing ground bass. The falling fifths which emphasise the "sweetness" with which the queen reigns faded at the close, as if overcome with wonder.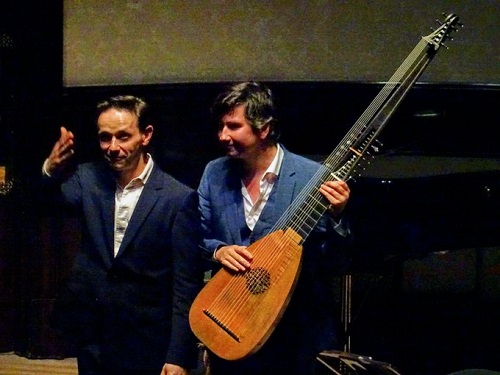 The mood changed again, to oratorical directness, with the non-liturgical devotional song, 'Lord, what is man?'. Davies's arioso was impassioned, the repeated chromatic rise and subsequent octave drop capturing the rhetorical weight of the singer's joy in God's love: "And that for me, O wondrous love, for me." An appeal to the "Blest spirits" prompted some jangly urgings from Dunford to match the dynamism of Davies's exuberance and richness when questioning, "Which was most prevalent/ Your joy or your astonishment?" Finally, purity and light marked the wish to sing "That anthem here which once you sung above", a nimble flourish from Dunford adding elation to the closing "Hallelujah!"
The sequence of Dowland ayres was prefaced by two of the composer's works for lute. The delicate traceries of 'Preludium', exquisitely conjured by Dunford's left-hand grace, were at times invigored by stronger rhythmical accentuation, the weight of the sound waxing and waning with lovely naturalness. 'A Dream' was otherworldly, as if Dunford were simply drawing into being music that already existed in the silence. Later, he whipped up the vigorous spirit of 'The Frog Galliard' with gentle humour.
In 'Behold a wonder here' Davies told the happy tale of how blind Cupid gained his sight, the energy of the lute's inner voices seeming to add lift to the beguiling countertenor melody which was characteristically clear and elegant, and alert to the rhetorical possibilities and effects – as when the power of Cynthia's beauty was heightened by a theatrical suspension of the forward movement, and at the close when an agile flourish celebrated Cynthia's power not just to give Love his sight but to strike Folly blind. 'Sorrow, stay, lend true repentant tears' was affecting, the poetry shaped with sincerity, never self-pitying, the soft, diminishing repetitions at the close, "But down, down, down, down I fall", evoking sadness but not despair. The spirited questions of 'Can she excuse my wrongs' were shaped with clarity, the text deftly delivered, the indignation of the poet-speaker expressed in fortes and crescendos, and the abrupt close capturing the wit of the riposte, "Dear, but remember it was I/ Who for thy sake did die contented". Once again shifting persuasively between diverse moods, the duo closed the sequence with 'Flow, my tears', the lyrical beauty of which was touched with a haunting weariness. The weight of sadness slowed the final stanza, bittersweet pathos imbuing the closing reflection, "Happy, happy they that in hell/ Feel not the world's despite".
During his Roman sojourn, Handel received a poem from one of his patrons, Cardinal Benedetto Pamphili, in which he anointed the then 23-year-old composer as his muse, extolling him as 'a new Orpheus'. Handel set the Cardinal's verse as a cantata, 'Hendel, non può mia musa', comprising two recitatives, which Davies sang with easeful naturalness, and two arias, in the first of which Orpheus's "sweet" song was pertinently punctuated by Dunford's lute interjections, and the second of which adroitly welcomed the arrival of a new Orpheus, "'a new-found voice [to] be brought to our song", who might "make our spirits rejoice/ in such beautiful melody". O, the power of music: if only the Arts Council would take note.
'Hide me from day's garish eye' from L'Allegro, il Penseroso ed Il Moderato concluded the first part of the programme, and in this beautiful aria we could enjoy Davies's plump, plum-coloured middle range, the warmth and fullness of the vocal line winsomely complemented by Dunford's 'busy' behind-the-scenes commentary.
Dunford had more to say in the first half of the recital. Louis XIV is said to have regularly fallen into slumber to the playing of his court lutenist Robert de Visée (1655-1732), and Dunford's sophisticated sorcery in the composer's Chaconne in D minor made this seem entirely plausible: anticipation, repetition, disruption and variation were treated with a strange mix of quasi-revolutionary invention and refined urbanity. 'Dreamy inscrutability' seems to sum up the lutenist's performance of Marin Marais's Les voix humaines in which the whispering voices seemed anything but 'human', as they translated us by a quasi-Shakespearean magic to another world.
The lutenist's arrangements of the movements of Bach's Cello Suite do not attempt to recreate the gutsiness and depth of the cello's tone and timbre. Instead, we have mercurial dances, the light brushing and plucking of Dunford's fingers on his lute strings as airy as a dancer's tripping toes or a fiddler's skimming bow. The Prélude seemed more of a fantasia, the structure granite but the façade capricious. The Allemande had a rhapsodic leaning, and in the Courante the patterns sounded like inspired invention. The nuances of colour and texture in the Gigue invited curiosity, all the while the clarity of direction, driven by a strong bass line, reassured.
In between these instrumental musings we had, from Purcell, first 'Sweeter than roses' and then 'O Solitude'. It's hard to imagine the former more beautifully and expressively sung. The sinking and darkening when the beloved's trembling kiss makes the poet-speaker "freeze", the subsequent invigoration, a "shot like fire", and the velvety gloss of the avowal that "all is love to me": such details were both stunning communicative and assuredly executed. 'O Solitude' seemed more austere than previous performances I have heard by Davies; and quite 'aggressive', too, when he reflected on "Such woes as only death can cure". There was a prevailing restraint and distance here, though, creating at times a disturbing 'stillness', and at the close a troubling tension, "O solitude, O how I solitude adore!", which made the muscles in one's shoulders tighten as one held one's breath.
Dowland's 'Come again, sweet love doth now invite' offered solace and ease, Davies's unaccompanied motifs ringing true and clear, the ornamentation playful.  In contrast, the countertenor let the phrases die into the shadows in 'In darkness let me dwell', the last line – "O, let me living die, till death do come" – almost cut off before it could take form and have presence.  Then, there was renewed warmth and graciousness in 'O Lord, whose mercies numberless', from Handel's Saul.  Is there a lovelier baroque aria than this?  Purcell's 'An Evening Hymn' was a fittingly restful conclusion to the recital, the final Halleluias infinitely becalming. 
All three composers showcased were in their day revered as an English Orpheus. At the start of the seventeenth century, John Dowland received a pavane composed by his patron Moritz, Landgrave of Hesse, in honour of 'the English Orpheus'. One hundred years later the publisher Henry Playford named his collections of Purcell's songs Orpheus Britannicus. As Handel's cantata reminds us, "his sweet song … could stop birds in flight/ and wild beasts in their tracks./ So fair was its sound/ that both trees and stones garnered to listen". One might say the same of Iestyn Davies, and of Thomas Dunford's weirdly wonderful wizardry. They, too, proved themselves giants of English song, performing with a directness and elegance that can take one's breath away – and brought pricking tears to this listener's eyes at times.
So what would their encore be? Purcell's 'Fairest Isle', perhaps? No, of course: 'Orpheus With His Lute' by Ralph Vaughan Williams. And, performed with a quality of quietness for which there is no other word but ravishing.
Claire Seymour
Purcell – 'Strike the viol, touch the lute' (from Come, ye sons of art, away Z323), 'By beauteous softness mixed with majesty' (from Now Does the Glorious Day Appear Z332), 'Lord, what is man? (A Divine Hymn Z192); Robert de Visée – Chaconne in D minor; Handel – Hendel, non può mia musa HWV117; Marin Marais – Les Voix Humaines; Dowland – Preludium, 'A Dream', 'Behold a wonder here', 'Sorrow, stay, lend true repentant tears', 'The King of Denmark, his Galliard', 'Can she excuse my wrongs', 'Flow my tears'; Handel – 'Hide me from day's garish eye' (from L'Allegro, il Penseroso ed il Moderato HWV55); Purcell – 'Sweeter than roses' Z585; Bach – Cello Suite No. 1 in G BWV1007, Prélude; Dowland – 'Come again, sweet love doth now invite'; Purcell – 'O solitude, my sweetest choice' Z406; Bach – Cello Suite No. 1 in G BWV1007, Allemande; Handel – 'O Lord, whose mercies numberless' (from Saul HWV53); Bach – Cello Suite No. 1 in G BWV1007, Courante & Sarabande; Dowland – 'In darkness let me dwell'; Bach – Cello Suite No. 1 in G BWV1007, Menuet I and II & Gigue; Purcell – 'Now that the sun hath veiled his light' (An Evening Hymn on a Ground Z193)
Wigmore Hall, London; Friday 12th May 2023.