When Donna Anna's father rescues her from the sexual predator who has abused her, in the opening moments of Mariame Clément's new production of Don Giovanni at Glyndebourne, he shoves his daughter back into her room and firmly locks the door. Is Clément saying something about the ubiquity of patriarchal power and masculine control? Like so many things about this production, my answer to that question is, I'm not sure.
Even the Commendatore's death is ambiguous. Does he just slip on the stairs, in a tussle with the black balaclava-sporting Don? At first, the spot at the foot of the staircase where he had tumbled seems to spook the brazen Giovanni and his bespectacled, mackintosh-wearing sidekick, Leporello, but later he lies down there to take a nap – one, inexplicably, of several during the opera – and during a frenzied champagne aria, in which Leporello receives a brusque clout and a vicious kicking, Giovanni defiles the ground with a spray of beer from the bottle he's glugging.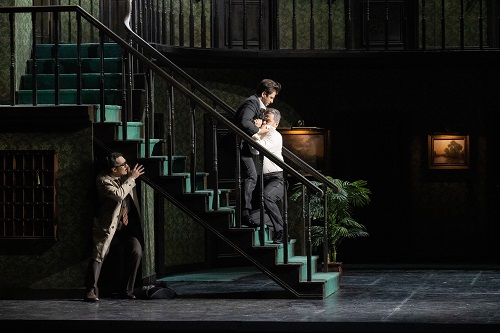 There's perpetual movement and business in Clément's production and it doesn't always add up. During the furious overture, Étienne Guiol's monochrome animation presents us with a world on fire, as a gigantic statue of Giovanni is toppled by a post-#MeToo mob. When the curtain lifts, we're in the lobby of a hotel where Masetto and Zerlina are hosting their stag and hen parties – think shiny turquoise jackets and horns for the chaps, and pink tutus over denim topped by fake plastic boobs for the girls – and Donna Anna, Don Ottavio and friends are taking a weekend break (Don Giovanni seems to be one of their party?). During the kerfuffle, the revellers run back and forth across the tiered corridors and up and down the stairwells of Julia Hansen's set, past the bedroom doors and seventeenth-century landscapes, while Leporello quivers beneath the stairs in the foyer.
As Giovanni and Leporello plot his next assignation, Donna Elvira arrives – resplendent in red trousers and boots topped by clashing green coat – handing out mug shots of the sexual predator whom she's seeking. The chorus repeatedly return to stand on the balconies and oversee events, although later we lose a level from Hansen's set and the palm trees that populate the first floor suggest that we've moved outside. At the close, the palms take root in a Sunset Boulevard 'graveyard' where Giovanni gorges on the remains of Zerlina and Masetto's gargantuan wedding cake, and his subsequent descent to hell in the clutches of the Commendatore, as the flames lick at the tree trunks, is gleefully watched by a circle of Leporello-clones. Is Clément asking us to view things through the party-goer's eyes, or through Leporello's spectacles?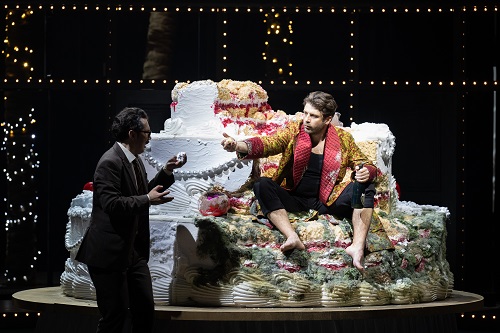 Sometimes the 'business' keeps characters apart when they should be brought together. When Leporello sings his catalogue of Giovanni's conquests, rather than listening to his honest words and learning her lesson, this Elvira dashes about the upper floors seeking her abuser. The result is that Leporello's wry 'performance' gets turned inward, as he sings to his embittered self. Maybe such a list of lechery just isn't funny these days; it certainly doesn't raise a laugh here. Then, in 'Là ci darem le mano' there's no chance of Zerlina giving Giovanni her hand, as she's posing on the staircase while he films her flounces, even as the musical phrases increasingly shorten and wind themselves around each other. The neatness of the nuptial imagery of hands entwining and its later subversion by the Commendatore's command, "Dammi la mano in pegno!", is lost.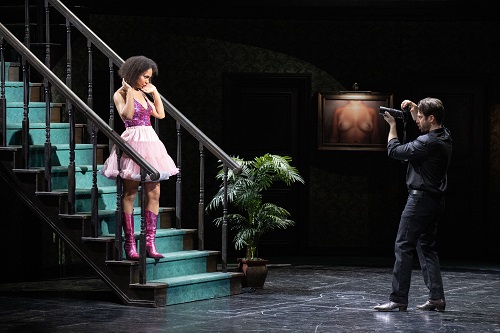 There are some telling touches. The wedding party is an eighteenth-century masquerade, overlapping past and present – so, plus ça change. During Giovanni's serenade a demure mother appears, cradling her child: is Clément suggesting that this Giovanni is suffering from an unconscious, Freudian infatuation or simply that he misses his mother's love? At one point, there's a clatter as the seventeenth-century landscapes flip and reveal a panoply of women's breasts. Presumably the pictorial parade is a visual record of Giovanni's memory of his sexual 'triumphs' but, in a female director's hands, seems here to be a symbol of feminine empowerment. And, given that the surtitles, which take liberties with the libretto, tell us that if Giovanni spies something in a skirt then it's inevitable what will happen, it's interesting that all the women here wear trousers – except, that is for Zerlina, who is in this production especially sexually assertive. Clément's 'take' on Mozart's 'meaning' is clearly complicated.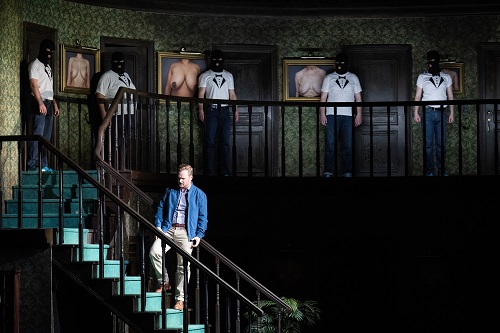 There is some super singing to enjoy, though, not least from Victoria Randem as Zerlina and Michael Mofidian as Masetto. Randem's 'Batti, batti, o bel Masetto' began with defiant flirtatiousness but segued into cantabile gracefulness. Zerlina has perhaps learned a thing or two about seduction from Giovanni, but her love is sincere: no wonder this Masetto is becalmed. The Norwegian-Nicaraguan soprano was no less beguiling in 'Vedrai, carino' as she soothed her beloved's wounds, caressing the simple melody with warmth and colour, and gradually imbuing the musical and textual imagery of beating hearts with intensity and passion. Mofidian's Masetto was no walk-over, though, his dark-hued baritone expressive of his stature.
Mikhail Timoshenko's Leporello grew on me, just as he grew into the comedic drollery of the role in Act 2. The Russian baritone sang with a suavity and lovely legato line. As the titular libertine, Andrey Zhilikhovsky was commanding, conflicted and complex, charging about the stage, rampant and reckless, but finding stillness and sweetness in his serenade. Armenian soprano Ruzan Mantashyan was terrific as Donna Elvira, singing with warmth and character, and Jerzy Butryn was a resounding Commendatore.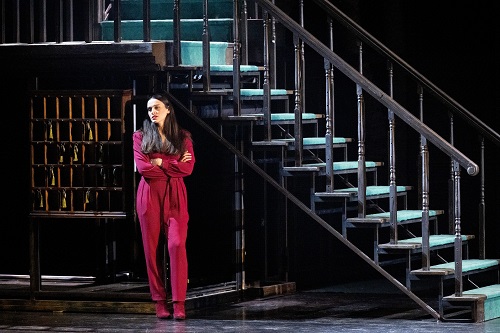 As Donna Anna, Russian soprano Venera Gimadieva seemed rather hesitant initially, as she negotiated the wide intervals of 'Or sai, chi l'onore', but 'Non mi dir' was more confident, the rises and falls of the Allegretto moderato consistently clean and clear. This Donna Anna was dignified and restrained – no sense here that she might have welcomed or even encouraged Giovanni's advances – just as her Ottavio, Ukrainian tenor Oleksiy Palchykov, was stalwart and determined. Palchykov got both his arias and conveyed Ottavio's fortitude effectively, though he sounded a little strained at times.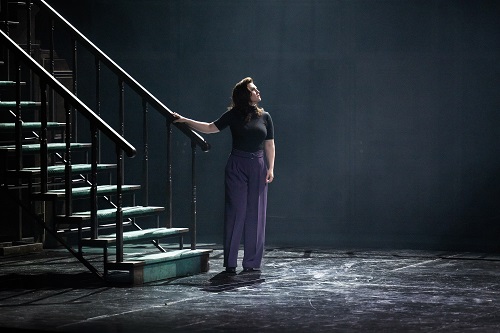 Conductor Evan Rogister was somewhat hyperactive in the pit, trying to wring every detail from the score – dynamic contrasts were extreme, no phrase was allowed to simply sing without some added shading and nuance. It was a pity that he didn't let Mozart's music speak for itself more often. It was also a pity that he didn't focus more on ensemble. The Orchestra of the Age of Enlightenment played with the vigour and verve demanded of them, but there was occasional messiness.
Despite his reputation, Don Giovanni doesn't add to his success roster during the opera's action.  His charm seems to have deserted him, and at times Zhilikhovsky evoked the libertine's troubled self-awareness of his waning charisma and potency.  Clément's production is interesting and complex, but I found the sum effect of her musings on models of masculinity similarly charmless.
Claire Seymour
Don Giovanni – Andrey Zhilikhovsky, Leporello – Mikhail Timoshenko, Donna Anna – Venera Gimadieva, Donna Elvira – Ruzan Mantashyan, Zerlina – Victoria Randem, Masetto – Michael Mofidian, Don Ottavio – Oleksiy Palchykov, The Commendatore – Jerzy Butryn; Director – Mariame Clément, Conductor – Evan Rogister; Set and Costume Designer – Julia Hansen, Lighting Designer – Bernd Purkrabek, Orchestra of the Age of Enlightenment, The Glyndebourne Chorus.
Glyndebourne Festival Opera, Glyndebourne, Sussex; Friday 19th May 2023.
ABOVE: The Commendatore (Jerzy Butryn), Don Giovanni (Andrey Zhilikhovsky), Leporello (Mikhail Timoshenko) and members of the Glyndebourne Chorus © Glyndebourne Productions Ltd. Photo: Monika Rittershaus