The revival of an architecturally kitsch, early twenty-first century production from Parma, Italy could not dim the luster of this finely wrought Otello.
The Italian tragedy shone with exceptional, unusual depth, the moor Otello portrayed by black American tenor Russell Thomas, conductor James Conlin carefully guiding Verdi's opera to its brutal end.
Though the staging of the John Cox production by Canadian director Joel Ivany was perfunctory at best and clumsy at worst it did well serve the dramatic focus presented in the pre-performance talk by maestro Conlin, that placed Verdi's tragedy firmly in the Catholicism of nineteenth century Italy — Iago was evil incarnate, Desdemona was innocence incarnate.
It was Otello as a morality play.
Tenor Thomas, in mid career, is an elegant singer, and an elegant, measured presence. Already of great experience on the world's major stages (he was Florestan in San Francisco's Fidelio) he is no stranger to heroic roles (Calif in Turandot at Covent Garden as example). His sound is rich, beautiful and finely honed, and it is indeed sufficiently robust to quell the storm that opens the opera. But just now in this L.A. Otello he soon lost all such heroic allure as Verdi's librettist Boito clearly tells us that he was a former slave who had greatly suffered. It was this personal history that moved Desdemona to a love that was compassionate and maternal far more than it was erotic or an exotic attraction.
This Otello craved the comfort of the kiss that ends the first act, not its invitation.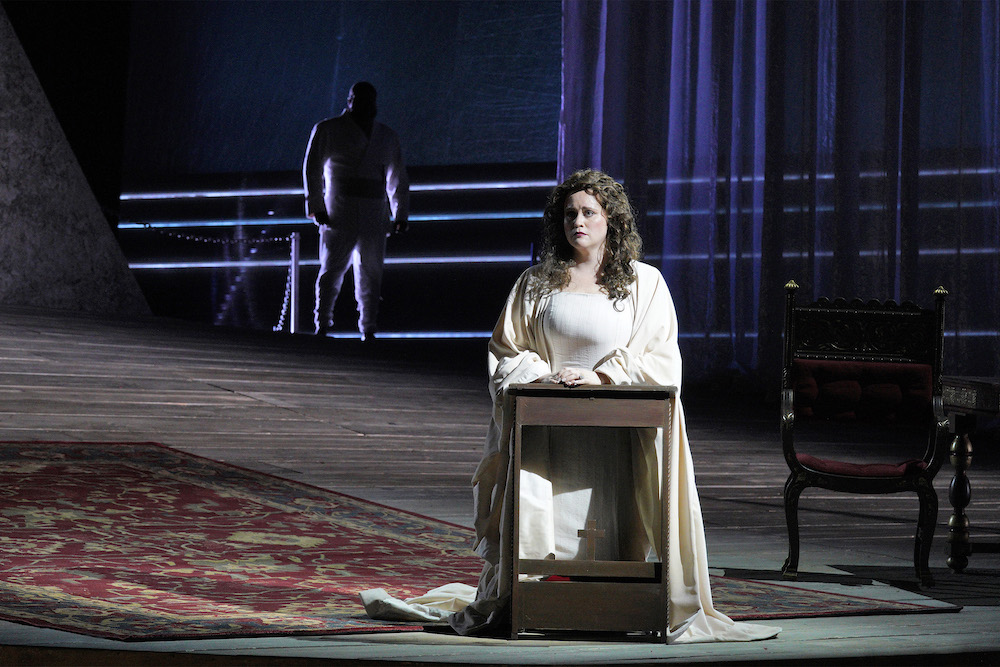 Desdemona was sung by American soprano Rachel Willis-Sørensen who brought maturity and seriousness to this young Venetian bride, not infatuation. Her wig was auburn, not the usual blonde. Mme. Willis-Sørensen brings a full-bodied, mature voice to Desdemona (she sings the big Mozart heroines in Munich and Vienna), and consummate artistry in her delivery. In this version of the Verdi masterpiece Cassio is a childhood friend for whom Desdemona has great affection, not a handsome ensign for whom she may have had an infatuation, or more as the fallen woman — the Virgin Mary opposite — of Italian melodrama, an innuendo hinted at, as well, in Shakespeare's tragedy.
The evil Iago was sung by Russian baritone Igor Golovatanko (below right) who came across like the boy-next-door that you never suspected was a terrorist-in-the-making. Like Mr. Thomas' Otello Mr. Golovatanko's Iago was more lyrical than heroic (in so much as this is possible in Verdi's musical rendering of these heroic archetypal operatic figures). Mr. Golovatanko possesses a quite beautiful, clear baritone voice (he sang Don Carlos' Rodrigo in Chicago) that rose to a requisite powerful volume in the famed "Dio vindicator" Act II conclusion, overwhelming Otello, rendering the moor ever less heroic.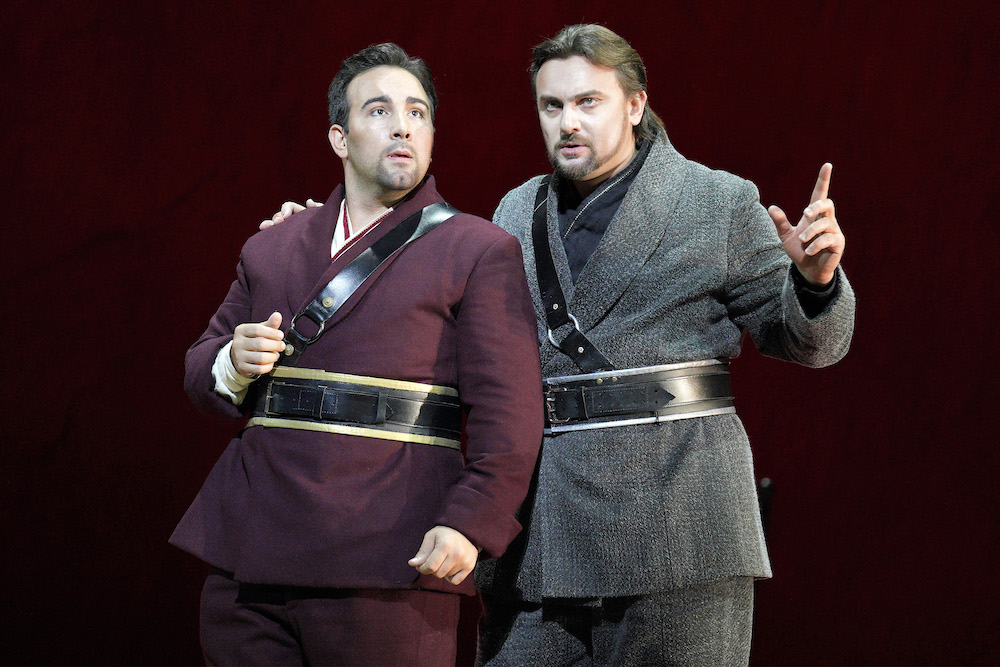 Cassio was sung by American tenor Anthony Ciaramitaro (above left), a recent alumnus of LA Opera's young artist program. Mr. Ciaramitaro possesses a fine, elegant tenor voice of ample proportion which brought exceptional presence to the role, gracefully enacted as well in an a vista, mute encounter with Desdemona begging her help, as a troubled friend, in restoring him to the good graces of Otello.
Desdemona's maid, Emilia was sung by a current participant in the LA Opera young artist program, Sarah Saturnino. The young mezzo is a finished artist who had all the necessary presence to wrap up the saga, inculpating her husband Iago with grandiose exclamation. Both Rodrigo and Montano, Anthony Léon and Alan Williams, were from the company's young artist program as well. Rodrigo, Desdemona's intended husband, is a major player in Rossini's Otello though he is merely a brief plot facilitator in Verdi's Otello. The Venetian ambassador Lodovico was magisterially enacted by veteran American bass Morris Robinson
This revisionist version of the Verdi masterpiece was rigorously paced by conductor Conlin who carefully delineated the sections of Verdi's essentially through composed score into the anachronistic format of earlier nineteenth century Italian opera. This resulted in a compendium of musico-dramatic ideas that became methodical exposition rather than the intended inexorable flow of a hot-headed general to his tragic revelation. Nonetheless the final act, Desdemona's prayer and the murder were profoundly moving, Otello not a fallen hero, but a victim.
Michael Milenski
May 20, 2023, photo credit Cory Weaver, courtesy of Los Angeles Opera.