There are those productions that linger in the memory for months, even years. Then there are those that fade all too quickly from consciousness, consigned to history and best forgotten. Regrettably, one suspects, this new production of Il trovatore from Welsh director Adele Thomas may prove to reach its sell by date just as speedily as David Bösch's ill-fated reimagining of 2016. Thomas is a critically acclaimed director, in theatre and opera, securing rave notices with Handel's Berenice and Vivaldi's Bazajet, recently staged at the Linbury Theatre. Good reason one might assume then for expanding her operatic portfolio. But at the Royal Opera House, Verdi's blood-curdling tragedy of 1853 feels distinctly underpowered and underwhelming.
There's nothing wrong in returning to Verdi's original location and setting Il trovatore in 15th-century Spain. Nor, too, is there any harm in taking inspiration from the vision of hell and damnation that is Hieronymus Bosch's Garden of Earthly Delights. But Thomas's conception of this gruesome tale is undermined by at least one miscalculation. It's not just Annemarie Woods's empty stage – a flight of stairs recalling Barrie Kosky's Carmen – or even her mock medieval costumes which,with tin helmets and monkish haircuts belong more to the realm of Monty Python than gritty revenge opera. It's more the uncoordinated writhing of the chorus and assorted acrobatic demons that create the evening's least convincing and, at times, absurdly comic moments. That said, the prowling beasts surrounding Roberto Tagliavini's satanic and finely sung Ferrando impart plenty of menace. And, if one is not over thinking directorial moves, the antics of the chorus when not kettled in a corner, variously suggest leaping flames – a reminder of the opera's back story and a foretaste of the inferno to come. Most visually striking is the briefly frozen tableaux at the end of Act 2 where the nuns and soldiers watch Leonora's confusion and relief as she realises her beloved Manrico is alive.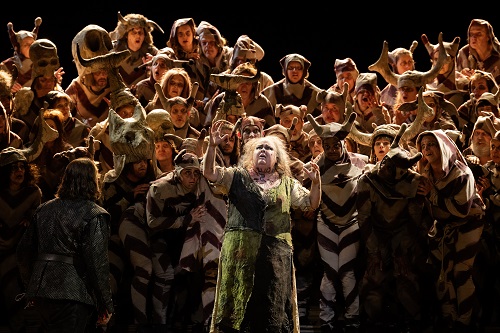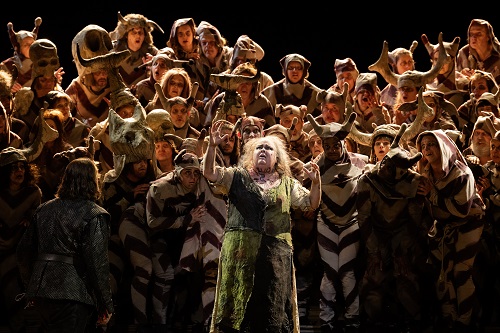 Amongst the cast, Jamie Barton is an exceptional Azucena, her gypsy woman portrayal a thing of wonder, and one that raises the emotional temperature with her every appearance. In addition to her rich mezzo, supported by a wonderful baritonal lower register, she throws herself into the part body and soul. There's an ear-catching 'Stride de vampa', yet she is at her most compelling in the closing trio of Act 4, 'Ai nostri monti', for me the evening's highlight where you cannot fail to feel her agony and yearning for home. The chemistry with Riccardo Massi's Manrico tugs at the heart and is one of the few times we can sense his emotional involvement.
Massi's Verdian credentials are shown to good effect in 'Di quella pira' but it's not a voice that consistently held my attention (too much singing of notes rather than phrases) and too often I found myself listening exclusively to Verdi's orchestration. Likewise with Marina Rebeka's Leonora: I searched in vain for a voice that glowed and soared, notwithstanding a secure technique. Her silvery tone is shrill at the top, and only when she eased off the throttle did I enjoy her singing, when some warmth emerged. More persuasive is the French baritone Ludovic Tézier – clad from head to toe in gold – who brings a certain nobility to his opening aria, 'Il balen del suo sorriso', sung with an expressive ardour that belies his cruelty and obsessive jealousy.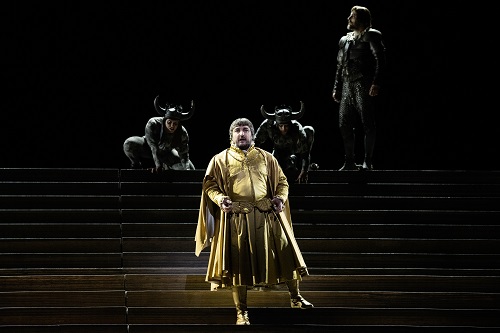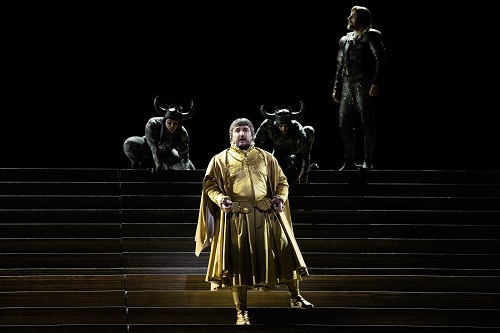 It's a pity this opera so readily recalls Caruso's joke that a successful Trovatore needs nothing more than the finest four singers in the world. No pressure there then and in this instance we were lucky enough to have one terrific mezzo. If singing is uneven amongst the principals, the chorus of soldiers and nuns are splendidly robust and otherworldly respectively. Arguably, the most consistent and rewarding performances come from the pit where the Royal Opera House orchestra, under Antonio Pappano's direction, fashion a sweeping traversal, showcasing the work's inky colouring with swift yet always well-judged tempi. If this production's tragic intensity is questionable, there is no doubt about the musical integrity on display here with Pappano enabling Verdi to shine with honour.
David Truslove
Leonora – Marina Rebeka, Manrico – Riccardo Massi (replacing Yusif Eyvazov), Count di Luna – Ludovic Tézier, Azucena – Jamie Barton, Ferrando – Roberto Tagliavini, Ines – Gabrielė Kupšytė, Ruiz – Michael Gibson, An old Gypsy – John Morrissey, Messenger – Andrew O'Connor, Orchestra and Chorus of the Royal Opera House, Conductor – Antonio Pappano, Director – Adele Thomas, Designer – Annemarie Woods, Lighting Designer – Franck Evin, Choreographer – Emma Woods, Fight Director – Jonathan Holby, Dramaturg – Beate Breidenbach.
Royal Opera House, Covent Garden, London; Friday 2nd June 2023.
ABOVE: Marina Rebeka (Leonora) © Camilla Greenwell