Each summer the Princeton Festival stages an opera, this year an exuberant production of Rossini's Il barbiere di Siviglia under the tent on the Morven Museum Grounds. Though it is acoustically problematic and directorially overwrought, Rossini's energy and music genius ultimately shine through.
The acoustical issue involves the use of microphones. One wonders why a performance tent seating fewer than 1000 people needs body mikes on the singers (and on the stands for the orchestra)—or, indeed, any amplification at all. After all, halls two or three times this size at festivals such as Caramoor or Tanglewood do not. Quite aside from the unnerving feeling of hearing sound coming not from singers, but from (in this case) speakers suspended 30 feet above them—something researchers have shown leads the human brain to lose focus—it is louder than it need be.
In this production, moreover, the garish sound mix is more appropriate to electronic jazz or pop than opera: the bass range gets an uncanny boost and the treble a harsh edge, while the mid-range (where most classical music lives) remains underpowered. Any effort at voicing (subtle variation in the relative volume and timbre of different notes, instruments, and singers) goes by the wayside as the sound is squashed into a static block. This is already obvious in the first two words of the night: "piano, pianissimo." Rossini writes the stage direction "cautiously" into the score and provides a tip-toeing accompaniment of just five instruments, three marked "sottovoce." Why must these words be blasted like the utterances of a Wagnerian God?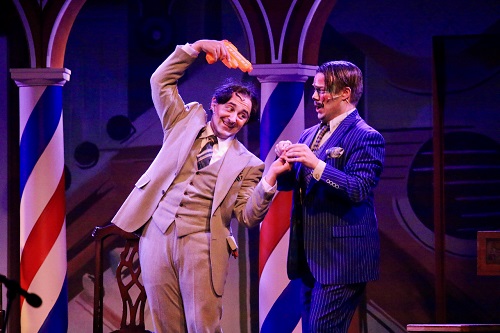 Slightly less problematic is James Marvel's frenetic stage direction. Each of the singers is in constant motion, gesturing, mugging, dancing and hamming it up every second. Here, to be sure, some praise is due. Marvel certainly imparts energy, and some of the inventive second-to-second stage direction really works—not least the borrowing of popular dance moves. Figaro does an Elvis imitation while singing his famous aria and the entire company circles around with changing dance steps in the madcap finale to Act I. This, along with transparent diction and hand gestures, effectively communicate this witty and fast-moving libretto to a modern audience.
Yet one can have too much of a good thing. After an hour, the antics grow repetitive, and rely increasingly on pratfalls and random chaos. One example: mezzo Kaitlyn Costello Fain delivers Berta's short aria while performing the most impressive stage acrobatics I have ever seen from a singer in fifty years of opera. Yet only after she has distractingly hammed up a half dozen scenes in which she has no real part. How much funnier it might be if, up to that moment, she had played the feeble old woman the libretto says she is, then suddenly surprised us all.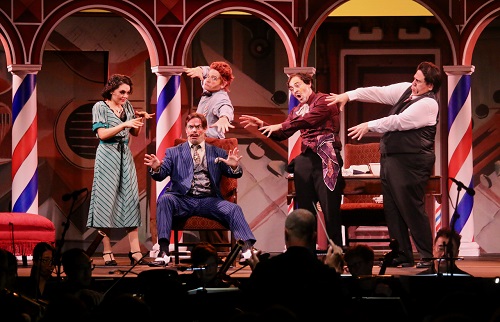 Worse, nonstop turmoil erodes our sympathy for the characters. It is easy to forget that, underneath the surface, each role in Barbiere presents a quite distinct archetype drawn from commedia dell'arte, that venerable Italian tradition of popular comedy that makes fun of varied personalities traits we encounter in real life. We have the noble but sentimental lover (Almaviva), the resourceful charmer (Figaro), the blowhard know-it-all (Bartolo), the hypocritical priest or teacher (Basilio), the spunky young lady (Rosina) and the hopeful older one (Berta). With the help of Rossini's music, we eventually come to know and care about these characters, even though we see plainly that they are absurd. In this production, this magical moment of identification with the plot never arrives.
Fortunately, uneven through crude acoustics and antics can be, Rossini's music remains indestructible. The Princeton Festival has assembled some top regional American singers, and they bring to the show boundless energy and the impressive technical training of top American conservatories.
Among the veterans, baritone Andrew Garland stands out. He backs a winning vocal characterization of Figaro with confident power, technical ease and, in places, timbral nuance. And he does so while moving better than anyone else on stage, the acrobatic Berta aside. Bass Steven Condy, who has sung Bartolo over one hundred times, returns to Princeton with a rich and characterful account of the scheming old guardian. He pulls off his bravura aria at an impressive clip, though—as in most performances—a few notes fall by the wayside.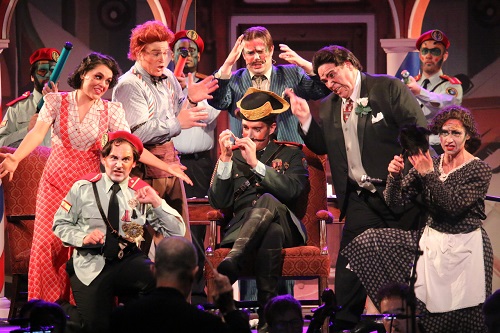 Tenor Nicholas Nestorak's Almaviva is pleasant. Yet occasional edgy high notes, inexact coloratura, a tendency to sail sharp, and a lack of sweetness makes me wonder whether this is really the role for him. Or are these perhaps more casualties of close miking?
While not the sweetest Rosina ever, Peruvian-American Kelly Guerra sings the role confidently—even more impressive as, I am told, this is her stage debut in the part. Her husky yet focused mezzo and firm technique promise much for the future and incline me to want to hear more—without the mikes, please. The same goes for young bass Eric Delagrange, who brings a genuinely cannon-like resonance in Basilio's famous aria about slander—quite extraordinary for a low-voiced singer still in a young artist's program. Bass Cody Müller manages three smaller roles well, while Berta's aria does not seem to give Kaitlyn Fain as much to work with vocally as balletically.
A smallish contingent from the Princeton Symphony Orchestra plays confidently under the music director, Rossen Milanov. After years of hearing Princeton Festival operas drag, the firm and brisk tempos are refreshing—even if, at times, the heavy sound remains more symphonic than operatic.
In the end, however, the energy of this production and Rossini's music sweeps all before it. On opening night, Princeton Symphony's loyal audience laughed and cheered throughout, then capped the evening off with a deserved standing ovation.
Andrew Moravcsik
Count Almaviva – Nicholas Nestorak, Bartolo – Steven Condy, Rosina – Kelly Guerra, Figaro – Andrew Garland, Basilio – Eric Delagrange, Berta – Kaitlyn Costello-Fain, Fiorello / Ambrogio / Police Sergeant – Cody Müller; Director – James Marvel, Conductor – Rossen Milanov, Scenic Designer – Blair Mielnik, Lighting Designer – Paul Kilsdonk, Costume Designer – Marie Miller, Wig and Makeup Designer – Carissa Thorlakson, Princeton Symphony Orchestra
Princeton, New Jersey; Friday 16th June 2023.
ABOVE: Berta (Kaitlyn Costello-Fain) doing acrobatics (c) Carolyn Dwyer/Princeton Festival