Sir Simon Rattle's final Barbican concert with the London Symphony Orchestra as their Music Director ended his six-year tenure – perhaps one that was shorter than it might have been given his long histories with previous appointments in Berlin and Birmingham which have run for almost two decades respectively. The reasons for the relative brevity of those London years are probably more complex than just of a political origin; Brexit and the state of the arts in Britain is certainly one factor, but his ties to Germany are long established, too. Being half German myself, conflicts of nationality can impose a personal burden which isn't easily squared – even when one's country's cultural assets are being wilfully dismantled.
Those six years, however, have been remarkable in several ways – although I came to review Rattle concerts more than halfway through his tenure with them. His repertoire has been amongst the most enlightening of any British orchestra, for example; his championship of contemporary music an important legacy. Indeed, this final concert was pure Rattle – and a clear Labour of Love for the conductor; it included not just a world premiere but one of the most innovative and spectacular of twentieth century symphonies. Perhaps his greatest achievement, however, is to leave a London Symphony Orchestra which is indisputably one of the greatest orchestras in the world. His successor, Sir Antonio Pappano, building on the Rattle foundations has already given, both in opera – an outstanding Dallapiccola Il prigioniero – and in orchestral music – a stunning Ein Heldenleben. It could be one of the great musical partnerships of the future.
London's loss is not permanent; Rattle will return as the orchestra's Emeritus Conductor. And final concerts are never quite final ones. At the Proms at the end of August I should be reviewing here his last concert as Music Director where he will be conducting Poulenc's Figure Humane and Mahler's 'Leb' Wohl' – his Ninth Symphony.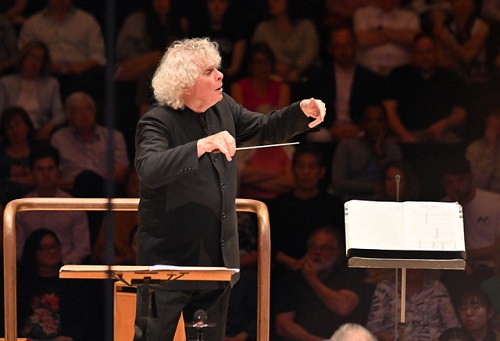 His final Barbican concert was quite fascinating in the coupling of the works. Olivier Messiaen, born in 1908, was only eighteen years older than the living composer whose world premiere was being performed – Betsy Jolas, born in 1926. The 96-year-old Franco-American composer, present to hear her work being performed for the first time, looked remarkably vigorous for a woman barely three years away from her centenary. But there was rather more than this tenuous link. Jolas had been a student of Messiaen in the 1940s in Paris (as well as of Darius Milhaud) and in the 1970s was his assistant at the Conservatoire National Supérieur de Musique.
If her musical style never particularly followed Messiaen's, her subtle brand of atonalism owed rather more to Boulez, Kagel and Berio – although she never fully embraced their disciplined approach. Her 2022/23 vocal work, Ces belles annés… doesn't really feel like this at all. Indeed, in many ways its inspiration, and even its title, as well as its musical substance, perhaps recalls another composer approaching his last work – Richard Strauss, in his Vier letze Lieder. Jolas's "Those good years" celebrates her own memories of attending Aix-en-Provence Festival so it is in a sense a kind of anniversary.
Ces belles annés… is really a song within a symphony; indeed, the lack of a vocalist on stage at the beginning made me wonder if I had mistaken the work for a vocal one at all. But the surprise of this rather unusual, distinctly non-stereotypical work, is that it is as much a work of drama and theatre as it is of pure music. It is as far from the Straussian model as one could possibly get. If its scale is massive, and it can sometimes be quite a densely orchestrated piece, it is also one that enshrines great simplicity – such as the refrains of blurred, but exultant phrases of rejoicing such as the 'Happy Birthday' quotation in the strings. It played to the strengths of the LSO's burnished tones – and a broad, augmented percussion section (a typical Jolas trait).
The soprano – here the Parisian, Faustine de Monés – arrived on stage from the wings roughly halfway through the work. It's from here that Ces belles annés… becomes less a symphonic piece and more a theatrical spectacle. She arrived laughing, and teetering, and waving at the conductor – which Simon Rattle returned with his own wave of the hand. Jolas's wit emerges from the orchestra, too. There were collective claps from the players; stomps of the feet; whispers – and a final, climactic tutti in the last bar.
The text itself was simply a collection of exclamations, designed to be as human as possible, without the aspirations of poetry. That is not to say that de Monés did not deliver them with a kind of eloquence – although perhaps it was more of the demotic, grounded kind, entirely sung without an ounce of pretension. Where perhaps the enunciation should have been clear as day, it often appeared quite the opposite – delivered more in the tones of a busy housewife rather than any kind of soprano-like precision. Its final line, 'Chantons tous ensemble, chantons la joie' perhaps summed up what this work was entirely about, and what the performance had achieved: unification through song, and the sheer enjoyment of doing that.
Messiaen's Turangalîla-Symphonie was the single work after the interval. This has long been a piece that Simon Rattle has been devoted to – although even he has conducted it comparatively rarely. This labyrinthine, eclectic, completely uninhibited symphony can be a spectacular experience – or, it can be an absolute drag. It was the central panel of Messiaen's Tristan-based trilogy about transcendent love. A characteristic of the symphony is its enormous level of volume – although these come in fits and starts, often at the end of each of its movements (of which there are predominantly ten). These violent outbursts, the hectoring brass repetitions played with a remorseless endlessness, percussion cycles, constantly repeated chords and hammered and drilled piano keys, allied with the enduring love with inflects the work constantly reminds me whenever I hear the symphony of an unremitting, perpetual loop of orgasms. Simon Rattle took his time over this performance – it seemed to be much broader, more patient but invariably more powerful and more intense – and violently radiant because of this – so everything inherently extreme in Messiaen's score became even more amplified. In many respects, I found the sensory overload of this performance a little overbearing; in short, it was a bit of a mind-fuck.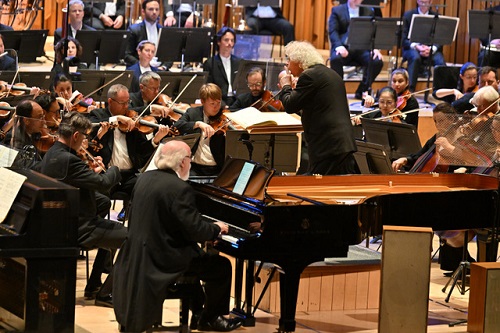 Unlike most symphonies, Turangalîla-Symphonie is of such complexity it is impossible to absorb everything you hear in a performance of it. I think Rattle's tempo did help with, for example, the 'Love Song 2', whose multi-layered intricacies emerged with some clarity of line. Likewise, in 'Turangalîla 3' rhythms that were played in synchronicity with each other overlapped with the multiple ideas in the music. If there is one ask in this symphony it is that instruments have a characterisation, a colour to their tone; Rattle achieved this with magnificent effect, getting the LSO to adopt a range of individuality in their playing that was quite astonishing.
The so-called 'statue theme' (played on tuba and trombone) developed throughout the performance – stentorian or rasping early in the symphony, moving into dance mode midway through. The brass were inexorable, almost merciless, in the breadth of colour they brought to the score; the fanfare in the final movement was implacably unrelenting. Woodwind, too, could be sensual and erotic, shimmering or like birdsong – but capable of menace and snapping, biting cruelty.
Peter Donohoe was the superlative piano soloist – in a part which is of Busoni-like length. Chords cascaded like a waterfall, his cadenzas were volcanic, furious keyboard eruptions of striking brilliance; his more decorative playing flickered with a coruscating intelligence. There was delicacy, or sheer thunder and turbulence. Cynthia Millar's Ondes Martenot indulged in mysterious exchanges with the clarinets, unrestrained rapture, and an underbelly of vocalisation that was beguiling on the ear.
This had been a Turangalîla-Symphonie that was epic in its vision; Tristanesque in its passion and intensity. Perhaps it felt like one had indulged in rather too much rich chocolate, however. It felt so orchestrally unabandoned that it almost seemed Rattle was continually stoking the senses as if they were trapped in a furnace. As striking and very fine as this performance was, Simon Rattle has probably exhausted my ability to sit through this symphony in future. I'm not sure if that means his performance was a triumph – or not.
Filmed for future broadcast on Marquee TV and Mezzo. Performance of 15th June 2023 recorded for future broadcast on BBC Radio 3.
Marc Bridle
Faustine de Monás (soprano), Peter Donohoe (piano), Cynthia Millar (ondes Martenot) Sir Simon Rattle (conductor), London Symphony Orchestra
Betsy Jolas – Ces belles annés…
Olivier Messiaen – Turangalîla-Symphonie
Barbican Centre, London; Wednesday 14th June 2023.
ABOVE: Faustine de Monás, Sir Simon Rattle and the LSO (c) Mark Allan