June in San Francisco may become one of the world's great opera festivals. In recent years the San Francisco Symphony has added a staged opera in its concert hall to complement the three operas happening across the street in the War Memorial Opera House.
Just now San Francisco Symphony music director Esa-Pekka Solomon with stage director Peter Sellars have placed Kaija Saariaho's 2006 opera Adriana Mater on four small platforms inserted into the orchestra itself. A very few lighting instruments hang from four huge trusses suspended from the Louise M Davies Symphony Hall ceiling, lights that color the platform tops in various hues from time to time. A few more lighting instruments are strategically placed to focus strong light onto the faces from time to time, plus there is a bevy of inconspicuous loud speakers to project the text clearly and forcefully.
Add the San Francisco Symphony of triple winds, quadruple brass, piano/harp/celeste, two tympani sets, strings and a percussion battery of twenty-eight implements divided among five or so players. Members of the San Francisco Symphony Chorus sat high above the stage adding amplified sound textures.
Nothing more, nothing less.
Adriana Mater is the second of Saariaho's three full scale, actually huge scale operas, the first is L'Amour de loin (2000), the third is Innocence. (2018). While L'Amour de loin may be the lush contemplation of a woman by a medieval troubadour it dives deeply, indeed quite anxiously into obsession and devotion in a world of reality and illusion, and the human need to belong somewhere. These are themes which dominate Innocence as well — a wedding reception gone awry against myriad recollections of a school massacre, and a mother daughter crisis.
Innocence, considered the Saariaho masterpiece, comes to San Francisco Opera in 2024 in the Simon Stone production from the Aix Festival. https://operatoday.com/2021/07/innocence-at-the-aix-festival/
These are not dramatic works. Rather they are three contemplations of the terrifying realities of twenty-first century existence. Balance these massive works against the huge catalogue of orchestral works, concertos, cantatas, and chamber works for solo or few instruments, and voice that Kaija Saariaho (1952-2023) has bequeathed us to understand that there is much more to her musical spirit than the sensationalism of these operas.
Foremost, Adriana Mater (Innocence as well ) is a huge, operatically voiced cry/scream about violence — war, rape, and guns — laying bare the souls of those in its midst. That the protagonists are female is fitting, though Mme. Saariaho has preferred to be known simply as a composer rather than as a female composer. The librettist of Adriana Mater, Amin Maalouf, is male.
Though he was born in Lebanon he immigrated to France, like Mme. Saariaho (born in Finland), early in life. Though Arabic is his first language he has always written in French as a war correspondent, novelist and librettist. Like Mr. Maalouf, it may be said that Mme. Saariaho composed in French given that her compositional maturity occurred in France. Her participation at the famed Parisian Institute for Research and Coordination in Acoustics/Music (IRCAM) rendered her a spectralist (among the successors to Olivier Messiaen), and added electronic manipulation as an integral component of her composition.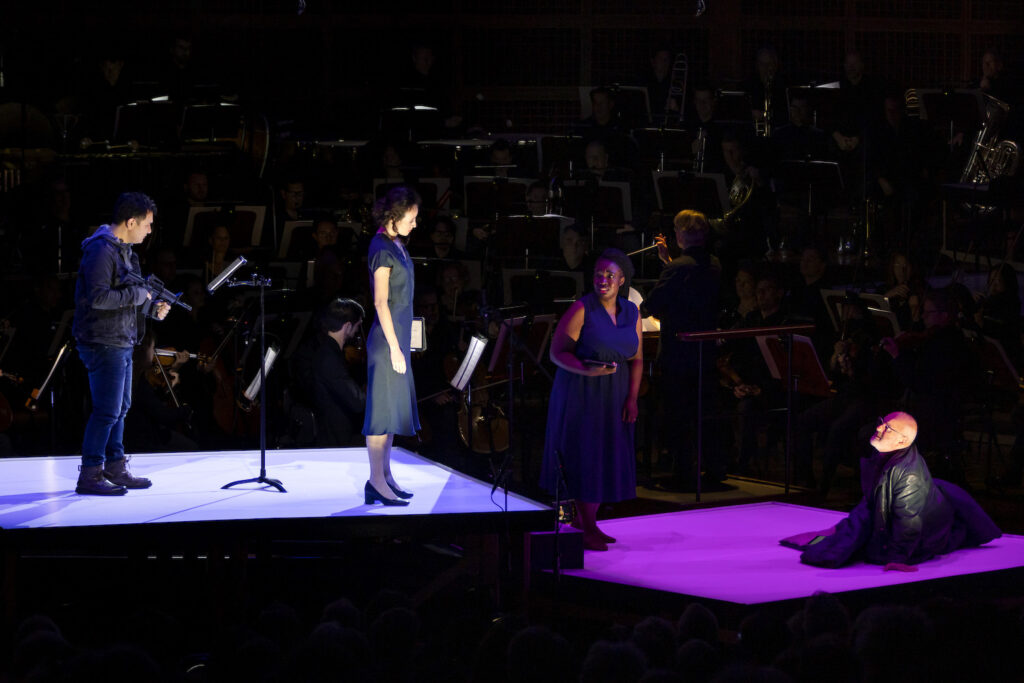 Mr. Maalouf's libretto tells of a drunk man with a gun who rapes a woman who, against the advice of her sister, gives birth to a son who she hopes will not be a killer. The son, now an adult, learns that his father was a rapist, and is still alive. The son sets out to kill his father who, he discovers, is now blind.
Though the story is told from the perspective of the mother (mezzo-soprano) the story shifts in and out of the perspectives of her sister Refka (soprano), Adriana's son Jonas (tenor) and the father Tsargo (bass), the four voices in the opera. The Peter Sellars staging places the singers among the orchestra on platforms, with no visual references save a sometimes colored floor. Besides the evident closeness of vocal and orchestral collaboration, this stark focus on each player muted the violence of war and alcoholism and took us deeply into the minds and hearts of each of the players.
Within Mme. Saariaho's carpet of the sounds of infinite possibilities, we discerned the quite magnificent angst of the players, and their human, philosophic and metaphysical stances. There were constant bursts of human spirit that erupted through this maze of orchestral confusion, and these bursts were not comforting, nor did they portend any answers. Notable was use of a descending minor second (smallest interval of the chromatic scale) to land on the [a]tonality of the soundscape that identified a particular moment. Startling was the absolute absence of any hint of diatonic harmony, even in the resolutions of a scene.
Adriana was sung by mezzo soprano Fleur Barron, an artist of Asian/European descent, formed in New York. Of rich voice, she is a formidable technician of deep musicality and has a powerful stage presence, transforming herself from the sexually ripe young woman into the mature woman who must explain herself to her grown son. The young soldier/rapist who then becomes a blind old man was sung by bass-baritone Christopher Purves, a veteran opera singer of huge accomplishment. Spellbinding as the blind old man, he lay supine with his back to us, his voice electronically modified into sepulchral tones.
Ariana's sister was sung by Parisian formed soprano Axelle Fanyo. Of rich voice and impeccable technique she negotiated the treacherous vocal lines created by Mme. Saariaho with an ease that made such atonality of line seem natural. Ariana's son was sung by American tenor Nicholas Phan of Asian/Greek descent (mentioned only because stage director Sellars has particular affection for mixed race artists). Mr. Phan brought striking artistic finesse to this very complex role — raging at his mother, berating her sister, threatening his father. He lay his Uzi down finally, a gesture of unanswered peace.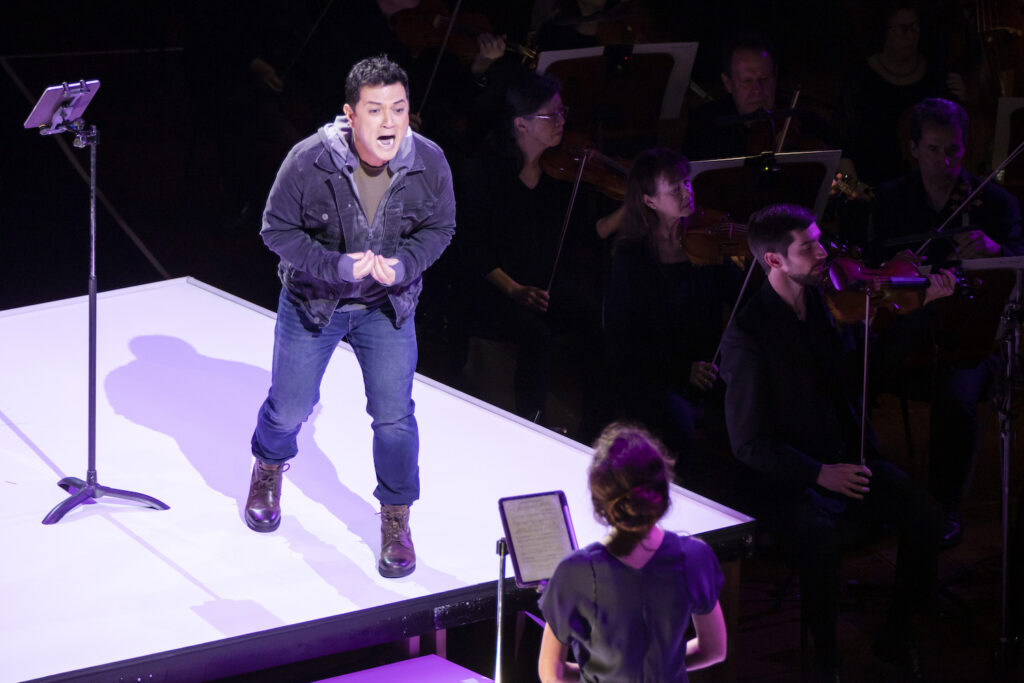 Note that the singers relied on iPads to prompt their lines, a conceit that seemed just right in the context of the complexities of the literary and musical concepts. Their voices were always amplified, thus we had no idea of the sizes. The sophistication of amplification was such that the voices were felt to emanate from their stage positions. The excellent sound technicians were not recognized in the program.
The lighting, of ultimate sophistication, was by Peter Sellars' usual collaborator James F. Ingalls. The costumes, of ultimate character delineation and of absolute, everyday simplicity were envisioned by Camille Assaf.
Michael Milenski