Once again, a new release of world premiere recordings by Em Records has opened up a fertile path through the byways of English music, and there are rich rewards for those who choose to follow it. 
Silver Stridencies of Sound presents a chronology of 22 songs by Peter Wishart, performed by the baritone Jeremy Huw Williams and the pianist Paula Fan. Wishart, who died in 1984 at the age of 63, was a prolific composer, especially during the 1950s and 1960s, and the songs on this recording span from Wishart's first extant set, the Seven Songs Op.15 (1952), to 'Orpheus with his Lute' from his final pair of songs, Two Portraits Op.78 (1977).
The composer's commitment to tonality – or, what one might call a rather prickly 'diatonic dissonance' – made him out of step with prevailing trends, and his music never received the attention accorded to some of his contemporaries such as Malcolm Arnold and Robert Simpson (both were born in the same year, 1921, as was Ruth Gipps). Yet, his craftmanship is evident in works encompassing diverse genres – operas, choral works, symphonies, concertos, chamber music, incidental works and more than 60 songs. Many of the latter were written for his third wife, the mezzo-soprano Maureen Lehane.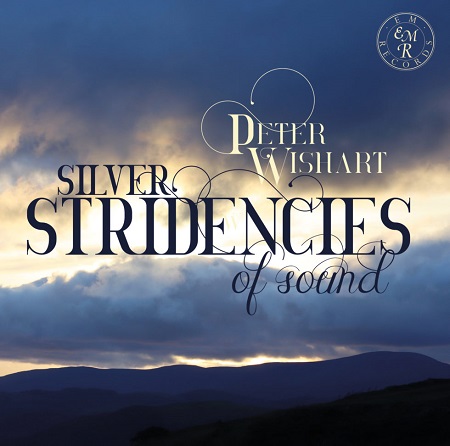 Wishart studied under Victor Hely-Hutchinson in Birmingham and Nadia Boulanger in Paris and then held teaching posts at Birmingham University, the Guildhall School of Music and Drama and King's College London, going to Reading in 1977 where he became Professor of Music. In his obituary of Wishart, in The Musical Times, Don Roberts – a leading scholar on Wishart's music, who exchanged letters with the composer from 1955 until the latter's death – suggests that 'the most obvious influence was Stravinsky' but notes that 'there is also an English flavour to his music, particularly in his treatment of words'. Somewhat reticent and not prone to self-promotion, Wishart himself described his approach as 'classical rather than romantic – that is to say … does not believe in deliberate self-expression in music so much as attempting to remember always Orlando Gibbons saying "Proportion beautifies everything".
There's certainly a strong sense of 'craft' and 'structure' in 'The Mountebank's Song' from the Op.15 set, which opens the disc. It's a tumbling tumult of ailments and cures, rhythmically taut but with some tripping displacements. Williams gets his tongue around the text – indeed, his diction is excellent throughout the recording – and sings with declamatory force, heightening the rhetoric of the refrain, "Then, come to me what ere you feel/ Within, without, from head to heel", and roving theatrically through the promise to not only "youth restore" but "do a thousand wonders more" – this deceiver is no smooth, suave Dulcamara!
'Feste's Song' is in the same vein, the chuntering piano conveying the incessant gusts of "the wind and the rain", the vocal line busy and boisterous. The lovely strophic 'A Lover's Lullaby' (a setting of the sixteenth-century poet, George Gascoine), however, reveals the 'English flavour' noted by Roberts. Perhaps Williams might have adopted a simpler lyric vein, here, as it feels a little breathy at times, and ventures into the head voice are not always very stable. The piano takes a back seat (in general, the voice tends to dominate in these songs), but Paula Fan expressively interjects the little three-note motif associated with the three-syllabled "lullaby" and creates a lucid calm.
'O Mistress Mine!' (1957) has a similar 'freshness': it rolls along, occasionally sliding away from the poetic metre, but nonchalantly re-finding its feet. Again, one feels that Williams could adopt a more folk-like lyricism, rather than the rather urgent declamatory mode that he employs. 'June Twilight' (1959) is more reserved, though, and Williams and Fan capture both the quiet joy of a country scene and the wistfulness of its temporality.
We move into the 1960s with 'Spring Sadness' (1960), a setting of an anonymous medieval lyric, translated by Helen Wadell, and 'The Bedpost' (1961), the fourth song in Wishart's Halfway to Sleep: a Song Cycle on Poems by Robert Graves Op.40, the latter his first cycle setting a single poet. Against the piano's murmuring oscillations, the leaping vocal line in 'Spring Sadness', which never quite lands where one expects, conveys the searching, sometimes anguished, quality of the text. In the latter song, Williams and Fan capture the contrast between the youth and innocence of the child, Betsy, who lies sleepily in bed, and the violent tales which she devours as her sister turns storyteller. They bring out a darker quality, too, in this poem, which was written in 1918 and revised in 1921, and which indirectly exposes the folly of war.
Some of the songs set religious texts, though they are characteristically diverse in tone. 'Joly Wat' (1964) is no conventional nativity piece! But, Williams and Fan convey the spiky eccentricity of the shepherd's joyous pilgrimage with aplomb. They present three of the Five Psalms Op.60 (1968), settings after St Augustine which were commissioned by Leonard Pearcey as part of an Easter television performance. I particularly like 'In you O Lord have I hoped': the lower tessitura gives this song a fitting sober quality and Williams, whose baritone sinks comfortably and warmly into the lower register, shapes the declamatory phrases with dignity, as the piano intimates gentle carillons. In contrast, 'The Lord is my light and my salvation' has an almost dance-like vigour.
From Wishart's A Book of Beasts Op.66 (1969), written for Maureen Lehane and a reflection of his life-long interest in the natural world, we have four animal portraits. There are more Graves settings in the form of the slippery dissonances and disjunctions of 'Cat Goddesses' and the contrasting quiet, subtly tremulous, poise of 'Bird of Paradise', with its languorous piano chords and stretched vowels. Harmonic and melodic twists – a vocal plunge, "Ripple along thy ropes of sin", for example – convey the cool menace of the Lord de Tabley's 'Spider', but Williams and Fan communicate, too, the sheer force of the poetic imagery, as the trained naturalist's eye dissects, with a precise and whimsical scalpel, the spider's gruesome existence and victims.
In Six Miniatures Op.68 (1971), Wishart turns to texts by the Australian poet, James McAuley, commissioned as the collection was for Maureen Lehane's ABC tour of Australia. 'The Magpie' contains the titular reference to the 'silver stridencies of sound' and the jaunty song evokes both the 'liquid squabble' of the bird's note and the swagger of its insouciant plundering. There's pictorial realism in 'The Royal Fireworks', too, as Fan conjures the "dazzling falls" and "golden showers", then diminishes expressively as "a concluding darkness falls". 'Merry-go-round' and 'Numbers and Makes' – the latter a paean to childhood trainspotting – are similarly kinetic. In contrast, 'Late Winter' is a beautiful imagistic fragment.
The sequence of songs is broken by an absolutely beguiling performance of an early work by Wishart, the Four Pieces for Violin and Piano Op.3 (1948), by Timothy Kantor and Fan. A Stravinksian neo-classicism, and wit, buzzes and bites in the 'Rondo', which is crisp and colourful, while the 'Nocturne' is eloquently reflective and played with beautiful tenderness by Kantor. After sparkling 'Variatons', which culminate with a wry harmonic 'crunch', the 'Cavatina' offers sweet, thoughtful lyricism, interspersed with gritty gambolling. These pieces are a very welcome inclusion on the disc, hinting at the breadth and variety of Wishart's oeuvre, and sending this listener in search of more recordings of his work.
The accompanying booklet is characteristically detailed and well-informed. Paula Fan contributes two short articles, one biographical, the other focusing on Wishart's songs and musical language. The texts of the songs are included, and the songs are introduced with short explanatory notes.
Wishart's songs repay repeated listening. There's both an intellect and musicality at work here, and both strands are tapped fruitfully by Williams and Fan. Lovers of twentieth-century English song can't afford to neglect this particular byway.
Claire Seymour
Jeremy Huw Williams (baritone), Paula Fan (piano), Thomas Kantor (violin)
Peter Wishart: The Mountebank's Song, A Lover's Lullaby, Feste's Song, O Mistress Mine!, June Twilight, Spring Sadness, The Bedpost, The Pessimist, Joly Wat, In you O Lord have I hoped, Blessed are those whose iniquities are forgiven, The Lord is my light and my salvation, Four Pieces for Violin and Piano, Cat Goddesses, Bird of Paradise, Spider, The Jackdaw, The Magpie, The Royal Fireworks, Late Winter, Merry-go-round, Numbers and Makes, Orpheus with his Lute.
EMR CD078 [81:13]