The press release for Unveiled, Welsh-born tenor Elgan Llŷr Thomas's debut disc, suggests that 'as a gay musician and composer, [Thomas] became increasingly frustrated by opera's traditional focus on heterosexual relationships and resolved to find more LGBTQ+ representation in vocal music', and that to achieve this 'he has crafted an album that sheds new light on works from the UK's most iconic gay composers and poets alongside music by typically marginalised artists'.
So, when I meet with Elgan to talk about Unveiled – released by Delphian Records on 23rd June and launched at Wigmore Hall, alongside collaborators Iain Burnside (piano) and Craig Ogden (guitar) on 29th June as part of the Hall's Pride Event this year – I begin by putting to him a paradox: that while representation of non-heterosexual love may be absent, or at best furtive, on the operatic stage, opera as an artform has been passionately embraced by the queer community.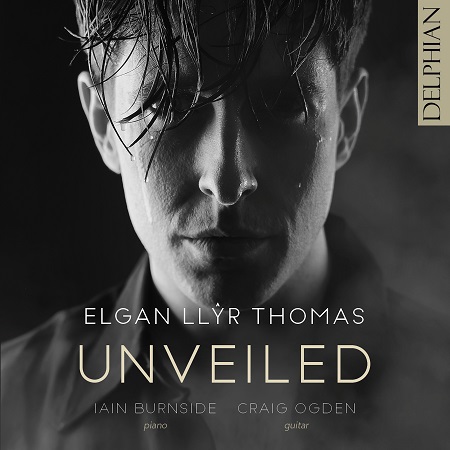 I note that, at a time when the 'scholarly' discipline of musicology was itself expanding to reach out 'beyond the score', books such as Wayne Koestenbaum's The Queen's Throat (1993) – a series of autobiographical ruminations which explore the then Yale-based scholar's infatuation with opera and a search to understand its connection with his homosexuality – and Sam Abel's Opera in the Flesh: Sexuality in Operatic Performance (1996), which pushes open opera's closet door, so far as to speak of opera's inherent 'polymorphous perversion', initiated discussion about why opera-going was seen as de rigueur for the gay men.
So, what does Elgan make of Monica B. Pearl's suggestion that the homosexual community has an ambivalence about relinquishing the operatic closet which 'is at once experienced both as a private (though shared) coded escape from an oppressive mainstream heterosexual world and also as a space that was, perhaps counterintuitively, always already queer, suggesting that in some circumstances the closet might have been a more liberatory space than has hitherto been imagined'?[1] And, of Paul Robinson's observation that, 'At one point in Paul Rudnick's play Jeffrey, the title character, who claims to have slept with 5000 different men, speaks directly to the audience: "I know it's wrong to say that all gay men are obsessed with sex. Because that's not true. All human beings are obsessed with sex. All gay men are obsessed with opera"'?[2]
Elgan responds by pointing out that, with regard to operatic representation, queer characters are often simultaneously 'on-stage but not on-stage'. One can see and acknowledge this representation, or one can ignore it. Britten is the obvious example. And, often the representation of queerness is riddled with shame and secrecy. Elgan draws attention to the characterisation of Captain Vere in Britten's Billy Budd, and of Inkslinger in Paul Bunyan. Things are suggested but never directly spoken or sung. Going further, Elgan notes that it is, of course, possible for a director to suggest that, for example, characters such as Schaunard and Colline in Puccini's La bohème are queer – they could hold hands and suchlike – but that all such things are not an open, 'true' representation of LGBTQ+ experience.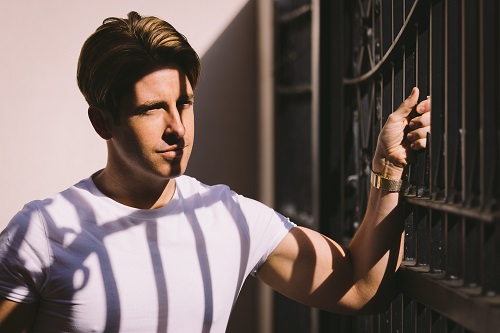 Covid and the pandemic lockdowns were clearly an important trigger for Elgan. "I love opera and being a singer and musician, but as a young singer trying to develop my career, I found myself saying 'yes, yes, yes' to roles that I didn't particularly like but which it seemed important not to turn down. I began to ask myself, 'How do I manifest the career that I really want to have, so that everything I sing has a connection to who I am and what I want to say?' I realised that I needed to record an album that would let listeners into my world – would open up the things that I am interested in and that make me the person I am."
As Elgan began compiling his disc programme, an ENO Harewood Artist themed recital in 2021, curated by Iain Burnside and which featured new English translations by Jeremy Sams of four of Britten's Seven Sonnets of Michelangelo, proved a fertile starting point. Elgan commissioned Sams to translate the remaining three songs, but he was at that point thinking largely in terms of canonical repertory. "Iain told me, though, that I would have to 'earn' Beethoven's An die ferne Geliebte! That listeners would have their own favourites of such repertory and that for a first album I should thinking about a personal pathway – about how to develop the theme of the Britten sonnets. I've performed five Britten roles and he's the opera composer that I probably feel closest to, but I've also [in 2019 at the Ludlow Festival] sung Michael Tippett's Songs for Achilles, with guitarist Sean Shibe. It's an incredibly difficult work – very hard to sing live, but I thought that perhaps I might be able to get it right in a recording studio!"
Elgan then began to research works that could extend the theme of the Britten and Tippett cycles. He says that he doesn't believe in 'fate' but that his discovery of Ruth Gipps' Four Songs of Youth for tenor and piano, written in the same year (1940) as Britten's Michelangelo sonnets, and which set texts written by bisexual war poet Rupert Brooke, was certainly fortuitous. Iain Burnside had suggested finding some contemporary repertory to complement Britten and Tippett, and a scroll through Wikipedia brought the Gipps songs to light, though it proved difficult to track down the score.
A glance at the titles of Brooke's poems – 'Failure', 'Unfortunate', 'The Dance', 'Peace 1914' – reveal some of the themes that Elgan notes: "The poems are beautiful, but they speak of shame and secrecy – and blasphemy, one poem is almost screaming at God. 'Peace 1914' has echoes of Ralph Vaughan Williams and of John Ireland: I hate to make such comparisons but in Gipps' songs various voices seem to come together in a way which is both wholly individual and quintessentially English." Wryly, Elgan reflects that this would have been the first recording of Gipps' songs, "if Roddy Williams hadn't got in first, with orchestrated versions with the Halle last year!"
The tenor also insists that he didn't want this disc to come across as insincere, a gimmick, but rather as a representation of the music to which he felt a truthful connection. "Opera is moving on," he notes – and a 2017 article by Alex Ross in The New Yorker charts the proliferation of gay themes in opera in recent years – but art song is a bit 'stuck'. "Art song is quite a 'preserved' genre, a 'pocket'; even within classical music it's quite 'niche'," observes Elgan, although he notes that there are singers – Fleur Barron, Ruby Hughes and others – who are introducing new things. "Alice Coote's last Wigmore Hall recital programme was absolutely crazy! – though such things will split audiences."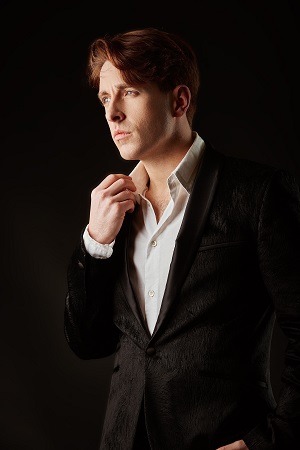 "It's lovely to sing Finzi, On Wenlock Edge, 'Silent Noon' … but I wanted to sing about something more 'real' to me. Iain Burnside knew that I liked composing, though when I was studying at the Guildhall School of Music and Drama I didn't have the time to devote to this. But, when Covid came, I updated my version of Sibelius and initially played around, making arrangements of songs. Iain encouraged me to write my own songs, insisting that if they were 'rubbish' then people would tell me! Also, he helped me appreciate that the songs didn't need to be as 'good' as those by Britten and Tippett et al, they just needed to sound 'like me'. I had one of Andrew McMillan's poetry collections, and in this he'd written poems after Matthew Bourne's all-male Swan Lake. I was intrigued by the layers of 'gayness' here: from Tchaikovsky to Bourne and on to McMillan, and then me."
"The poems which I have set in Swan are short, too; the longest is just eight lines. In one sense they tell the story of Swan Lake but their brevity means that they are elliptical. So, my songs present a fourteen-minute 'mini-opera', in a way; the tale they tell is chronological, unlike many song-cycles." A bit like Winterreise then, I ask? "Yes," replies Elgan, "in that the songs could be staged." Each song has its own musical style, though they are linked by leitmotifs, which help the listener make sense of the drama in such a short space of time. Elgan describes the music as "accessible, offering some familiarity in harmonic terms".
"It did seem to me, though, that the album programme was a bit 'heavy'. So, in the middle I've inserted a 'breather', so to speak." This 'breather' is W. Denis Browne's 'To Gratiana dancing and singing (Pavan)' (1913). "It's simply a beautiful song, and one which will be familiar to listeners," says Elgan, but here lies another fortuitous, and heart-breaking, connection with the theme of the disc. Elgan explains that Browne, who was killed at Gallipoli, had just six weeks before helped bury his poet friend, Rupert Brooke, on the Greek island of Skyros.
To Gratiana dancing and singing sets words by the Cavalier poet Richard Lovelace (1618-1657), and reaches back, too, in the source of its melody to the seventeenth century. Browne recreates the intensity of the lovelorn poet's experience as he and other men watch the captivating but unattainable Gratiana, reflecting on her charms as "Each step trod out a lover's thought". When her singing ceases, her enchanted audience look at each other: "The floor lay pav'd with broken hearts." Elgan notes that some scholars now believe that the song was written by Browne directly to Brooke as an expression of his love.
Coming back to the prevailing theme of the disc, I wonder if Elgan was drawn to repertoire from beyond British shores, when he was compiling his programme – settings of the French symbolist poets, perhaps? "Yes, I encountered enough repertory to fill six discs!", he laughs. "However lovely 'Silent Noon' is, it's been inspirational to discover music that allows me to sing about my own 'reality' on the recital stage."
Iain Burnside asked Elgan if he had thought about an encore for the Wigmore Hall recital. "I hadn't, and Iain suggested Richard Strauss's 'Morgen'!" Strauss may have composed this song for his future bride, Pauline, but the poet, John Henry Mackay, was what we would call today a gay activist who wrote important early gay texts under his own name and a pseudonym. Elgan remarks that the context of the poem is often now lost. "It's important that we open up and tell new stories."
Elgan Llŷr Thomas launches Unveiled, with Iain Burnside (piano) and Craig Ogden (guitar) at Wigmore Hall on Thursday 29th June 2023 at 1pm. The album is out now on Delphian Records.
Claire Seymour
ABOVE: Elgan Llŷr Thomas (c) Tom Gradwell
---
[1] Monica B. Pearl (2015) 'The Opera Closet: Ardor, Shame, Queer Confessions', Prose Studies, 37/1: 46-65.
[2] Paul Robinson, 'A voice from the closet', Cambridge Opera Journal, 6/3: 283-291.