It takes nearly forty minutes to get to the music Scott Joplin himself wrote for Treemonisha at Opera Theatre of Saint Louis, and I don't mean that as a bad thing.
After Marvin Hamlisch adapted Joplin's music for the hit 1973 film, The Sting , there was renewed interest in other things the 'King of Ragtime' wrote, including Treemonisha. The opera was never performed in Joplin's lifetime and the orchestrations were completely lost, therefore subsequent, infrequent, but important stagings required the instrumentation be created from the ground up, severally by such renowned practitioners as T.J. Anderson, Gunther Schuller, and Rick Benjamin.
While musical scholars were appreciative of the genuine accomplishment of Joplin's musical writing, it had to be equally admitted that the dated dialect and somewhat disjointed script were unsatisfying at best, and problematic at worst. While OTSL had produced a satisfying prior production of Treemonishain 2000, its musical glories outshone its dramatic shortcomings.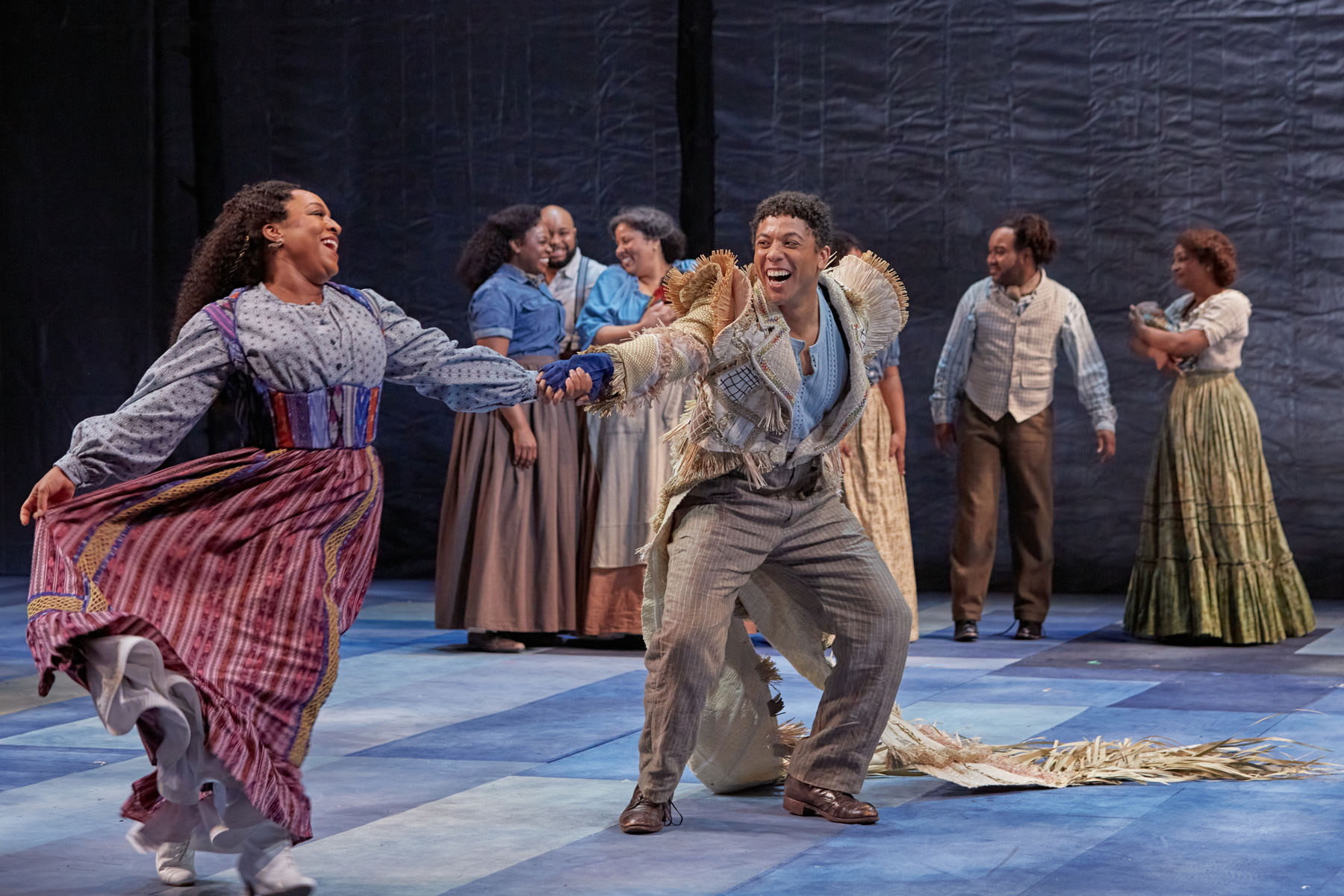 Enter composer Damien Sneed and librettist Karen Chilton. Through several uncanny coincidences involving Mr. Sneed's brush with advocates for Joplin in general, and Treemonisha in particular, he was "led where he needed to go," that is to complete and redefine Joplin's masterpiece. His is wonderfully abetted by Ms. Chilton. Together, they have framed the original score with a new prologue (The Dawning) and epilogue (Into the Dusk).
These two segments are lovingly crafted almost as an homage to Joplin's musical vocabulary, while clarifying and pointing up the dramaturgy. It is a significant contribution indeed, and the resulting new work is highly satisfying on many levels, not least of which as Afrofuturism, a genre that centers Black history and culture and incorporates science-fiction, technology, and futuristic elements into literature, music, and the visual arts.
Now, in a newly minted Act I, we meet composer Scott Joplin and his ailing wife Freddie Alexander Joplin, his muse who died tragically just ten weeks after they wed. They are joined by Lucy Alexander, Freddie's sister who begs Joplin not to stress Freddie by trying to actively involve her in the creation of his opera. While this prelude is slightly long and a bit repetitive, it does boast some beautiful set pieces, an authentic feel, a credible set-up, and most notably, a lovely arietta for Freddie that was a real crowd pleaser.
After Freddie expires, Scott enters the world of Treemonishahe created, immersing himself into the character of Remus, and the "original" core of the piece commences as Freddie tellingly morphs into the title character, and Lovie becomes Lucy. They and the assembled company proceed to tell the tale of the educated woman, Treemonisha, who leads her community through a path of supernatural challenges and superstitions to eventually embrace enlightenment and salvation.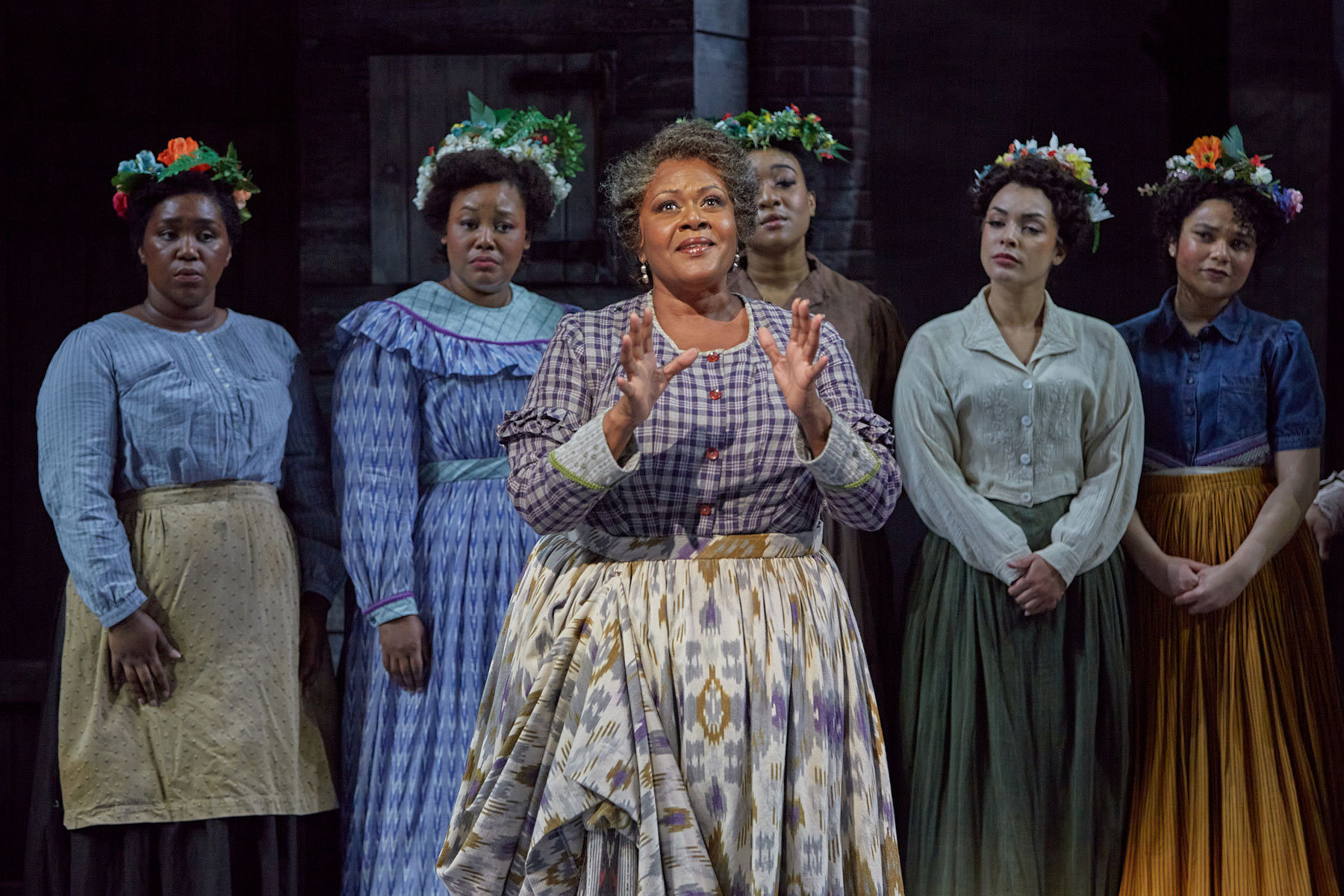 As Joplin's original ending comes to a joyful final number with A Real Slow Drag, Sneed and Chilton transport us one step further, Into the Dusk, which reverts back to the reality of Scott's being left alone, broken, at the piano in his Saint Louis home. In a brilliant stroke, the spirit of Freddie reappears to comfort her husband and prophetically encourages him by telling him future generations will celebrate his genius, as indeed we all have at this very performance. This new work was commissioned by Opera Theatre of Saint Louis, and this beautiful creation deserves to receive widespread attention and subsequent productions.
While the character of Joplin cedes the stage once we get to the telling of the main story, the adaptors have made Scott the real central character, and just like the local Cardinals, Justin Austin knocked it out of the park as Joplin/Remus. Mr. Austin has a gorgeous high baritone, that is evenly and effortlessly produced throughout the range. His plangent singing in the prologue and epilogue was heartfelt and very touching, but his highpoint may just have been his lovingly crafted presentation of Wrong is Never Right with its caressing phrases.
But it is called Treemonisha after all, and Brandie Inez Sutton commands the stage doubling as the title role and Freddie. Her lovely persona was matched by a warmly expressive soprano, secure and glistening at the top, and richly colored in the mid- and lower ranges. Ms. Sutton's sublime musicianship and emotional investment as the doomed wife, were beautifully contrasted by the poised assurance and bright delivery that she successfully encompassed as a spirited Treemonisha.
Amani Cole-Felder's pleasantly dusky soprano served the dual roles of Lovie Alexander and Lucy equally well, conveying sisterly loving concern for Freddie as the former, and later serving as the agitated messenger when her friend Treemonisha is kidnapped in the central tale. Ms. Cole-Felder also sang to fine effect, memorably partnering Ms. Sutton in the duet sections of A Real Slow Drag.
Phillip Bullock was appealingly sleazy in his "man-you-love-to-hate" turn as the conjurer Zodzetrick. His loose limbed, unctuous physical presence was wedded to a buzzy baritone of substantial ping and presence. As Monisha, mezzo-soprano KS. Tichina Vaughan was given some of the show's highest profile moments, and she did not disappoint. Ms. Vaughan offered a stylishly sung The Sacred Tree, imbued with steady-voiced gravity; and her coy way with Treemonisha's Bringing Up was sweetly deceptive as she disguises that she is Treemonisha's mother.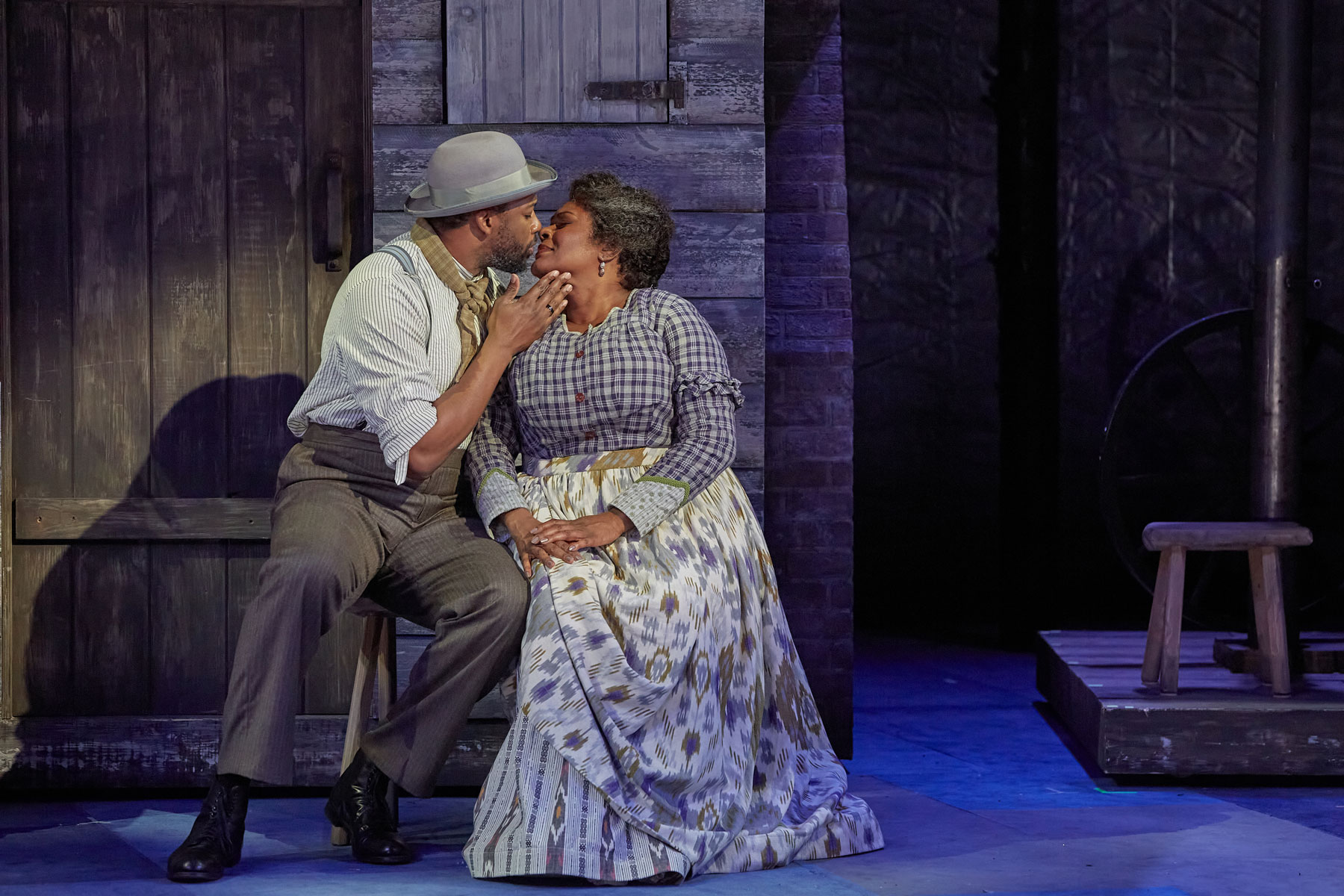 Later, in I Want to See My Child, her plaintive intonations blended meltingly with her husband Ned, here sung mellifluously by Norman Garrett. Whether bantering contentiously with Zodzetrick, or compassionately partnering his wife Monisha, Mr. Garret's polished baritone brought authority and aural pleasure to his key moments, none more so than in his definitive, beautifully controlled melismatic rendering of When Villains Ramble Far and Near , which almost stopped the show.
Jeremiah Tyson's Andy gets one of the score's liveliest numbers, We're Goin' Around, and he nails it with an ebullient release of his solid, glistening tenor. Markel Reed was a physical dynamo and a vocal delight as Pastor Alltalk. Mr. Reed's robust, captivating baritone swept all before it, and his animated, pedal-to- the-metal revival scene, revved up the audience to a frenzy and then. . .it was gone before we knew it in a breathless "what-just-happened" knockout moment.
Shavon Lloyd got the show going again after intermission with an animated telling of Superstition, but his attractive baritone lacked the final bit of heft and focus to fully create an impression over the lively orchestration. Yazid Gray deployed his firm tenor to suitably smarmy effect as Zodzetrick's baddie sidekick, Luddud. Chorus Master Andrew Whitfield prepared the substantial choral numbers with his usual attention to detail.
Veteran conductor George Manahan made a triumphant return to OTSL, leading a buoyant and affectionate reading of Damien Sneed's expertly crafted, multi-hued orchestrations. Maestro Manahan drew richly detailed playing from his band, and his seasoned collaborative sense with the stage resulted in an impeccable fusion of talent.
The technical achievements were a cornucopia of riches, not least of which were the evocative and imaginative costumes from designer Dede Ayite, which ran the gamut from period country folk to city folk, fireflies, trees, nasty wasps, demons, dragonflies, and spritely bears. If Marsha Ginsberg's set design didn't quite put the "E" in "Enchanted Forest," it was nevertheless handsome and fluid to accommodate the multiple scenes. Sturdy, well detailed wagons contributed to the flow, and the massive houses that allowed people to sit atop the roofs were a wonderful asset.
One brilliant scenic touch also relied on Marcus Doshi's splendid lighting design, with the opening prelude being visualized as a shadow play on a sepia front drop. It set the perfect tone for this newly expanded piece that is part realism, and mostly, a moralistic fantasy. Doshi's work was very fine throughout, with the menacing wasp nest being imaginatively realized in form and illumination. Wig and make-up designers Krystal Balleza and Will Vicari put the finishing touches on a very effective physical production, with the one shortcoming for me being the puzzling choice of a vast backdrop that looked rather like the texture of a black Hefty trash bag.
Director Rajendra Ramoon Maharaj was equally adept at developing the intimate scenes that bookended the central story as he was at creating sweeping yet carefully controlled motion that informed the many large scenes. Mr. Maharaj knew how to create meaningful and varied stage pictures, and he managed to maintain good focus on the many solo moments.
Choreographer Maleek Washington proved to be an exceptional staging partner, and the many dance segments were inventive and well-rehearsed so that even performers who were not trained dancers made a fine effect. The languid, infectious A Real Slow Drag was spellbinding in its musical and visual impact and elicited a deserved, vociferous ovation.
Damien Sneed and Karen Chilton have done their mentors, and Scott Joplin proud, having created a work of considerable power and beauty inspired by the core of the original Treemonisha. I appreciate that Ms. Chilton has subtly but importantly "translated" Joplin's text to a more meaningful resonance with today's audiences without losing its essence.
Opera Theatre of Saint Louis is to be commended for revitalizing this important piece of the African-American musical repertoire. Ms. Chilton's final line of text, sums up anything else I need to say:
"Treemonisha! What a beautiful sound!"
James Sohre
---
Treemonisha
By Scott Joplin
New Performing Version Conceived and Created by
Composer Damien Sneed and Librettist Karen Chilton
Scott Joplin/Remus: Justin Austin; Freddie Alexander Joplin/Treemonisha: Brandie Inez Sutton; Lovie Alexander/Lucy: Amani Cole-Felder; Zodzetrick: Phillip Bullock; Monisha KS. Tichina Vaughan; Ned: Norman Garrett; Andy: Jeremiah Tyson; Parson Alltalk: Markel Reed; Simon: Shavon Lloyd; Luddud: Yazid Gray; Cephus: Namarea Randolph-Yosea; A Foreman: Camron Gray; Conductor: George Manahan; Director: Rajendra Ramoon Maharaj; Set Designer: Marsha Ginsberg; Costume Designer: Dede Ayite; Lighting Designer: Marcus Doshi; Wig and Make-up Designers: Krystal Balleza and Will Vicari; Choreographer: Maleek Washington; Chorus Master: Andrew Whitfield
Top image: Brandie Inez Sutton as Treemonisha and the chorus of "Treemonisha" by Scott Joplin, reimagined by composer Damien Sneed and librettist Karen Chilton. Photo © Eric Woolsey