Purcell and Schoenberg: my kind of double bill.  Puritan 'authenticity', or whatever it is calling itself at the moment, is so all-pervasive when it comes to the seventeenth century that the fantasy has had little chance—until now.  To be fair, the Frankfurt Opera last season revived Barrie Kosky's double-bill of Dido and Aeneas and Bluebeard's Castle, but I am not aware of any previous pairing of Dido with Erwartung. (Bluebeard and Erwartung, by contrast, is an accepted if hardly frequent match.)  But is it, is it really my kind of double bill?  I think so; I cannot see why not and could certainly come up with arguments, persuasive or otherwise, in its favour.  Sadly, Krzysztof Warlikowski's production does not mark his finest hour, reducing Dido in particular to a level of almost risible banality, despite the evening's musical virtues. That was more the case once I had read dramaturge Christian Longchamp's brief conceptual summary in the programme than when watching, when I (more or less) simply felt baffled.
What I initially saw was a woman notably more serious than her fun-loving companions, but who did not in any sense appear to be Queen of Carthage or any such equivalent. She stayed in a glass cabin close to a forest, apparently North American, whilst they came and went, Aeneas and Belinda apparently conducting an affair or at least having casual sex. Dido seemed to be in some danger during the second act as the Sorceress and her – his/their, since a countertenor had been cast? – entourage surrounded the cabin. She held up signs saying 'HELP' and 'VAMPIRES', so I assumed the latter to be the US popular culture equivalent to witches. That made some sense (sort of), even if I could not discern any particular motive, let alone political element.
Once she had died, a transformational 'interlude' began, offering film of a voyage through an endless tunnel, some electronic music by Paweł Mykietyn, and members of the opera's ballet corps excellent in contemporary dance. Since Dido rose at the end of that and the 'vampires' had been busy for much of it, I presumed she too had become a vampire and would join them. Instead, though, she went back to her cabin, which at some point had mysteriously separated into two, and with a rifle shot Aeneas and Belinda dead without feasting on their blood. Erwartung consisted scenically of Dido in that half of the cabin and a dancer in the other changing his clothes and preparing dinner, which she went over to taste but may not have cared for, since she left more or less immediately. There you have it; there was more, but I am not sure it would help to go into further detail, even if I could remember it.
The vampire thing was, for better or worse, a red herring. It seems that much of what we saw had been in Dido's imagination, in a concept at least verging on the misogynistic. I may as well quote Longchamp's scenario (also given in English translation) in full; there seems little virtue to paraphrase in this case.
On the edge of a forest, a woman named Dido lives in a house that does not belong to her. She is a fugitive. Nothing is known about her except that she comes from far away. Her behaviour, her recurring references to very old stories, her fears suggest a psychological fragility. Past and present, reality and imaginery [sic] are so intertwined in her that one does not know whether the mysterious figures and evil spirits that appear at times inhabit the forest or her mind. Dido feels a mad, exclusive love for a man who is also a fugitive, Aeneas.
Together with two women, also uprooted, they make up this provisional community.
One evening Dido immerses [s'enfonce] into the forest or into her fantasies.
One major problem is that very little of that may reasonably be deduced from what one sees on stage. We surely cannot be expected to have read the programme before the performance; the production team needs to do some work here.  Even a verbatim projection would have helped. More fundamentally, though, to reduce the character of Dido to a 'madwoman', quite divorced from matters of state or any plausible substitute, is a pretty poor production concept.  Dido is not unstable; she is wronged.  Aeneas is not an apostle of free love.  And so on.  For some reason, the fourth member of this 'community' is, we learn from the cast list though nowhere else, is styled 'Venus' and assumes performance of what is left of the vocal writing.  I cannot tell you what part the goddess of love is held to play in this reimagined drama. Perhaps it is just a name.  Video projections of forest deer added less than nothing.  And moving into Schoenberg, might we not at least have had a spot of psychoanalysis?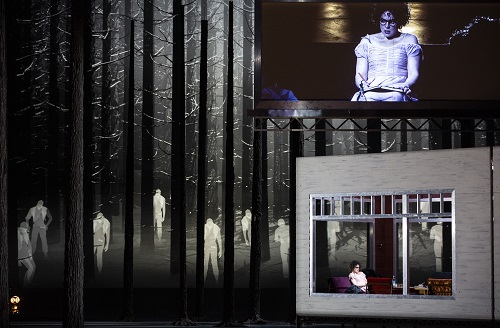 Were it not for the genuinely impressive contribution by the dancers, which did, in its way, link both halves, I could not give you a single argument derived from this double bill for trying to connect the two operas at all. The problem lay far more with the treatment of Dido than that of Erwartung. Once reduced to the level chosen for Dido and divested of its dramatic interest, the stage was literally set for the rest: strange and a genuine pity, since Warlikowski has show in productions such as his Paris Iphigénie en Tauride and his Salzburg Bassarids, as well as his work in spoken theatre, that he is perfectly capable of dealing interestingly with issues of political power and eroticism. To have a 'mad' woman possibly/probably imagine strange things was, sadly, nowhere near enough.
Aušrinė Stundytė offered a powerful, indeed extraordinary locus of musical connection and certainly did what she could with Warlikowski's scenario, her acting evoking pity, even sympathy, in the first part, even if we did not really know why. As Dido, she was vulnerable yet proud, her English diction superb. As A Woman, Stundytė mastered Marie Pappenheim's libretto, Schoenberg's lightning response, and the alchemy of their combination with an ease that gripped despite, not on account of, the staging. Colour, articulation, dynamic contrast, phrasing, and so much more combined to offer as complete a portrayal as we are likely to here. Above all, and like Andrew Manze and the Bavarian State Orchestra, she treated the drama musically and not as a succession of effects.
Manze is a musician of wide and generous sympathies. From a 'Baroque' violinist background, he has always shown interest in earlier and different performing practices. It seemed to me that he relished the opportunity to perform Purcell with this orchestra and on this scale; it certainly sounded that way. There were a couple of odd textual decisions I did not follow, but this was a reading tender and powerful, ably supported by the excellent work of the house's 'supplementary' chorus in the pit. However wide those sympathies, I doubt Schoenberg would be the first composer anyone would associate with Manze, but he did a fine job here too, very much at one with Stundytė's approach, enabling the orchestra to present a host of voices, near-Brahmsian possibilities taking different turns with all the dramatic-psychological implications that suggests. Balance and colour were equally well projected, in what emerged as a grand operatic scena, almost an outsize accompagnato, albeit one that seemed over – as, in any performance worth its salt – in a thirty-minute flash.
Aeneas is a dramatically thankless role, all the more so in this production, but Günter Papendell did what he could, emerging with credit.  Victoria Randem greatly impressed as Belinda, her clear, stylish, yet never remotely precious soprano just the thing for the role.  She can certainly act too.  Key'mon W Murrah made an excellent musical case for a countertenor Sorceress in a performance of considerable dramatic verve.  There was, indeed, nothing to disappoint on the musical front, and much to admire.  What a pity it was to have memorable performances so sorely let down by a disappointing production.
Mark Berry
Henry Purcell, Dido and Aeneas, and Arnold Schoenberg, Erwartung Op.17
Dido/A Woman – Aušrinė Stundytė, Aeneas – Günter Papendell, Belinda – Victoria Randem, Venus – Rinat Shaham, Sorceress – Key'mon W Murrah, First Witch – Elmira Karakhanova, Members of the opera-ballet of the Bavarian State Opera – Aaron Amoatey, Erica D'Amica, Ahta Yaw Ea, Arnie Georgsson, Moe Gotoda, João da Gracia Santiago, Serhat Perhat, The Thien Nguyen; Interlude music – Paweł Mykietyn, Interlude vocalist – Maria Magdalena Gocał, Interlude sound design – Jarowsław Regulski; Director – Krzysztof Warlikowski, Conductor – Andrew Manze, Designs – Malgorzata  Szczęśniak, Lighting – Felice Ross, Video – Kamil Polak, Choreography – Claude Bardouil, Dramaturgy – Christian Longchamp, Katharina Ortmann, Supplementary Chorus of the Bavarian State Opera (chorus director: Sergej Bolkhovets), Bavarian State Orchestra.
Nationaltheater, Munich; Thursday 20th July 2023.
All images (c) Bernd Uhlig