'A rubbishy old play.'  Michael Burden, editor of the Eulenberg edition of Purcell's The Fairy Queen (the first to include the complete spoken text and music), explains that Restoration and eighteenth-century audiences weren't that enamoured of Shakespeare's A Midsummer Night's Dream, or won over by the overlapping genre of 'dramatick opera'.  When he saw the play at the King's Theatre in 1662, Samuel Pepys described it as 'the most insipid ridiculous play that I saw in my life' and vowed never to see it again.
And, The Fairy Queen might seem a rather strange choice of work for Longborough's Emerging Artist production, given that much of the text is spoken rather than sung. However, director Polly Graham's somewhat anarchic production is courageously true to the intermedial approach that characterised Restoration adaptations. And, in bringing together spoken drama, song, dance, masque and puppetry, while blurring the boundaries between the baroque and rock, rap and folk, Graham brilliantly mirrors the sort of hodgepodge fragmentation that characterised the aesthetics of Restoration performance.
When Purcell's 'dramatick opera' premiered at the Dorset Garden Theatre in May 1692, the heavily cut text of Shakespeare's A Midsummer Night's Dream was interspersed with five masques – the latter since condemned by musicologists such as Edward J. Dent as having no 'dramatic justification' because they 'do not even attempt to tell a definite story, or to present any definite idea'. As such, Dent argues, 'to the idea of opera they are absurd and useless excrescences'.[1] Graham, by contrast, relishes the creative freedom that such 'excrescences' might afford, and in so doing reflects imaginatively on the relationship between the musical scenes and the theatrical action.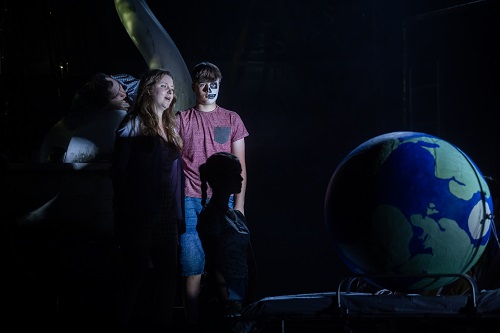 So, in framing episodes, her fairies – chorus and youth choir – are climate change warriors, brandishing their fiercely honest placard-slogans, cherishing the balloon-globe that is lovingly floated aloft, challenging our disruption and destruction of their woodland 'paradise'.  In their radical re-imagining, Graham and the designer Nate Gibson draw on images of abandoned parking lots and theme parks, a metaphor for Nature itself.  Scaffolding is home to wandering minstrels.  Titania sails into her golden bower on a swan salvaged from the now forsaken Spreekpark amusement park in Berlin.  A huge, voluptuous ice-cream cone tempts with the promise of sweet gratification.  The trees are dangling silver tassels, glittering, flittering and magical.  The dark stage is a creative wilderness, illuminated by sparks and sparkles which convey the indomitable energy of, as Graham, inspired by Richard Mabey's The Unofficial Countryside, puts it, 'Nature that persists in spite of our destruction'.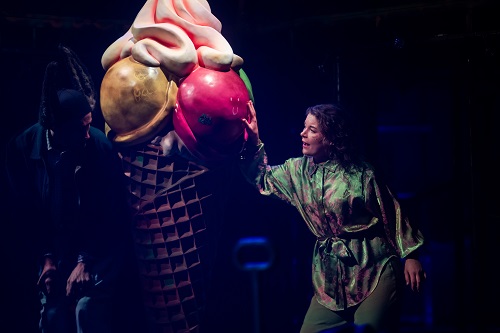 Longborough's The Fairy Queen presents a newly commissioned genre-bending arrangement (with orchestral music supplied by The Early Music Company) which blends the baroque with folk music, the formal repetitions of the ground bass spinning hypnotically into silky melodies, lithe rhythms and jazzy timbres, delivered by the wandering musicians with improvisatory élan. Thus, the violinist and composer Naomi Burrell and composer-conductor Harry Sever (Longborough's Ring Cycle Conducting Fellow) break down the boundaries between instrumentalists and singers, pit and stage, and between stage and auditorium. In so doing, they mimic the manner in which composers made use of the architecture of the Restoration theatre, with performers being placed above the proscenium arch, in balconies leaning over the stage, in the cellarage, and on a stage which was itself divided to present contrasting, overlapping perspectives.[2]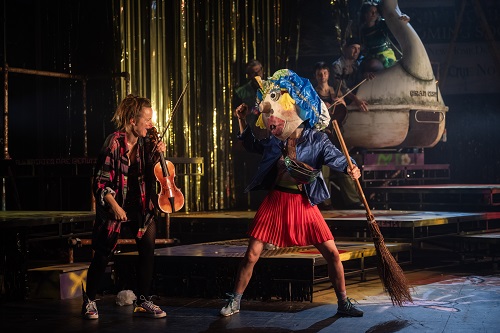 In this way, Graham reconstructs the 'period ear', revealing the collaborative jumble of opera, song, instruments and text – the latter restoring Shakespeare's words and sometimes amplified – that bloomed brightly and boldly within the noisy space of the Restoration theatre. Both the episodic nature of the drama and the proliferation of musical styles are enervating. Visually and aurally, it dazzles.
What's liberating, too, is that it doesn't have to 'add up'. One can delight in the many parts without the need for them to cohere into an integrated whole. In fact, the joy lies in the jostling – it's a celebration of hybridity, emphasised by the doubling of roles that bring the drama's overlapping but differentiated worlds into dialogue.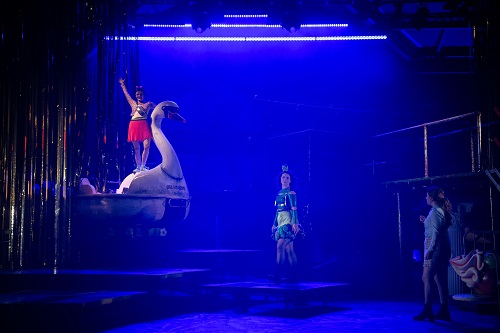 So, one can enjoy the ludicrous earnestness of the Mechanicals' rehearsals and dramatics: Angharad Rowlands' wonderfully droll Peter Quince, Rhydian Jenkins' intense Snout/Wall, Edward Jowle's pugnacious Starveling/Moonshine, Alys Mererid Roberts' truly touching Flute/Thisbe, and George Robarts' self-regarding but sincere Bottom.
Or, relish the glossy sensuality of Rachel Speirs' Titania and the feistiness of the soprano's Hippolyta; the integrity of Annie Reilly's Helena – for once not ridiculed and diminished; the lucidity, of voice and mind, of Eleanor Broomfield's Hermia; the passionate confusions of Peter Edge's Lysander and Luke Horner's Demetrius. Lars Fischer's Oberon is mesmerisingly potent (the tenor doubles confidently as Theseus). As a cheerfully rebellious Puck, Suzie Purkis sparkles, literally and vocally (and she adaptably triples up as Egeus and Snout).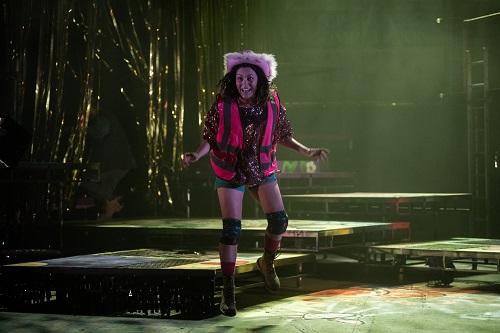 Graham invites her audience to join the fairies' 'nightlong rave'. And, it's the fairies, and their music, who have the last word, as the director takes her cue from Theseus: 'No epilogue, I pray you; for your play needs no excuse … come, your bergamask. Let your epilogue alone.' This Fairy Queen relishes the form's piecemeal nature and presents a wonderfully engaging – both challenging and inspiring – creative refashioning.
Claire Seymour
Hermia – Eleanor Broomfield, Hippolyta/Titania – Rachel Speirs, Helena – Annie Reilly, Oberon/Theseus – Lars Fischer, Egeus/Puck/Snug – Suzie Purkis, Demetrius – Luke Horner, Lysander – Peter Edge, Flute/Fairy 1 – Alys Mererid Roberts, Peter Quince/Fairy 2 – Angharad Rowlands, Snout/Fairy 3 – Rhydian Jenkins, Starveling/Fairy 4 – Edward Jowle, Bottom – George Robarts; Director – Polly Graham, Conductor – Harry Sever, Set/Costume Designer – Nate Gibson, Lighting Designer – Tim Mitchell, Choreography – Carmine De Amicis, Longborough 'Band' and Youth Chorus.
Longborough Festival, Gloucestershire; Saturday 29th July 2023.
ABOVE: Rachel Speirs (Titania) (c) Matthew Williams-Ellis
---
[1] Edward J. Dent, Foundations of English Opera (New York: Cambridge University Press, 1928): 225.
[2] See Mark A. Radice, 'Sites for Music in Purcell's Dorset Garden Theatre', The Musical Quarterly, 81 (1997): 430-48.