Miraculous.
That pretty much encapsulates my reaction to the staggering accomplishment of Des Moines Metro Opera's festival production of Bartok's masterpiece, Bluebeard's Castle. This taut, barely sixty-minute performance was brimming with outstanding achievements, not least of which was the cast of only two singers. But what singers they were!
Christian Van Horn is one of the most sought after opera stars, appearing at all of the world's major houses. His generous, resounding bass-baritone was a perfect fit for the extreme vocal demands of the title role. His superbly colored vocalizing ran the gamut from anguished deflection to treacherous manipulation to lethal domination.
Mr. Van Horn's powerful delivery could shake the rafters one minute and scale back to an intense whisper that commands our sympathy the next. His lanky stage demeanor and physical stature were perfect complements to his assured singing, as he created this towering portrayal.
DMMO favorite, Sara Gartland matches him note for note as the doomed wife, Judith. This is an Everest of a role, and Ms. Gartland meets its every challenge with her radiantly produced soprano firing on all cylinders. She can ravish us with silvery floated high notes, chill us with robust chest tones, and hit us between the eyes with searing, poised, arching declamatory phrases. Her registers are beautifully knit, and she glides seamlessly throughout the demands of the part.
Vocally and dramatically, she totally embodies this complex, conflicted character, fearful of what secrets she may discover, but believably grounded in intense love for her husband. When she finally pleads her case near opera's end, her plaintive singing goes into the ears and heads straight for the heart. This complex performance was deftly delivered, and to boot, her lovely presence is truthfully acknowledged when Bluebeard ultimately says she is the most beautiful of all his wives.
In the pit, David Neely's knowing baton inspired a brooding, sinuous, characterful reading of the score, that started strong and continually churned and evolved into shattering musical moments. Maestro Neely drew near virtuosic playing from the large orchestra, creating an inexorable sweep from the work's rather tense, chromatic framework. Neely drew out the numerous rich details inherent in Bartok's tone-paining and commendably knit the singers and players in a unified account of the work's unraveling secrecy and emotional brooding.
The nonpareil triumph of this overwhelming presentation had to be the digital image composition by the artist Oyoram. Working in tandem with set designer Luke Cantarella, Oyoram utilized the cutting-edge visual technology now in use by Hollywood studios, to make this new stage production thrillingly come to life through the world's most advanced real-time 3D creation tool.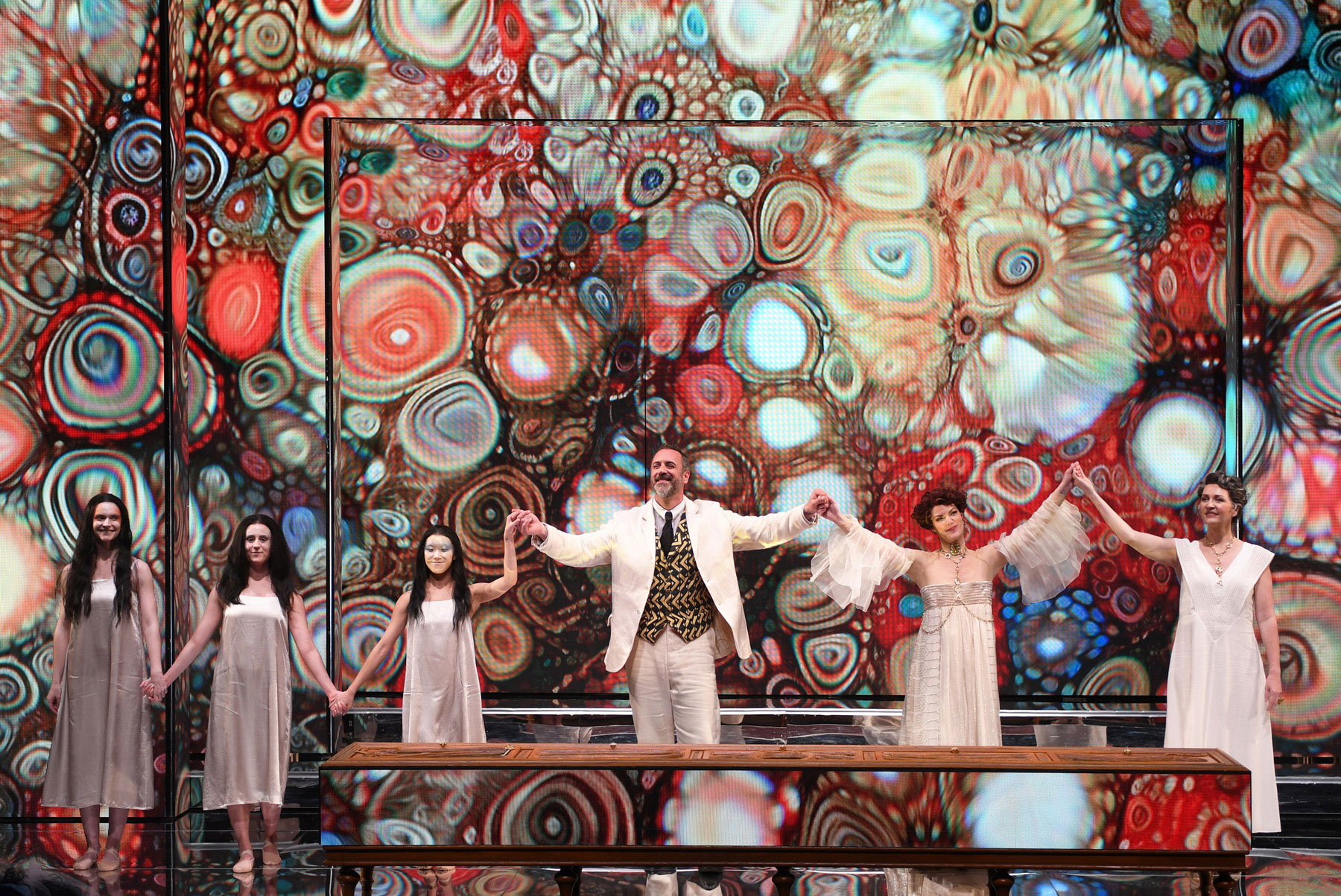 For his part, Mr. Cantarella has provided a wonderful basic environment. The venue is well known for its unique layout, featuring a shallow proscenium, and a thrust that is interrupted by the placement of the orchestra pit mid-playing area. The audience wraps intimately around the thrust making this a very special set-up in which to experience opera.
The sides of the stage were each tellingly dressed with sloping barricades of expensive collectibles (furniture, rugs, lamps, books) that communicated a cluttered atmosphere of ill-gotten gain. Downstage, the famous trap door was first covered by a platform lit from below with an Art Nouveau pattern. This platform tracks forward to allow a tower to rise from the depths and represent the entrance/descent into the castle.
On the lip of the proscenium area a long chest with compartments and covers, represents the first four doors (think document cases in museums). This proves very clever as props can also be taken out as they pertain to the story at any given time. Finally, there is a short ascending set of stairs upstage that are backed by a number of projection screens and legs, upon which Oyoram worked his Nouveau wonders.
It is impossible to relate in words how extraordinary this hour-long journey of projections proved to be, except perhaps to say that a number of the three-dimensional effects and panoramic imagery elicited audible gasps from an audience that could not believe its eyes. Miraculous, indeed.
Rounding out the accomplished design team, lighting designer Kate Ashton perfectly augmented the projections, not just staying out of their way, but actually commenting on them with washes of color and isolation of areas. I especially liked the tweak of the neon red straight inner border on the floor next to the piles of props, that came up each time that Judith sees blood in the images before her. Kate Voyce's costumes were stylishly handsome and, in the case of the wives colorful raiment, much more.
Director Kristine McIntyre has made her annual welcome return to DMMO to invest another stellar product with her unrivaled skill and fertile imagination. Her firm hand surely shaped the complex realization of the projected effects, but even more important, Ms. McIntyre forged a palpable bond between Bluebeard and Judith that was riveting in its commitment and inevitable in its truthful journey.
I also admired how completely she used the stage, the levels and the areas. One challenge from having the screens upstage, is that as Judith "enters" certain rooms, the performer needs to be in that same space repetitively for the effect to be realized. But McIntyre found every opportunity to bring the characters to other, varied playing areas, with well-motivated conviction.
I liked that the often cut, spoken "Prologue of the Bard" was included. It was declaimed on this occasion by a Hungarian performer, Viktoria Vizin, whose dark-hued incantations end by questioning the audience: "Where is the stage? Is it outside, or inside?" The prologue warns that the morals of the tale can apply to the real world as well as to that of Bluebeard and Judith.
She coolly and confidently delivered this address rather precariously perched on that imposing platform, that seemed as high as an elephant's eye.
Three dancers contributed greatly to the denouement, with their evocative and soulful movement as the three dead wives. Erin Arndorfer, Melissa Dahms, and Chiyo Nishida deftly executed rather free form, fluid choreography by Lisa Thurell, that recalled Twyla Tharp.
Bluebeard's Castle was yet another shining example of the care, thought, talent, and creative thinking that informs each of the beautifully considered productions at Des Moines Metro Opera. Next season promises Salome, The Barber of Seville, Pelléas and Mélisande,and the World Premiere of American Apollo.
I can promise, it will be opera at its best.
James Sohre
---
Bluebeard's Castle
Music by Béla Bartók
Libretto by Béla Balázs
Based on Barbe bleue by Charles Perrault
Duke Bluebeard: Christian Van Horn; Judith: Sara Gartland; Prologue: Viktoria Vizin; Dancers: Erin Arndorfer, Melissa Dahms, Chiyo Nishida; Conductor: David Neely; Director: Kristine McIntyre; Digital Image Composer: Oyoram; Scenic Design: Luke Cantarella; Costume Design: Kaye Voyce; Lighting Design: Kate Ashton; Choreographer: Lisa Thurell
Top Image: Christian Van Horn as Duke Bluebeard and Sara Gartland as Judith.
All photos by Duane Tinkey courtesy of Des Moines Metro Opera.