Despite the revival of interest in Massenet's operas, Le roi de Lahore does not seem to have been staged in the UK since 1879. It is that still relatively unfashionable thing, a French grand opera, in five acts with a colourful historical setting, doomed lovers and a ballet. It requires substantial forces to bring off. But, having successfully staged Massenet's Herodiade in 2006 and Le Cid in 2018, Dorset Opera has risen to the challenge magnificently. I caught Dorset Opera's production of Le roi de Lahore on Thursday 27 July 2023 in the Coade Hall of Bryanston School. Directed by Ella Marchment and conducted by Jeremy Carnall, with Amar Muchhala as Alim, Kezia Bienek as Kaled, Michael Anthony McGee as Scindia, Seljan Nasibli as Sita, Tim Bagley as Timour and Julian Close as Indra. Set designs were by Rufus Martin with costumes by Stewart J Charlesworth and lighting by James Smith.
The story concerns a love triangle between Alim (Amar Muchhala), King of Lahore, Scindia (Michael Anthony McGee), the King's minister, and Sita (Seljan Nasibli), who has taken vows of chastity in the temple of Indra. An interesting wrinkle in the plot is that Alim dies at the end of Act Two, but in Paradise, he successfully pleads with Indra (Julian Close) to be allowed to return. Things do not end well, and the two lovers are united in Paradise.
On one level, the plot is pure hokum, set in a fantasy India that says more about French Orientalisme than reality. But on another level, it is about the idea of how far you would go for a beloved. The great virtue of Ella Marchment's production was that she took the story entirely seriously, not attempts at irony or sending it up, allowing the music space to tell the emotional story.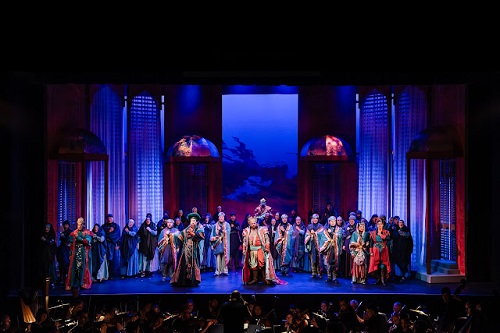 The setting was moved from its problematic Indian setting to a fantasy world, still vaguely Eastern but more storybook with highly eclectic designs. This was helped enormously by Rufus Martin's lovely sets, a group of reusable units that looked good, were shining in James Smith's lighting and provided functionality and flexibility. These were complemented by Steward J Charlesworth's amazing costumes, the principals seem to have got lost in the dressing-up box, with make-up to match, whilst the chorus costumes had a number of Eastern and Middle-Eastern themes going on. The result created a sort of visual elan that this style of opera really needs and made up for any lack of stage room.
Of course, all this would be as nought without a good performance, and Ella Marchment drew strong involved performances from her principals and marshalled the chorus brilliantly. It should perhaps be explained that the chorus members come together for a residential course before rehearsals begin and mix those with experience with those with none. There were also about 60 of them, all fully engaged and imaginatively used.
Some of the opera's best-known music is in the ballet, including a famous saxophone solo. This ballet was cut, but four of the chorus, Charlotte Davies, Zaioton Duan, Nikki Wilson and Daisy Lapworth, provided dance in two of the chorus numbers.
Massenet's musical style makes a real nod to the French grand opera tradition, though by 1877 the style was in the past and things were changing; by the end of the century Meyerbeer's grand operas would be replaced by Wagner in popularity stakes, the Paris Opera would be performing Verdi's Otello in the original language, and Massenet would be writing smaller scale lyric works. In Le roi de Lahore there are stand-alone numbers, but Massenet weaves them into a constant lyric flow that hints at the style of his later works.
As Sita, Seljan Nasibli combined feistiness with great charm and fine Gallic vocal style. Whilst the opera was recorded by Joan Sutherland, Nasibli's Sita was closer to French stylists such as Mady Mesplé and Nasibli gave us much to enjoy throughout the evening. That we had so much lovely lyric and dramatic music attached to a heroine who was anything but passive was a breath of fresh air.
As a hero, Alim was a bit of a failure, his city is being attacked, he is defeated in battle and dies. But he plods on, true to his love for Sita and wins in the end. Amar Muchhala brought a robust heroism to the role, imbuing the music with character and strength. His death scene in Act Two was a lovely, extended love duet with Nasibli's Sita, whilst in Act Four when resurrected, he finally found the gumption to stand up to McGee's Scindia in a thrilling scene. Whilst the ending saw the two lovers evaporate in romantic bliss.
Scindia is something of a pantomime villain and Michael Anthony McGee simply went for it. Wonderfully slimy with plenty of rolling of eyes in Act One as he tried to persuade Sita (his niece) to marry him. He recurred throughout as the villain, yet in Act Four he had a lovely solo about his love for Sita, a moment that allowed McGee to add some depth to the character.
Kezia Bienek was Kaled, the King's servant. A small role, Kaled disappears after Act Two, but Bienek and Nasibli had a lovely duet in Act Two with the two voices undulating together delectably, then Bienek had a solo that was stylishly engagingly sung and made you regret the role was not larger.
The high priest, Timour, was sung with admirable strength and style by Tim Bagley, but the character was somewhat conflicted, seeming to support both Scindia and Alim and felt under-written. But Bagley sang with such confidence that this ceased to matter.
In a remarkable coup de theatre, Julian Close remained immobile for the whole of Act On1, as a statue of Indra, thus eliciting a gasp from the audience when the statue came alive in Act Three. Close brought dignity and a finely dark bass voice to the role. In the small role of a village elder, chorus member Jay Broadhurst (a student at the Royal Northern College of Music) impressed enormously.
The orchestra of the Paris Opera was huge, resources lavish and rehearsal time considerable. At Dorset, conductor Jeremy Carnall had some four dozen players, and from the first dramatic notes of the overture, you knew you were in good hands. This was a strong, rich sound with not inconsiderable style, and whilst Carnall was alive to the score's beauties, he kept the dramatic flow up admirably.
Massenet's Le roi de Lahore is not a masterpiece of the first water, but this performance showed that if performed with style, imagination and commitment it more than holds its own. And what Ella Marchment, designers Rufus Martin and Stewart J Charlesworth, and the whole team added to this was a little bit of theatrical magic that really did transport us.
Robert Hugill
Massenet: Le roi de Lahore

Sita – Seljan Nasibli, Alim – Amar Muchhala, Kaled – Kezia Bienek, Scindia – Michael Anthony McGee, Timour – Tim Bagley, Indra – Julian Close; Director – Ella Marchment, Conductor – Jeremy Carnall, Designers – Rufus Martin and Stewart J Charlesworth
Coade Theatre, Bryanston School, Dorset; Thursday 27th July 2023.
ABOVE: Michael Anthony McGee, Amar Muchhala, Seljan Nasibli, Julian Close © Julian Guidera