The Aix Festival was founded 75 summers ago as an altar to the operas of Wolfgang Amadeus Mozart (in French it is pronounced Mose-art). This year Cosi is up again as the annual sacrificial victim (the 2008 Cosi was staged by an Iranian film director, in 2016 two adolescent Italian girls found themselves in WWII Eritrea [Africa]).
Now, in 2023 it is two couples of advanced middle age who find themselves as guests in a spiffy home of some sort somewhere, though it may be an Airbnb. Be that as it may the hosts are a sadistic couple — Despina spits a mouthful of liquor in Don Alfonso's face in the silent,  sadomasochistic moment that was the performance prologue. Perhaps it was going to be just another of many such evenings. See lead photo.
The production is signed by 53 year-old Russian opera stage director Dmitri Tcherniakov [for the record he lives in Germany and has publicly denounced the Ukraine invasion], who evidently has sought psychotherapeutic help in recent years, therapy that he documented first in his 2017 Aix Festival Carmen production where Carmen was the therapist. Now it is Despina who is the therapist. Of a nastiest sort abetted by an even nastier Don Alfonso.
One can only surmise what Dmitri's problems may be.
It is of course Tcherniakov's intention to disorient the Aix audience. He succeeds, with the very significant help of conductor Thomas Hengelbroch and his Balthasar Neumann Orchestra whose period instrument sounds are quite different from the modern symphonic sound we are accustomed to in our Mozart. This old sound is harsher in the strings, more guttural in the winds and less resonate in the percussion. The horns have some difficulty moving from one tone to the next.
Nonetheless this orchestra has a very polished sound, allowing the maestro to sometimes take tempos that are faster than we are used to, and sometimes encouraging him to take much slower tempos, indulging himself, and us, in these precious, old sounds.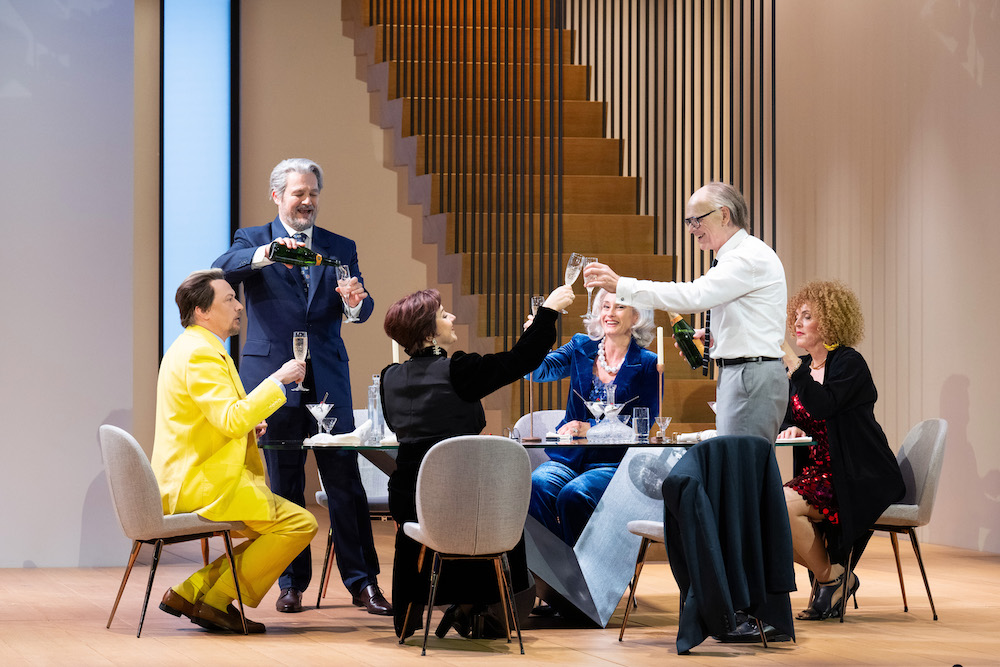 To this add the aged voices in various states of repair of the two couples and we didn't know where we were, or why, or what we were seeing or hearing. The super titles only confused us more. Though at the same time it was just another, all too familiar Cosi.
The ensemble of singers sat around a dinner table presided over by Don Alfonso at one end in a yellow suit with yellow suspenders he sometimes expansively stretched, musically echoed in the Mozart score, at the other end was the hostess Despina (a housekeeper of some sort) in a sparkling red sequined dress and a fright wig. A lot of liquor was consumed while the guys concocted a parlor game, with the therapeutic goal of arriving at greater self knowledge and awareness.
The gals got a bit drunk, The guys leave, the gals don't know what to think, Despina goes upstairs. Dorabella sang her "Smanie implacabili" in a wobbly voice, her voice (she sings Salome's Herodias in Stuttgart), tearing off bits of clothing and jewelry and hurling them around the room, Fiordiligi searches for her spectacles to check her phone, and sings "Dove sono."
"Soave sia Il vento" found a truly sublime beauty.
A huge, heavy black curtain crashed onto the stage from time to time. Those who couldn't take it any longer left the theater during these blackouts.
That's just the beginning. The guys returned, masques went on and off. While the program lists no dramaturge one assumes that somehow the famed Da Ponte libretto was made to make perfect sense. It was beyond my comprehension.
Act II began with a group-therapy session, led by Despina and Don Alfonso, who demonstrated, at last, carnal pleasures. In the best of times Act II is an arduous journey, here the arias were slowly and bravely delivered. It was made quite obvious that the sublimity of the Mozart lyric genius can be fulfilled only by young, supple voices.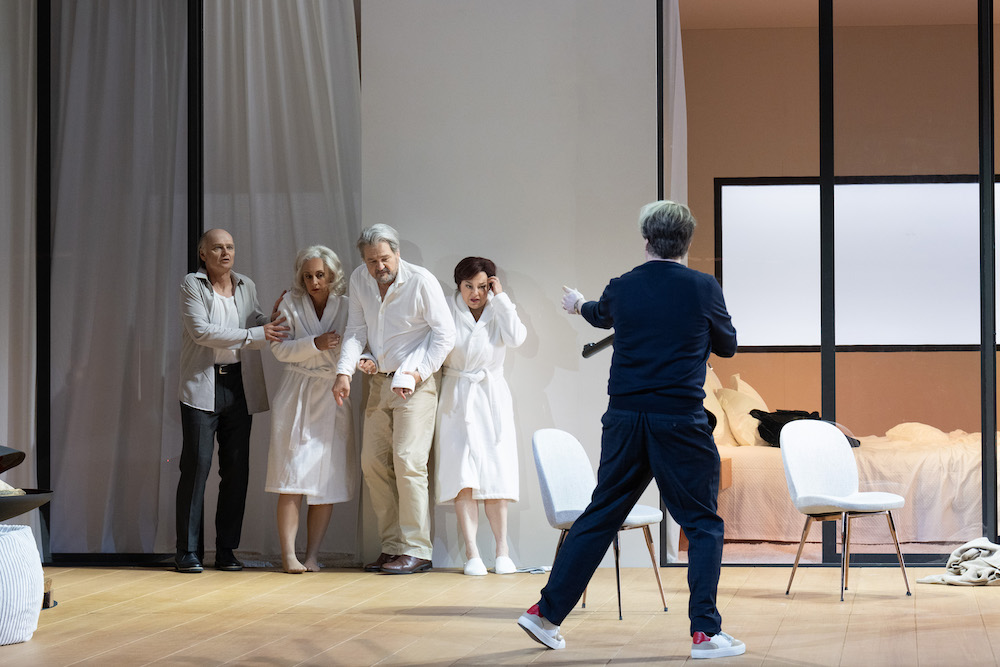 The Act II finale was a splendid display of pacing, the two couples cowering against a wall, in the sights of a shotgun wielded by Don Alfonso, singing their despair in a meltingly beautiful quartet, and finding themselves lying parallel on the floor, center stage, singing the final, strepitoso sextet face down into the floor.
Make no mistake. This was theater on its most sophisticated level, it was music making of the highest order.
The casting of the lovers was exquisite, all veterans of their roles: Swedish soprano Agneta Eichenholz as Fiordiligi, German mezzo-soprano Claudia Mahnke as Dorabella, German tenor Rainer Frost as Ferrando, and Canadian baritone Russel Braun as Guglielmo. Austrian baritone Georg Nigl made Don Alfonso the requisite brash, strident, mean, manipulative. twisted character that director Tcherniakov intended, American soprano Nicole Chevalier made Despina terminally bored, world weary but not too weary to enjoy inflicting additional cruel and mean punishment.
While this Cosi fan tutte was not about singing, it was about music. Conductor Hengelbrock maintained a solid musical concentration for the duration. The six singers, alone on the stage — the Balthasar Neumann Choir did its part from the pit — relished unflinchingly in the brutality of the Tcherniakov concept.
The costumes were designed by Elena Zaytseva, the lighting designed by Gleb Filshtinsky, both with Saint Petersburg origins.
FYI Balthasar Neumann was an architect of great refinement during the German Baroque.
Michael Milenski