Most European summer opera attendees head either to a mass outdoor event such as Verona, Orange and Bregenz, or to an exclusive spot such as Salzburg, Bayreuth, Glyndebourne, or Aix-en-Provence. Yet Europe is filled with rewarding smaller operatic festival sites.
I recently attended two performances of Gaetano Donizetti's Lucia di Lammermoor, one on a Greek island and the other in an Italian hill town. Each offered a distinctive vision of Donizetti's masterpiece and moments of memorable music, and each in a breath-taking setting.
The Festival of the Aegean takes place annually in Ermoupolis on the Cycladic island of Syros – a colorful old Venetian port spilling over two hills crowned, respectively, with a Catholic and Orthodox church. In contrast to the raucous "Mamma Mia" vibe of neighboring Mykonos and Santorini, Syros preserves a discreetly cultured summer atmosphere for a predominantly Greek clientele.
This festival sponsors a series of public performances in the intimate Apollo Theater, a miniature 19th-century copy of La Scala that seats just 350 under a painted ceiling adorned with portraits of Italian composers and Ancient Greek poets. Here the costumes are traditional, the sets simple and the ticket prices less than a couple of drinks in Salzburg. No hifalutin dramaturgs, hip stage directors or niggling musicologists hang around. Instead, one gets human-scaled opera at its most basic, focused on the music.
Here each singer needs to covey the visceral essence of the drama to spectators sitting 10 meters away – just as it was two centuries ago.
This Lucia received committed and intense performances by an accomplished cast of house singers drawn from the North Macedonian State Opera in Skopje. At the center towered soprano Nade Talevska. Her Lucia had it all: forcefully dramatic characterization, sweeping power alongside delicate filigree, and imaginative phrasing. I have heard more smoothly sung Lucias, but never one that so convincingly communicated her anguish – all the more intense to experience up close.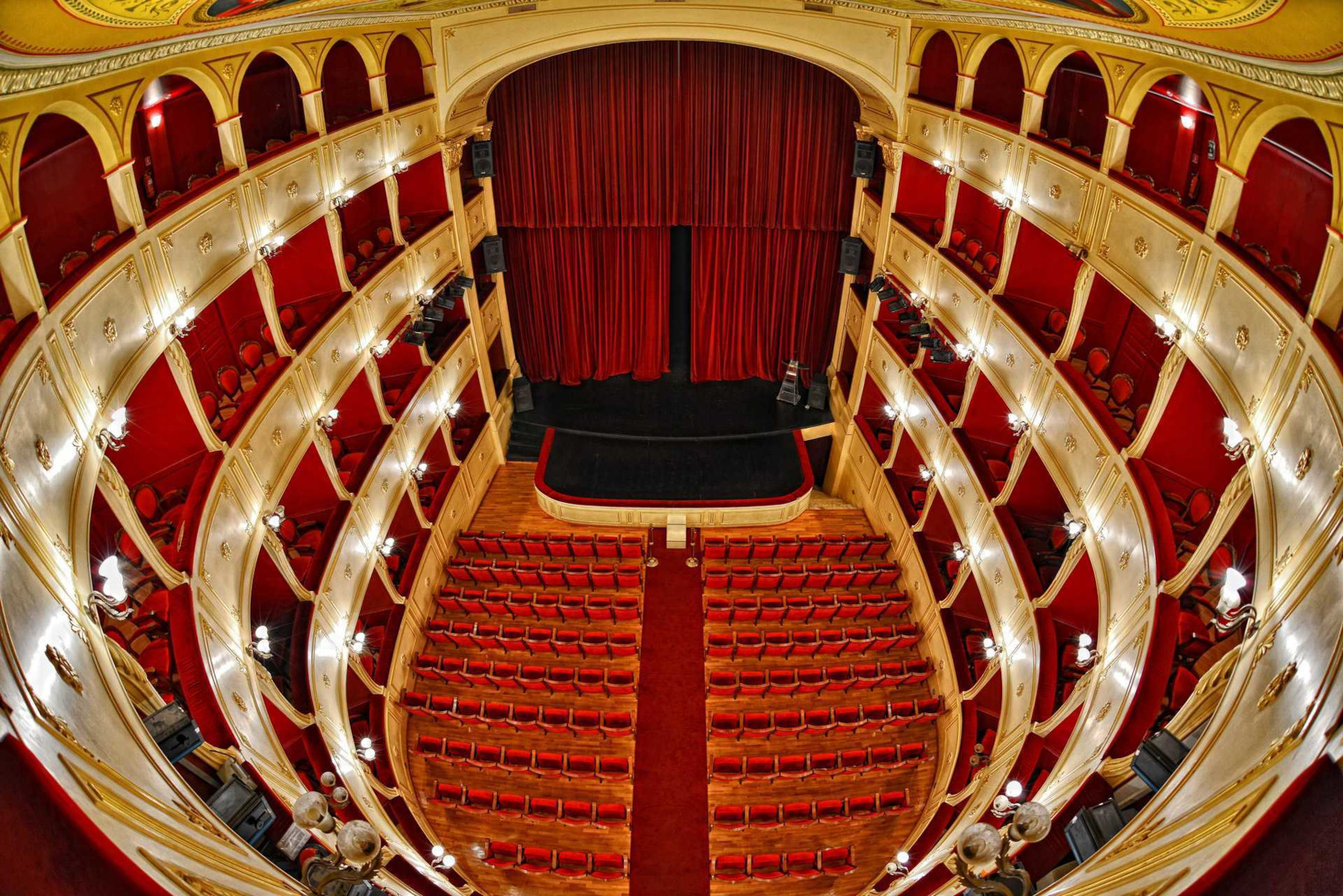 Bass Borko Bidzovski was almost as compelling. With a warm timbre, clear diction and imaginative phrasing, he brought to life the priest and advisor Raimondo, often presented as a cardboard cutout. Vasko Zdravkov deployed a strong sharp-edged voice appropriate to his macho characterization of Lucia's brother Enrico. One senses an impressive instrument still maturing. Tenor Nikola Stojcheski's brassy tone and tendency to sing a tad sharp wore on the ear as the night proceeded. One wonders if this voice has moved beyond bel canto tenor roles.
After a tentative start, the reduced orchestra from the Skopje opera played with remarkable technical facility under the young Macedonian conductor Andreja Naunov. Studio musicians sang ably in the chorus with their instructor, Eilana Lappalainen, who also directed the production.
Two weeks later, I head Luciaagain at the Macerata Opera Festival in Central Italy. Macerata is a lovely hill town in Le Marche, a region with mountains, beaches, ancient abbeys, and excellent local food and wine. In contrast to performances elsewhere in Italy, the audience of over 2000 was overwhelmingly Italian. As with much that is the best in Italy, one senses that the opera festival is a deep-set regional tradition.
Performances take place in the Sferisterio, a 2000-seat outdoor amphitheater with a curved façade of over 50 double columns opposite a high wall – a stunning space that rivals the beauty of any outdoor opera venue in the world. It opened 1829 ago to house the nearly extinct sport of bracciale, then the most popular in Italy.
The stage, nearly 100 meters wide, inevitably challenges stage directors – though many successful productions have been mounted there. This Luciawas less fortunate. Jean-Louis Grinda, Administrative Director of the co-producing Festival des Chorégies d'Orange, decided to present a minimalist staging against films of giant stormy seascapes, complete with the sound effect of crashing waves. This odd conceit rested, so I read in the program, on the idiosyncratic conviction that "water" is the hidden theme underlying an opera set upon the Scottish moors. The result was at once dull and kitschy – and left singers to fend for themselves on an all but empty stage.
Spanish conductor Jordi Bernàcer similarly failed to impose artistic coherence. Soggy attacks and an unwillingness to balance exaggerated ritardandi with accellerandi drained energy from Donizetti's swirling bel canto score. The Orchestra Filarmonica Machigiano and the Coro lirico marchigiano "Vincenzo Bellini" – both of which have performed well in years past – seemed at a loss. A saving grace was the use of a glass harmonica.
Without either coherent staging or propulsive conducting, the night rested with the singers – in this case led by the tenor and baritone.
Dmitry Korchak is a world-class lyric tenor at the height of his career. A familiar figure in top houses, he is a multi-faceted musician with effortless breath control, magically creative phrasing, and a steady timbre that easily fills a massive outdoor space. His rendition the Edgardo's final scenawas as moving as one is likely to hear anywhere today, even if it lacked the final dollop of vocal morbidezza.
As Lucia's brother Enrico, the young Italian baritone Davide Luciano displayed the powerful sound, youthful verve, and cleanly sculpted phrasing that he brought to a celebrated breakout performance of the title role in Salzburg's 2021 Don Giovanni.In the oft-cut Wolf Glen scene, he matched Korchak note for note, yet also conveyed a soft side – with genuine remorse at Lucia's fate.
Had the rest of the singers attained the same levels, the result might have been a Luciafor the ages. Yet this was not to be. Young Spanish soprano Ruth Iniesta exploited sincere engagement and a narrow segment of her upper middle voice to advantage. Lacking the vocal heft and support to shape phases consistently or project Lucia's unstable mental state, however, she often seemed to be swallowed up by the large stage. Otherwise, only Paolo Antognetti's crisp Arturo stood out, while Mirco Palazzi Raimondo lacked warm grandeur. Nonetheless, occasional moments of controlled ensemble singing shone through, not least in the famous sextet.
Despite their shortcomings, the Festival of the Aegean and the Macerata Opera Festival are hard to beat for immersive experiences in magical towns.
Andrew Moravcsik
---
Lucia di Lammermoor
Music by Gaetano Donizetti
Libretto by Salvadore Cammarano
Casts and production staffs:
International Festival of the Aegean (Apollo Theater, Ermoupolis, Greece)
Lucia: Nade Talevska. Lord Enrico Ashton: Vasko Zdravkov. Sir Edgardo di Ravenswood: Nikola Stojcheski. Lord Arturo Bucklaw: Vlatko Gruevski. Alisa: Marija Naumovska. Raimondo Bidebent: Borko Bidzovski. Normanno: Jane Dunimagloski. Set Designer: Jens Huebner. Skopje Orchestra. Chorus of Studio Singers of the International Festival of the Aegean. Conductor: Andreja Naunov. Stage Director: Eilana Lappalainen.
Macerata Opera Festival (Arena di Sferisterio, Macerata Italy)
Lord Enrico Ashton, Davide Luciano. Miss Lucia, Ruth Iniesta. Sir Edgardo Di Ravenswood, Dmitry Korchak. Lord Arturo Bucklaw, Paolo Antognetti. Raimondo Bidebent, Mirco Palazzi. Alisa, Natalia Gavrilan. Normanno, Gianluca Sorrentino. Form-Orchestra Filarmonica Marchigiana. Coro lirico marchigiano "Vincenzo Bellini." Maestro del coro Martino Faggiani. Nuovo allestimento in coproduzione con le Chorégies d'Orange. Direttore, Jordi Bernàcer. Regia, Jean-Louis Grinda.
Top Image: Ruth Iniesta as Lucia. Photo by Marilena Imbrescia courtesy of Macerata Opera Festival.