Rossini's twenty-eighth opera in a new critical edition by the Fondazione Rossini — no actual Rossini autograph exists — in a new production by Italian stage director Stefano Poda.
A superb cast, the famed Daniella Barcellona as the heroic general Eduardo, Anastasia Bartoli as his clandestine wife Cristina, Enea Scala as her neurotic father, Carlo, king of Sweden. Eduardo's confidant Atlei, sung by Matteo Roma, and Cristina suitor Giacomo, sung by Russian bass Gregory Shkarupa completed the quintet of principals. There were no huge finales with all principals in concert, not to say however that there were not huge, stupendous, climatic finales.
There were however six protagonists counting Gustavo, Cristina and Eduardo's infant son who had a very physical if non vocal presence. Lead photo is Anastasia Bartoli as Cristina and Enea Scala as Carlo, with child Gustavo, a dancer.
Detroit Symphony (USA) music director (and once a clarinetist at the Rossini Festival), Jader Bignamini brought an appropriate studied elegance to this rare Rossini oeuvre that is but a compendium of the most popular pieces of his recent operas (Ermione, Adelaide di Borgogna, Mosé in Egitto, etc.).
Though reviled in its time the second hand libretto by one T.S.B. [sic], just now in the Stefano Poda production, seemed to be one of the richer Rossini stories, with more focused personages who, at Rossini's deft hand, deeply felt their predicaments. And who would not? — a father learns his daughter has an illegitimate child, and refuses to accept marriage to a reasonable suitor. Meanwhile the father's realm has been delivered from the Russians [who else] only to be again threatened (he released captured Russian soldiers in a moment of quite ironic compassionate leniency). His savior, once again, is the father of his grandchild.
Stefano Poda signs the staging and the choreography, and the design as well (scenery, costumes and lighting), a prodigious task that results, obviously, in a totally unified vision. Barcelona's newspaper La Vanguardia terms Poda's style to be "Decadentismo Trágico" (Poda has worked extensively in Spain).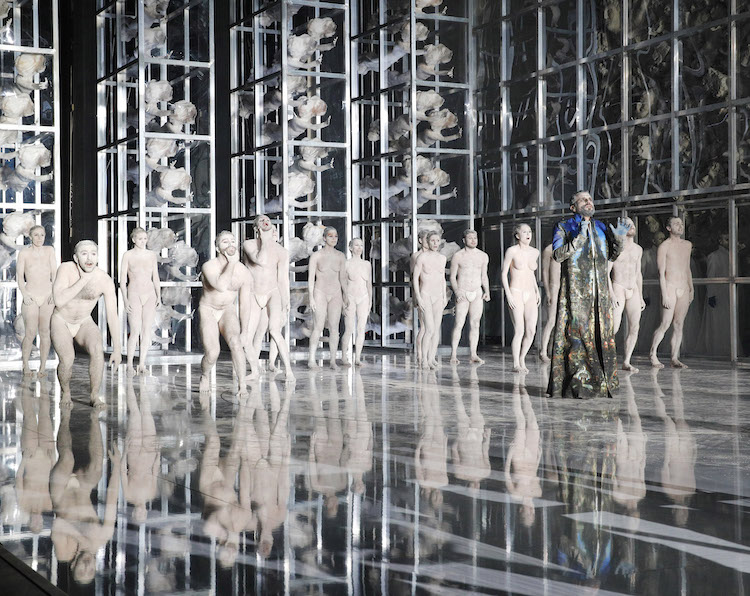 The setting is at once an abstracted battlefield and a museum of classical sculpture inhabited by eighteen, often naked dancers who are in constant movement as live sculptures. All stage movement is choreographed, the dancers physically enacting Rossini's kinetic sound sculptures to the voices of his brilliantly clad actors who pose, classically, beside, when not climbing inside abstracted museum display cases, their voices vibrantly embellishing the visual and auditory structures alive on the stage, the chorus melting into the light and dark tones of the surround.
Yes, it was stunningly effective in its excess. Intermission chatter has it that this formula has worked well for Sig. Poda at the Arena di Verona (Aida), at Toulouse's Théâtre du Capitole (Faust), and elsewhere around the world over the years.
Conductor Bignamini held all this together with a firm hand, building Rossini's soundscapes with the care and control awarded to bringing new life to proven Rossinian art, relishing in the huge percussion effects unique to this Rossini score (the opera's initial theater, Venice's long disappeared San Benedetto, possessed a huge drum that would dramatically illustrate the canons of the final battle).
Torino's fine Orchestra Sinfonica Nazionale RAI found the high wit and elegance of Rossini's pizzicato strings in the overture, and the beauty of the clarinet duets with the voices in them arias, rising to graceful, beautifully toned forte's in the orchestral interludes that gave grand shape to the dynamism of Sig. Poda's dancers.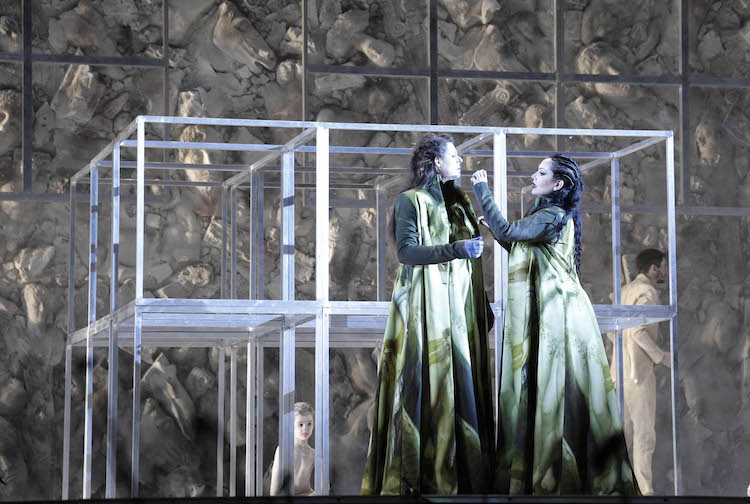 Besides the monumental finales, the opera was grounded by the substantial, indeed monumental arias of the protagonists. Carlo, king of Sweden, is in the throes of despair at his daughter's refusal to reveal the father of her child, her punishment is death, and the death of her child to boot. Tenor Enea Scala achieved a spectacular intensity of frustration in this scene, testing our credulity in such reaction. Though it was all vindicated in the final seconds of the opera when, on the opposite side of the stage from the reunited family (father, mother, son) he strangled his grandchild Gustavo (a double), and cast him to the stage floor as the curtain fell.
Rossini tragic heroines suffer heroically, begging death to quickly come. Cristina, imprisoned, dreams that she is watching the death blow to her child — "Arresta quel colpo!" Awakened, she touchingly laments the imagined deaths of her son and her husband in hushed, broken lines. Soprano Anastasia Bartoli (the daughter of Cecilia Gasdia) possesses a voice of high definition, clear and sharply focused in her refusal to identify Gustavo's father, silvery in her intimacy with Eduardo, and finally, finding a softer voice, in these tones of resignation.
Eduardo prays to the heavens — "O ciel! prendine cura, salvali" — in the broad and smooth mezzo tones of the travesty military hero, lover and father. Daniela Barcellona, now 54 years old and in excellent voice, brought all of her consummate technique to bear in this fiery, impassioned plea that though he, Eduardo, may die, his wife and child may live. Note that Rossini gave one brief aria to Giacomo (the rejected suitor), dutifully delivered by bass Grigory Shkarupa.
The Rossini genius, manifest in this production, takes us directly to the energies of his protagonists' suffering, and into the depths of their souls. It takes us to the ultimate expressive achievement of the human voice, and the human intelligence that creates and created such art.
Never mind that all this great music was created for other operas.
Michael Milenski
All photos copyright Amati Bacciardi, courtesy of the Rossini Opera Festival