Mozart probably isn't the first composer whom one thinks of in association with eighteenth-century castrati. But, for over two decades – from Mitridate, re di Ponto K87/74a, written for the 1771 Milanese Carnival, to his final opera, La clemenza di Tito, first presented at the National Theatre in Prague in September 1791, Mozart composed for the castrato voice – usually, as was his practice, with particular singers in mind.
In Anime Immortali, released on the Pentatone label earlier this year, the Argentine counter-tenor Franco Fagioli explores, with the Kammerorchester Basel under concertmaster Daniel Bard, some of the music which Mozart composed for castratos – clawing this music back from the mezzos-in-trousers whom it is more customary to encounter in such roles today. In the liner booklet, which contains a lucid article by Mark Berry, Fagioli explains that it was Mozart – specifically the experience of singing the First Boy in Die Zauberflöte, at the age of eleven – that inspired him to aspire to a life as a musician and singer. He writes that now, as a countertenor and looking into the repertoire of the old castratos, 'Somehow, I notice in Mozart's operas that when he writes for the castrato the music is usually sublime and very deep. Undoubtedly, they connect me to that spiritual part of a young soul that Mozart had, and which becomes present in me when I sing the music.'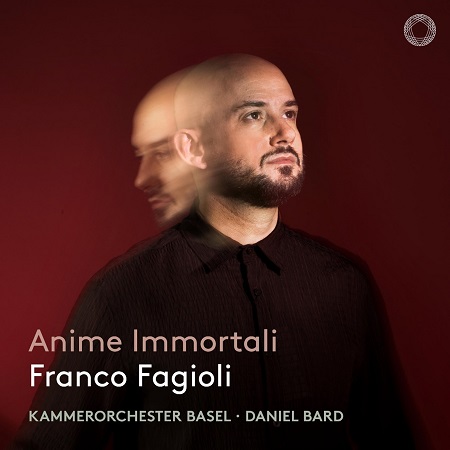 One of those 'old castratos' for whom Mozart wrote was the Italian soprano castrato Venanzio Rauzzini, described by Charles Burney as having a 'sweet, flexible and extensive' voice, 'in compass more than two octaves' (though Grove suggests that Burney was more impressed by Rauzzini's abilities as a composer and harpsichordist). Rauzzini was initially engaged by Maximilian III Joseph, Elector of Bavaria, and subsequently gained employment at various important Italian opera houses, including the Regio Ducal Teatro in Milan, where the sixteen-year-old Mozart had obtained the commission for the first opera of the Milan Carnival of 1773, his third Milanese opera, Lucio Silla.
Rauzzini created the role of Cecilio, who returns home from exile at the beginning of the opera, desiring the tender moment when he can hold his beloved Giunia in his arms. Somewhat surprisingly, Fagioli does not give us 'Il tenero momento' – of which Leopold Mozart wrote to his wife (28 November 1772), 'he [Rauzzini] sings it like an angel – nor 'Pupille amate' in which Cecilio bids farewell to Guinia with a simple hymn of praise to her eyes. Instead, we have 'Ah se a morir mi chiama', which showcases Rauzzini's, and Fagioli's, ability to smoothly negotiate vocal leaps across a wide range – the first phrase makes demands that are more than met, and later Fagioli nails a leap of a diminished double octave perfectly – and to execute a silky legato line.
The sound is plump, quite feminine. The horns add warmth and animation to the strings' flowing phrases. The short B section, in which Cecilio expresses his resolution in the face of cruel fate, is characterful; Fagioli gives us some stylish ornamentation and some fruity trills too. And, there's more decoration – and breath control – to impress in the motet Exsultate, jubilate, also written for Rauzzini, which is also notable for some bright and incisive string and oboe playing. The countertenor could do more with the words, though; quite often consonants at the beginning of phrases are anyone's guess. The violins are slinky in the second aria, 'Virginia Coronum', in which Fagioli sculpts the extended phrases beautifully. The concluding 'Alleluja' is deftly delivered but at times Fagioli pushes his voice and the tone hardens. Striking dynamic contrasts add drama.
When La finta giardiniera was premiered in 1775 at the Old Munich Opera House on Salvatorplatz, the Italian castrato Tommaso Consoli took the role of Ramiro, Arminda's rejected suitor. In his first aria, 'Se l'augellin sen fugge', he professes to have had a lucky escape and declares he determination to avoid further humiliation. There's lovely light skipping from the fiddles, portraying the little bird which has escaped from his 'prison', and Fagioli matches their fleet agility with cantabile sweetness. In contrast, 'Va pure ad altri in braccio', in which Ramiro swears he will never lover another and will die in misery, bristles with fury and anguish: the bite and bravura of the da capo is stunning, the countertenor's lavish fire propelled by the strings' vigorous raging and sharp stabs.
The last castrato to make a significant impact in Mozart's compositional career was Domenico Bedini, who was already in his mid-40s when Mozart composed for him the role of Sesto in his final opera, La clemenza di Tito.  'Parto, parto, ma tu, ben mio' has a basset-clarinet obbligato written for the composer's friend Anton Stadler: it is played here by Markus Niederhauser with wonderful poise, expressing Sesto's absolute commitment to Vitellia – he is willing to murder the Roman Emperor, Tito, to win her love.  And, to complement the clarinet elegance and eagerness, Fagioli is assertive, forthright and, latterly, florid. 'Deh, per questo istante solo' is an expressive peak of the opera, when Sesto reminds Tito of his earlier affection, and Fagioli conveys a powerful sincerity in the opening Adagio, taking great care with the nuances of each and every phrase.  The Allegro bursts forth with emotive vigour. 
Mozart's 'cantata' Davidde Penitente largely recycles movements from the C Minor Mass K427, given new Latin and Italian texts by Da Ponte. 'Lungi le cure ingrate' was originally the 'Laudamus te', and it was sung by the soprano Elisabeth Distler. One wonders my Fagioli includes this, when there are other castrato numbers ripe for the picking. Fagioli explains that he has chosen 'those arias that I have come to know along my musical path', but perhaps he might have sought out a few new bye-ways?
There's Idomeneo (1780), another Munich commission, where the castrato Vincenzo dal Prato, singing the role of Idamante, presented a few problems about which Mozart complains to his father, 'I have to teach the entire opera to my molto amato Castrato dal Prato. He is incapable of making a meaningful entrance into an aria, and such an uneven voice! … His breath is often gone in the middle of an aria … The entire fellow is unhealthy on the inside … the boy cannot do anything. – His voice wouldn't be so bad if it weren't in his throat. – By the way, he has no intonation whatsoever – no method – no sensitivity – just sings – about like the best of the boys who audition to be taken into the Kapellhaus'. Careful coaxing and coaching must be informed arias such as 'Non ho colpa' to produce such expressive impact.
Then, there's the music sung by Francesco Ceccarelli, who from 1777 to 1788 was a member of the Salzburg court chapel, and who is repeatedly referred to by the Mozart family in their correspondence of this time.  Ceccarelli sang the soprano part in the Mass in B flat major K275 and in April 1781 Mozart composed the recitative and rondo 'A questo seno deh vieni – Or che il cielo a me ti rende' for soprano, two oboes, two horns and strings, specifically for him. 
In this way, Fagioli and Pentatone might have expanded the rather ungenerous 47 minutes of music presented on this disc. Those 47 minutes, though, will certainly please Fagioli aficionados, and they provide pleasing forays into sweet vocal luxury.
Claire Seymour
Wolfgang Amadeus Mozart (1756-1791): Anime Immortali
La finta giardiniera K.196, 'Se l'augellin sen fugge'; Lucio Silla K.135, 'Ah se a morir mi chiama'; La finta giardiniera K.196, 'E giunge a questo segno', 'Va pure ad altri in braccio'; Davidde penitente K.469, 'Lungi le cure ingrate', La clemenza di Tito K.621, 'Parto, parto, ma tu, ben mio', 'Deh per questo istante solo'; Exsultate, jubilate K.165
Franco Fagioli (countertenor), Kammerorchestra Basel, Daniel Bard (conductor)
Pentatone PTC 5187 044 [47:17]