The 150th anniversary of Richard Wagner's Der Ring des Nibelungen will arrive in 2026. Perhaps the most intriguing commemorative initiative is an effort to reconstruct the precise playing, singing and staging that Wagner would have likely experienced at Bayreuth at the 1876 premiere under his own direction. This Historical Informed Performance (HIP) project assembles the conductor Kent Nagano, early-music ensembles Concerto Köln and the Dresdner Festspielorchester, a hand-picked group of singers, and a team of musicologists – all generously funded by the German government. The first results were revealed recently at concert performances of Das Rheingold in Dresden, Köln, Amsterdam, Lucerne and Ravello.
On paper, surely, this belongs among the most exciting initiatives in the world of Wagner performance. It promises not only insights into Wagner's own sound world, but new possibilities for current performance – not least, overcoming the dearth of great Helden-voices in the 21st century. In practice, however, the results are uneven, though in certain respects promising.
Last weekend, I heard this production at the Ravello Festival. The Villa Rufolo, where performances take place, is the Moorish-style villa and garden where Wagner completed Act II of Parsifal in 1880, famously exclaiming "I have discovered Klingsor's garden." Visually, its outdoor stage perched on a cliff overlooking the Amalfi Coast is surely one of the most spectacular classical music venues in the world. Acoustically, however, it is challenged – requiring light (but not always subtle) amplification. One might discount my impressions of the performance accordingly.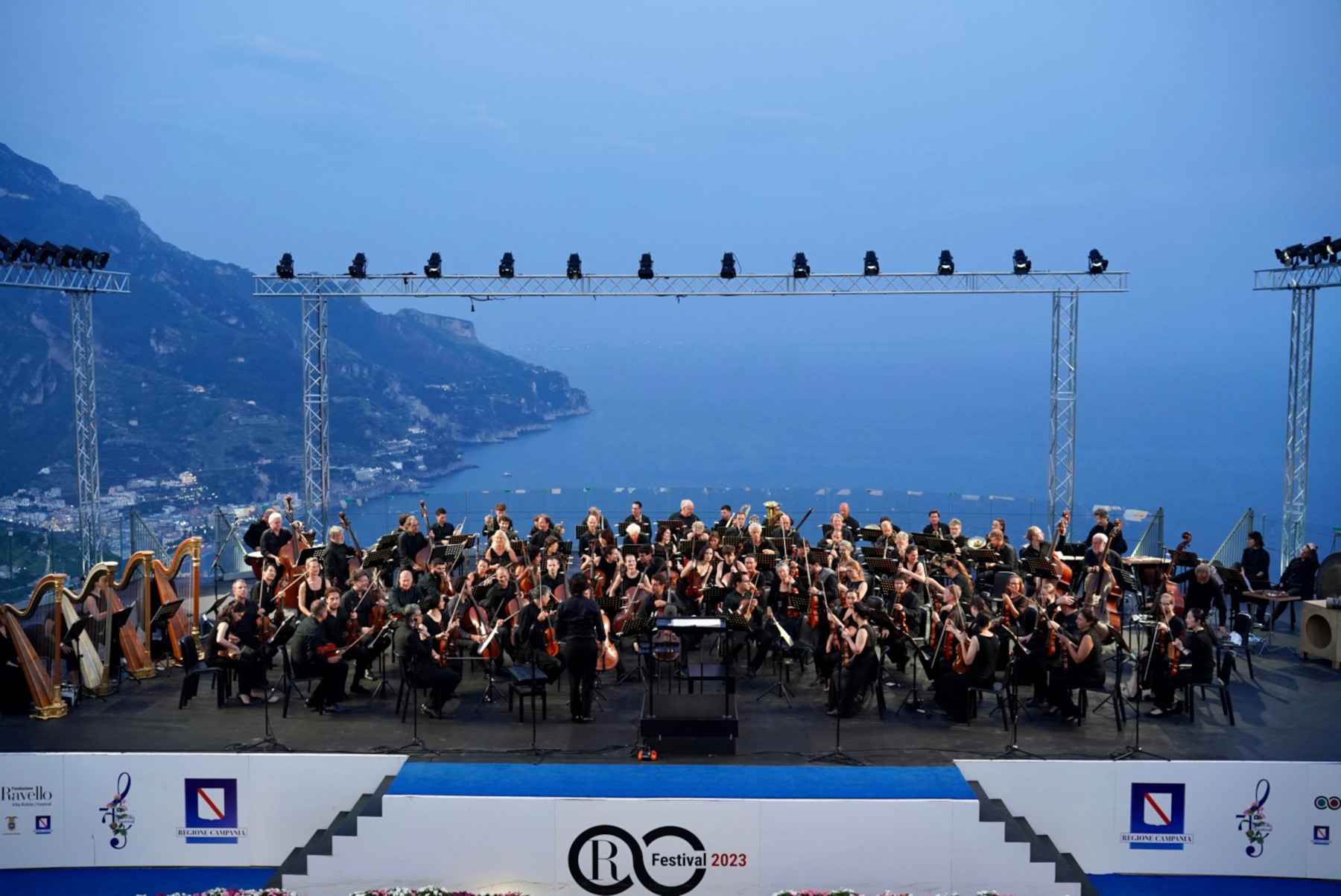 To put this effort in context, we should remember that HIP performances of Wagner's Rheingold are not new. In 1967, Herbert von Karajan responded to the techno-boosted Romantic grandeur of Georg Solti's famous 1958 Decca recording with his own "chamber-music" account – an inadvertent reversion to lighter-textured performances of the previous century made possible not by gut strings and antique instruments, but by the unparalleled virtuosity of the Berlin Philharmonic. In 2004, Simon Rattle led a touring concert performance of Das Rheingold with the true original instrument Orchestra of the Age of Enlightenment. Recordings of both belong, in my opinion, to the most satisfying extant recordings of Rheingold. Live tapes of each can be heard here (https://youtu.be/CUFWNKFajjA) and here (https://www.youtube.com/watch?v=7QroWRg5ShI).
In Nagano's account, like those of his predecessors, the famous prelude immediately reveals the advantages of a lighter HIP approach. In place of the dark and ponderous Rhein one hears in 1950s recordings, delicate waves of violins and cellos flutter over warmly textured winds, imparting a visceral sense of the spray, slash, and gurgle of real water. Throughout the night, this refreshingly transparent soundscape reveals the distinctive timbres of each woodwind and brass instrument. One is reminded anew just how magically beautiful and sensuous this score is.
Nagano exploits the transparent texture to accelerate tempos. Most performances of Rheingoldt to span from two-and-a-half to three hours. Karajan ran ten to fifteen minutes faster. Nagano clocks in at a breathtaking 2:05 – by far the fastest Rheingold in modern history. I unambiguously applaud this change, since I am the type of listener whose mind invariably wanders – I am ashamed to admit – during the first five minutes of this opera.
After a few opening bloopers, and in the face of a strong wind that wreaked havoc with music stands, the orchestra carried out this technically demanding assignment magnificently. In many places, Nagano and the players successfully adjusted phrasing and articulation to render the opera musically compelling at this clip – a particularly challenging task, for example, during a bracingly rapid visit to Nibelheim. Despite the provision of Wagner's six harps and a crew of anvil bangers, only the grandest moments of the score seemed to lack essential punch – a small price to pay.
Dramatically, the light orchestral texture and quick tempi impart the sense not an epic philosophical struggle among Gods, giants, and dwarfs, but of an intimate squabble among flawed family members. In this respect, leveling all characters down to human scale – oddly, given the aspiration to recapture the spirit of 1876 – brings the opera closer to recent Regietheater productions reflecting modern taste.
Yet Nagano and Köln's true claim to originality lies neither in adjusting orchestral color, weight, or speed, nor in the everyman qualities of the characters. Instead, the novelty is the team's reinterpretation of the orchestral articulation, vocal weight, and diction appropriate to this style of Wagner playing. In this, they claim the authority of the composer's own rehearsal instructions, which the composer's minions dutifully marked in scores during the inaugural Bayreuth performances.
Here the musical and dramatic results are more problematic.
One audible change is that the orchestra tends often to play marcato , leaving a small space between notes. While this further enhances the orchestra's transparency and, at times, reinforces the rhythmic pulse, it also chops up longer phrases. Lost is the marvelous legato flow and broader architecture that traditional performances often highlight.
Even more questionable is the vocal casting. Each singer in this production is technically able, committed to the concept, and (except one, who has lived in Germany for decades) a native German speaker. Yet Nagano departs firmly from tradition by choosing vocalists with instruments of the size and color normally reserved for Bach, Mozart, and Rossini. Even Karajan, notorious for "overparting" singers, was far more prudent: his Rheingold consists almost entirely of established Wagnerians, undergirded by two massive basses.
Indeed, here only one of the singers has ever sung a major Wagner role in a major house – and that singer, mezzo Annika Schlicht, did so in the cozy Staatsoper Berlin. The exception proves the rule: Fricka, the immediacy and power of Schlicht's warm and focused voice, and her direct characterization, stands out in this cast.
Even the best among the others – Christian Immler's colloquial Fasolt, Daniel Schmutzhard's precise Albrecht, Gerhild Romberger's resonant Erda, and Ania Vegry, Ida Aldrian, and Eva Vogel's exuberant Rheintöchter – lack the interpretive range, emotional intensity, and sheer vocal power their roles require. Thomas Ebenstein's Mime, Tansel Akzeybek's Froh, Nadja Mchantaf's Freia, and Tilmann Rönnebeck's Fafner recede even further into the background, while Dominik Kröniger's Donner seems a bit insecure when calling forth thunder. At the center of things, bass-baritone Simon Bailey – British-born but a longtime German resident, who has sung the role only in smaller theaters – cuts a likeable, somewhat passive Wotan lacking vocal grandeur and pathos. There is just no substitute for true Wagnerian voices.
An acid test is the production's handling of Loge, in which role the past half-century has witnessed a succession of great tenor voices, big and small: Erwin Wohlfahrt, Peter Schreier, Heinz Zednik, Siegfried Jerusalem, and Kim Begley, to name a few. All have rendered every word intelligible and, above all, imbued Loge's character with such astonishing range of dramatic detail that he has become the center-point of most modern productions. By contrast, tenor Mauro Peter's clear and engaging account seems one-dimensional, with minimal variation in vocal color and enunciation, perhaps in part because quick tempos rob him of time to adjust.
In lieu of appropriate casting, the production imposes the quirkiest of conceits, namely having singers underscore important statements by suddenly speaking them in the melodramatic manner of a 19th-century stage actor.I do not deny (though I doubt) the production team's musicologically grounded assertion that this, perhaps, is how it was in 1876. Nor do I deny that the composer's soprano of choice, Wilhelmine Schröder-Devrient, creator of the roles of Senta and Venus, sometimes privileged emotional intensity over vocal beauty (in the manner of Maria Callas one hundred years later). Whatever the justification, however, this strikes me as little more than a gimmicky distraction, somewhat arbitrarily applied. It all but disappears a third of the way through.
Despite these strong misgivings,I found this Rheingoldan engaging and enjoyable experience. I certainly do not think it will rescue modern Wagner singing, yet the musicological seriousness of purpose underlying this experiment is impressive. It stimulates thought about what Wagner heard – and what is possible in the 21st century. Plenty of time remains to tweak the concept, as Wagner himself counseled performers to do.
While the challenges of imposing this concept will only increase as the other three operas unfold, I remain curious to see where it takes them – not least because the ultimate aim is not just to recreate the original experience not just of Wagnerian orchestral playing and singing, but ultimately also his staging.
Andrew Moravcsik
---
Cast and production staff:
Simon Bailey, Dominik Köninger, Mauro Peter, Tansel Akzeybek, Annika Schlicht, Nadja Mchantaf, Gerhild Romberger, Daniel Schmutzhard, Jürgen Sacher, Christian Immler, Tilmann Rönnebeck, Ania Vegry, Ida Aldrian, Eva Vogel. Dresdner Festspielorchester and Concerto Köln. Kent Nagano, conducting.
Top Image: Kent Nagano.
All photos by R. Caramiello (Kidea).