Falstaff at the hands of old-guard avant-gardistes Christof Marthaler and Anna Viebrock. Set on a sound stage somewhere (certainly Hollywood) where Orson Wells is acting or directing his three Falstaff movies.
Not that those films had much of anything to do with Verdi's Falstaff that was also on the stage. It took some time to catch on that Orson Wells was only an innocent bystander, as were the twenty or so non-singing film crew. There was some amusing movie making, and there was a lot more very lively opera making.
Meanwhile in the pit avant-gardiste conductor Ingo Metzmacher took his turn. He turned the Vienna Philharmonic players loose, each to his own. The maestro gave his Falstaff orchestra the ride of its life. It was mighty and infectious.
Thus simultaneously there was Orson Wells himself (German actor Marc Bodner) and Orson Wells movies (that we didn't know or need to know), there were the nine singers of Verdi's Falstaff (whom we all know fairly well) and there was an orchestra having great fun in the pit. Sometimes it was all together, and sometimes it was not. Nobody seemed to care too much. We all had a lot of goofy fun watching the opera climb on top of a movie while trying to keep up with the pit. (See lead photo, Falstaff [Orson Wells] and Falstaff [Gerald Finley] with actor Joaquin Abella as the First Assistant Director.)
Christof Marthaler knows that Verdi's opera plays itself, that Shakespeare's plays were on a bare stage. He knew that Orson Wells is textbook Falstaffian, and that movie making is organized chaos. A veteran of many opera productions (he was a favored director of Gerard Mortier, a visionary opera impresario [in Brussels, Paris and Madrid] of fairly recent times), he knows that orchestra players are happiest when they are the busiest — there is no score busier than Falstaff.
And voilà! The Salzburg Falstaff !

Anna Viebrock's set was three juxtaposed spaces — a cozy projection room next to a sound stage, and a Southern California pool deck. The sound stage loading doors opened to reveal a classic Italian city-scape movie set reminding us there was an elsewhere in Verdi's opera (though certainly no black oak tree).
All the Marthaler shenanigans miraculously added up in the finales. At the end of the first part it was Orson Wells who got dumped into the pool. At the end of the opera we were informed that there was a missing shot (a movie scene, see above photo), so we missed out on the surprise Nanette/Fenton marriage (they did not even stand together for the famous fugue). The final coup de théâtre was Sir John Falstaff (Orson Wells) wandering tiredly across the stage in full, knightly regalia. He took off his helmet and sang [!] the final line of the opera, "Ma ride ben chi ride La risata final," with little conviction.
The Salzburg high concept productions are cast with great care. Canadian bass-baritone Gerald Finley was the unlikely Falstaff (his program credits listed no such credit). Of reasonable body dimension he often played with a prosthetic fat suit, always treating his character with an amused aloofness (after all he always had the real Falstaff [Orson Wells] nearby). He was well able and willing to do the physical comedy antics, including rolling across the sound stage entwined with an acrobat and a dummy at his tryst with Alice Ford. He possesses a voice of power and beauty, attributes used to preserve a stable presence as the Falstaff double.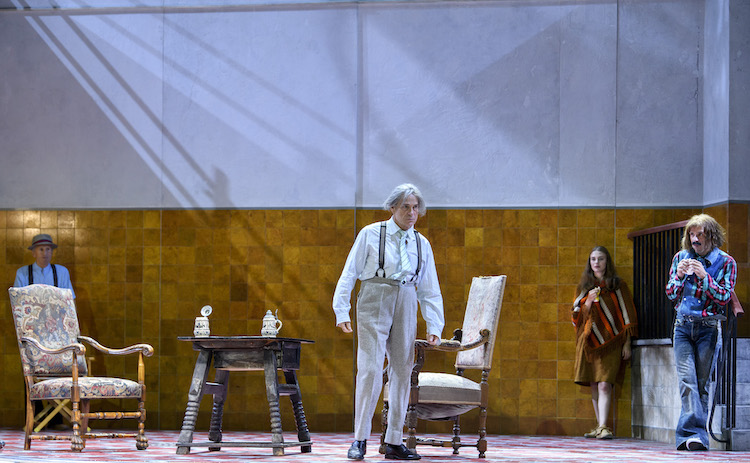 British baritone Simon Keenlyside was the unlikely Ford (no program credit listed for this role), given that Ford was played with silent film comedy exaggeration, together with which he managed some fairly extreme physical comedy. Unlike Gerald Finley's Falstaff, he was not aloof from his role, but right there to make us realize that we were on a movie set, a place where yet another idea of high art reigns.
Perfectly cast as well were Ukrainian tenor Bogdan Volkov as Fenton and Italian soprano Giulia Semenzato as Nanetta. The two lovers snuggled among the chair pillows of the projection room, entwining themselves in ribbons of cine film, Fenton's lovely "Dal labbro il canto" was sung on the empty sound stage, Nanetta's lovely "Sul fil d'un soffio etesio" was sung from scaffolding high above the sound stage, an old fashioned stage light at her shoulder illuminating the as yet empty sound stage floor way below.
Alice Ford was sung by Russian soprano Elena Stikhina in grand voice and presence, Dame Quickly was sung by German mezzo soprano Tanja Ariane Baumgartner and Meg Page by Italian soprano Cecilia Molinari. Always exuding delighted playfulness the three women were joined by Nanetta in the swimming pool for their big Act 1 quartet — clothed, their heads peaking over the edge.
Swimming pools are normally not found next to sound stages, but Falstaff does call for a river. Though there was no water in the pool, the First Assistant Director (actor Joaquin Abella) dove into it repeatedly during the first finale, when not trying to fit himself into various baskets and hampers. (see lead photo)
Completing the cast were tenor Thomas Ebenstein as Dr. Cajus, tenor Michael Colvin as Bardolfo, and bass Jens Larsen as Pistola.
And there was Macbeth at the hands of the very latest operatic avant-gardistes, Krzysztof Warlikowski and Malgorzata Szczęśniak, set in a huge waiting room, information screens high above and on one side an intruding jetway.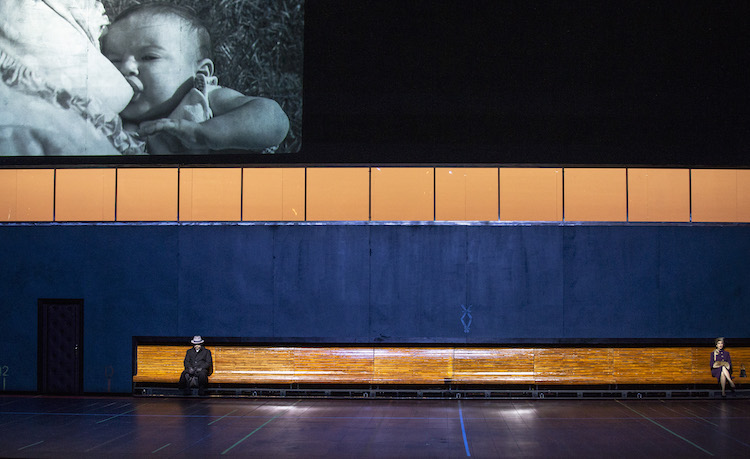 The setting was a vista. waiting with us for the opera to begin were a man sitting at one end of a very long bench, and a woman at the other end, very far away. The overture emerged in loud, sharp, unfamiliar tonalities, there were images of mothers nursing babies on the informational screens.
An additional waiting room, stuffed with women (like in European train stations), slid onto the stage to sing the famed prophecies, strings of little girls formed circles wherein Macbeth and Banquo, both heroic warriors and heroic singers, learned their fates — Macbeth will be king, Banquo will be the father of future kings.
We learn that Lady Macbeth is barren (there was a visit to a gynecologist on the information screen), we know that both she and Macbeth are terrified of Malcom (the late King Duncan's son and his legitimate heir) and we know that Macbeth is terrified of all Banquo's sons. We know the Macbeths together became a serial killer team with the slaughter of Macduff's wife, sons and daughters. And we learn that MacDuff was not born, but torn from a womb.
A waiting room is a womb, it is an image of infinite depth, here mercilessly exploited by Mr. Warlikowski and Mme. Szczęśniak (husband and wife in real life) in this shattering vision of the Macbeth tragedy now surrounded by children — the children that Macbeth and Lady Macbeth so fear.
We see and hear that the players are not singers of Italian opera, but are singers and players in the Warlikowski/Szczęśniak opera cycle of dysfunctional families (Hamlet in Paris, A Quiet Place in Paris, Elektra in Salzburg). But in their telling of this Salzburg Macbeth there is no Macbeth family, and what other families there were are summarily destroyed at their hands — those of Duncan, Banquo and Macduff.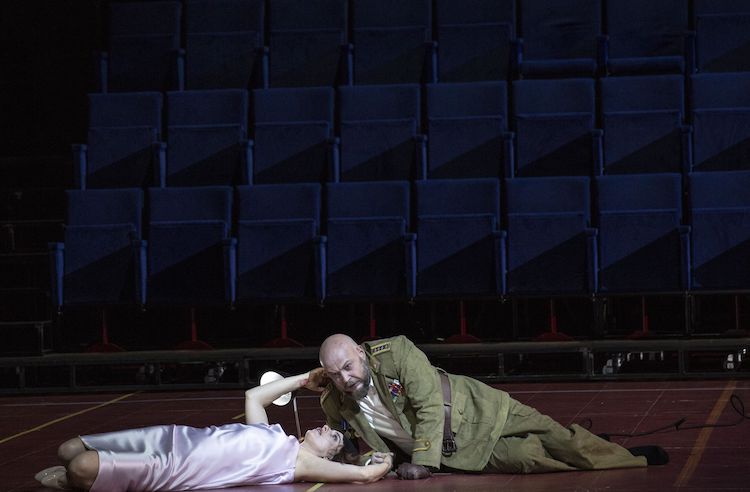 Macbeth himself was played by Belarusian baritone Vladislav Sulimsky who oozed power and ambition, physically and vocally, making his emotional and physical disintegration the more appalling. Lady Macbeth was played by Asmik Grigorian, a singer of immense vocal accomplishment that she normally displays in her famed Strauss roles, now brought to bear on Lady Macbeth. Her crystalline tones exposed the strength and determination of Lady Macbeth, and her brazen showmanship, while Mme. Grigorian's immense histrionic skills made her madness remote, and quietly affecting, hardly the dramatic focus of the opera. It was strangely touching when she caressed the head of her emotionally destroyed husband.
Verdi famously wished for a Lady Macbeth without a beautiful voice. In Salzburg just now, however, it was in fact a quite beautiful voice. But it is a voice that is now accepted to portray the neurotic heroines in the slavic and germanic repertory, of which there are few in the Italian repertory. Mme. Grigorian is not an Italianate singer.
Conductor Philippe Jordan had no trouble coaxing the Vienna Philharmonic into finding the ugliness Verdi was intent on inserting into his score. In keeping with the Warlikowski/Szczęśniak vision the maestro held the orchestra at intense volume and in maximum excitement, with a bombastic sharpness of tone.
The savior of Scotland in this eleventh century bit of history according to Shakespeare (a bit changed by Verdi and now enriched by Warlikowski), is Macduff who leads Duncan's son Malcom's armies to victory.
The oppressed people exposed on the information screens of the production's waiting room were middle eastern nursing mothers, living primitively in caves with their husbands and children — maybe this was some gratuitous Israeli/Palestinian commentary. The hundred or so singers of the Concert Choir of the Vienna State Opera Chorus appeared in concert blacks on the side stage aprons to lament their oppression and demand deliverance.
American tenor Jonathan Tetelman sang the heroic Macduff with the exaggerated voice he probably generates for Cavaradossi's big moments, though there were some very beautifully sung and felt moments in his Act IV "Ah, la paterna mano" in which he lamented the death of his children in rich, tenor tones.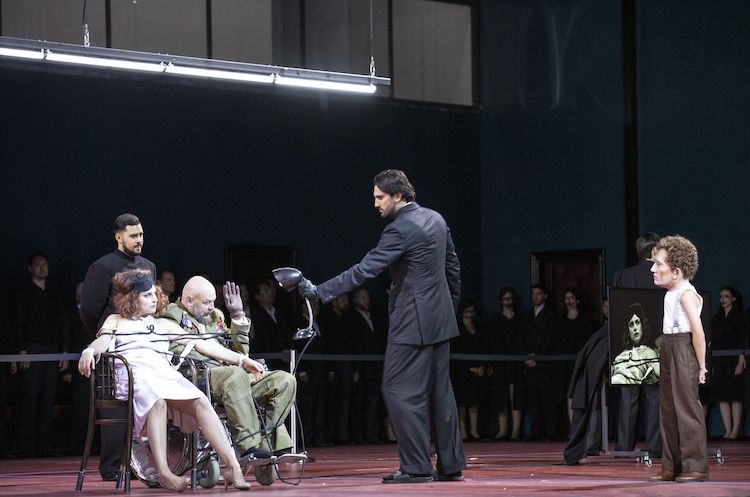 American tenor Evan Leroy Johnson sang Malcolm, Kuwaiti born, German raised bass Tareq Nazmi sang Banquo, both roles delivered with plenty of artistic heft. Mezzo soprano Caterina Piva sang the brief role of Lady Macbeth's chambermaid. Two young boys had brief singing roles during Macbeths hallucinations. Not identified by name they were from the Saint Florian's Boys' Choir that has existed since 1071.
Additional production credits include Felice Ross, the usual Warlikowski lighting designer, with the videos credited to Denis Guéguin and Kamal Palak, also long time collaborators. Claude Bardouil has long been associated with Warlikowski as his movement director and choreographer.
Michael Milenski
Grosses Festspielhaus, Salzburg, Austria, August 23 and 24, 2023