Festival International Film d'Opéra d'Entrecasteaux (FIFOE) debuts this September in this small village nestled among the vineyards in the hills of Provence. The village is Entrecasteaux, famed for its farmhouse style chateau, its Le Notre garden (above photo), its classy chamber music festival, its cricket team (once the national champions of France) and its secondary homes. Not to mention the excellent local wines!
Adding to its prestige the village will now host a festival of filmmakers' versions of the masterpieces of opera — an irresistible urge for some of cinema's great names. Notably these films are not broadcasts of opera house productions but movies that exploit film's ability to traverse, inhabit and study real locations and to reveal the more intimate storytelling secrets of operas, hidden behind theater's fourth wall.
The films are curated by Christophe Tardieu, once adjunct director of the Opéra de Paris, once the general director of France's Centre National du Cinéma (Mr. Tardieu is now at France Televisions) who reminds us that while opera may be Italy's most basic and pervasive art form, in France the most popular art form by far is film.
Thus the Festival International Film d'Opéra d'Entrecasteaux joins the two art forms! Those who have escaped from many of the world's great cities into the Provençal countryside will join residents of the local communities to experience this unique, rare and hybrid form of artistic expression. Of course the Festival aspires to open the door to opera itself for some and for others to deepen an appreciation of the filmic medium.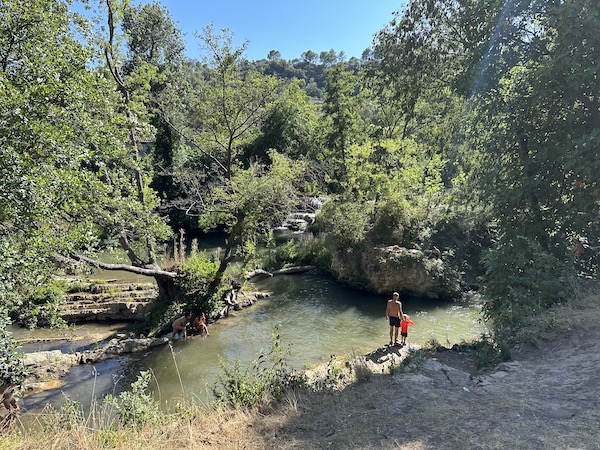 The Festival will take place on Entrecasteaux's great prairie (Grand Pré), a huge field steps from the village that was once used to grow the wheat for its bread. Now it is home to the cricket team and the village's tennis club. A river runs through it [sic], a fitness course on its banks, with swimming holes that contribute to the well being of everyone. Everyone — the screenings are free of charge! — is encouraged to spread out a picnic supper on the grass (like Glyndebourne) before the operas. The films will be projected on a large, specially erected screen, with appropriate amplification promised (forcefully operatic but not rock concert deafening).
For this inaugural edition of the Festival Mr. Tardieu has chosen Luigi Commencini's 1988 La bohème to be screened at 9 PM on September 1. Commencini (1916-2007) is famed as a master of the "commedia all'italiana." Though Puccini's Bohème may be opera's most heartbreaking tragedy, the opera relies on the contrasts of a lively, comedic world with the tender intimacy of young love. Actor Luca Canonici embodies Rodolfo to the voice of Jose Carreras, Mimi is the actual American soprano Barbara Hendricks. Canadian baritone Gino Quilico is Marcello, and Los Angeles finished soprano Angela Maria Blasi is Musetta. The film's credits list no conductor or orchestra.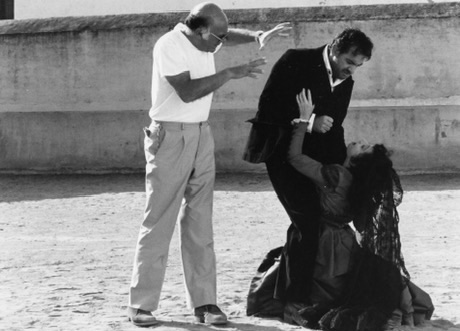 On the following night, September 2, the Festival presents Francesco Rosi's 1984 Carmen. Rosi (1922-2015) is remembered as a filmmaker with a heavy political agenda, though in later years he made films of novels (Primo Levi's post-Auschwitz journey in La tregua [The Truce] is well known), and he made Bizet's Carmen into a movie as well! His film stars the then reigning Carmen of the day, Julia Migenes Johnson, and the then 44 year-old Placido Domingo (now 82) as Jose. Ruggiero Raimondi, then 43 years old, now 81, is Escamillo, American soprano Faith Esham is Michaela. The Orchestre National de France is conducted by Lorin Maazel. Rosi's Carmen was nominated for Best Foreign Film at the 1985 Golden Globe Awards.
Mr. Tardieu promises Joseph Losey's famed 1979 Don Giovanni for next year. Losey (1909-1984) was a Brechtian Marxist director, his films are marked by his great attention to location. In particular his Don Giovanni offers splendid Venetian atmospheres. One could dream of Hans-Jürgen Syberberg's 1982 Parsifal, or Andrzej Zulawski's 1989 Boris Godunov as a second film. Or is it too much to ask for Penny Woolcock's 2003 The Death of Klinghoffer. But why not a second Boheme — Robert Dornhelm's 2009 La Bohème with Rolando Villazón and the-not-too-ailing Anna Netrebko as Mimi, though Christophe Tardieu hints that it may be Benoit Jacquot's 2001 Tosca with Angela Ghiorgiu and Roberto Alagna.
There is indeed a very rich catalogue of films of operas for future festivals.
Michael Milenski
All photos are used by permission of copyright owners.