In Santa Fe Opera's first ever production of Monteverdi's Orfeo, a funny thing happened on the way to Hades.
Our hero seems to have wandered into an imaginative but perplexing collection of effects and images that could be incorporated in the city's Meow Wolf exhibition, House of Eternal Return, with nary a modification. Ma, arresta. Let's start at the beginning.
This opera is a virtual accolade to the triumphant power of music in general, and the title protagonist in particular who, it was claimed, "held the wild beasts spellbound with his song."
As we enter the Crosby theatre, there is a very large mound filling the stage covered with a billowing white circular cover of parachute cloth. It is surmounted by a white and chrome hospital bed, occupied by La Musica, and the back wall is famously open to the view of the mountains.
As the brief opening fanfare begins, the windblown cloth ceases motion, and soon La Musica begins welcoming the audience, extolling the power of music to "calm every troubled heart," and setting up the introduction of Orfeo himself. The character is clearly rousing herself from a sick bed (or is recently recovered from a malady), is in a rather indistinct, pale Schmatta and, from my vantage point looked wasted and with hair shorn, or maybe balding. Curiously, she begins singing facing upstage.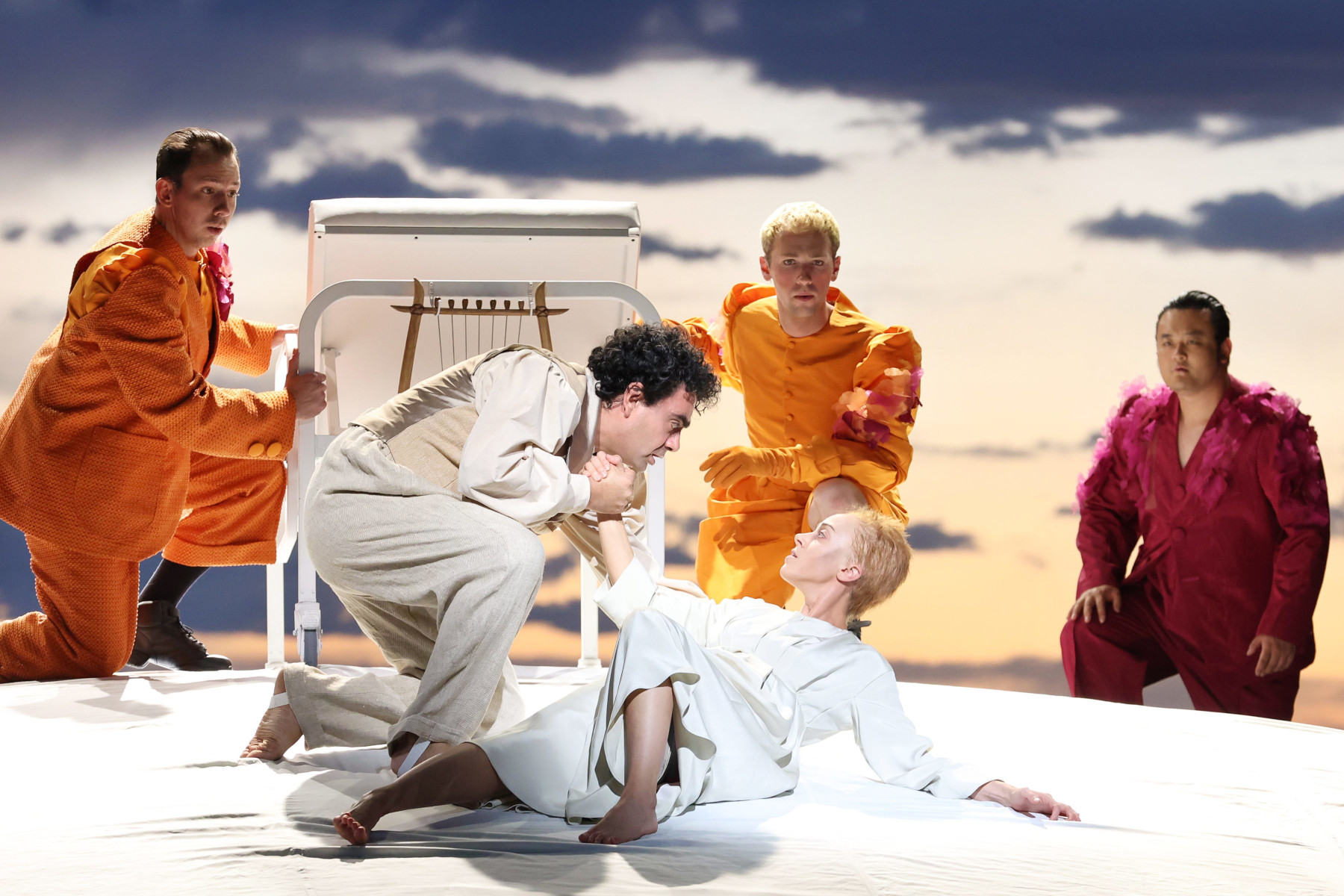 This was a most confusing set-up for director Yuval Sharon's plan to celebrate the triumphant joy of music, when the essential character embodying the artform is an invalid. Things got a bit better. . . for a time.
After the bed was struck, the large white cover was lifted, swooshed ever higher and then spirited away revealing the 1st Pastore on a verdant green mound. That was soon peopled by singers-as-mountain-goats, sliding down to the stage, climbing up to dance and jest, cavorting and regrouping picturesquely enough on that uneven surface, all the while making me hope that SFO had their liability policy in place and paid up.
Although Mr. Sharon found a number of modestly varying stage pictures for the large choral cast, the truth is that there was a sameness, with a clump of performers on the upper middle of this giant green breast, with the other choristers split on the stage floor crowded on either side of the structure or lined up single or double file on the apron. Since much of the choral work involves dances, this spatial limitation relegated much of the physical movement to sways, pumped hands, twerks, and wiggles.
I quite enjoyed Carlos J. Soto's fanciful costumes, which are hard to categorize. They seem to be vaguely some mythical period, yet concurrently timeless. The chorus wore warm rusty oranges and vibrant magentas, with the men in high water pants and modified suit jackets, some over bare chests, the women in full skirted peasant-inspired gowns. Some are decorated with furry strips of fabric, some with drapes and folds, some accessorized with almost Caribbean looking headwear. Any of these would do full credit to Billy Porter's defiant fashionista statements at the Met Gala.
The principles are largely in heroic white, save two. La Messagera, arrives solemnly in an elegant funereal black dress. Spoiler alert: In a great design achievement, this messenger of (Euridice's) death, sports a huge, diaphanous black "shawl" that spreads to cover the entire mound in its symbolic grief. After having tired of the unchanging verdant visual, it was a blessed relief and powerful effect.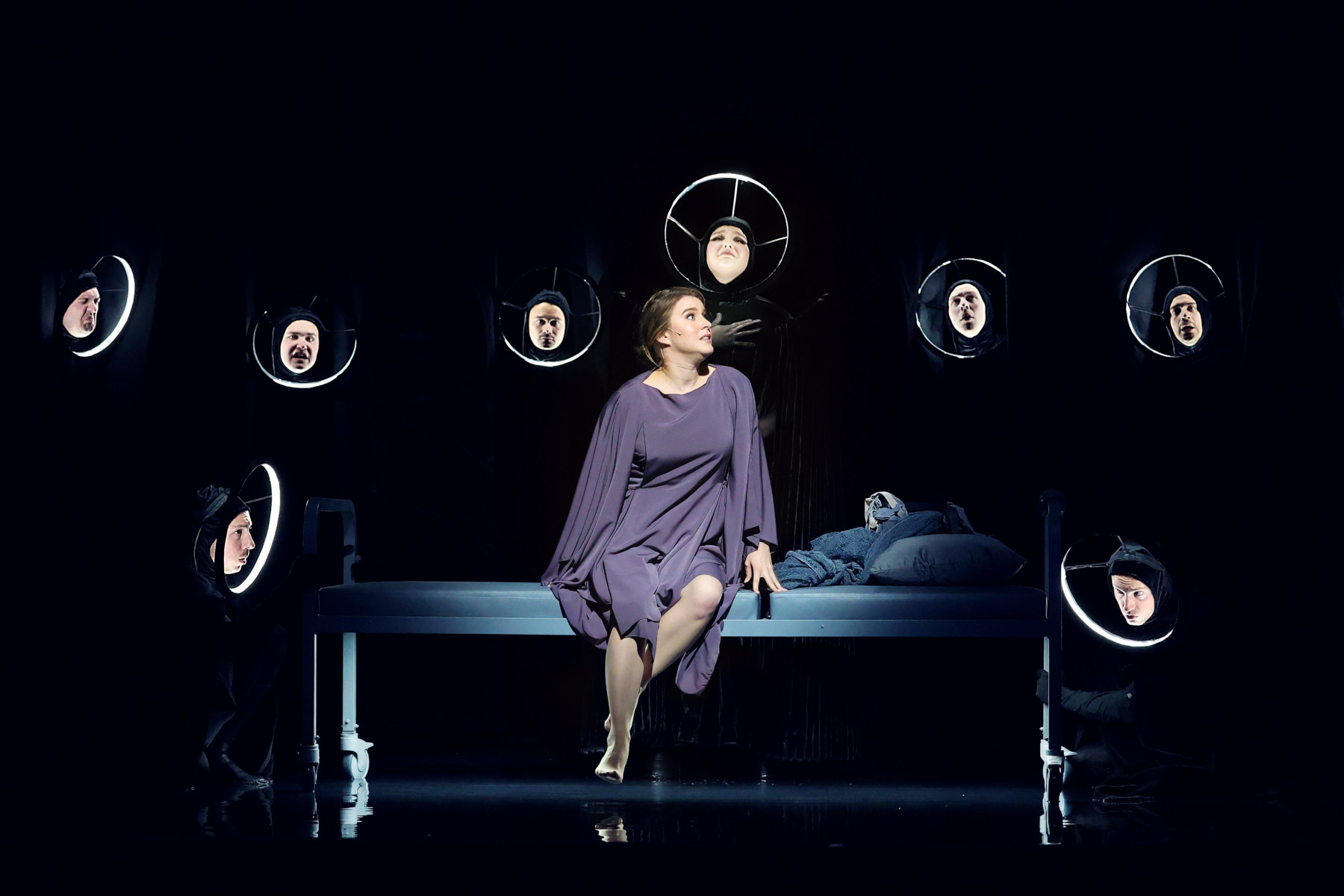 The other is Euridice in Hades, who is swathed in a tunic of deep blue which portends her exile to eternal darkness. In the key scene, as Orfeo ferries Euridice to safety, they are menaced by extraterrestrial choristers in black with skull caps, faces exposed, dazzlingly framed by lit crescent moons of light. If that doesn't belong in Meow Wolf, nothing does.
Sharon has Orfeo enter with all hale-fellow-well-met vivacity, and then injects a few good pranks, like blindfolding Orfeo before he extols the joys of beholding Euridice. The entire courtship is played this way as he blindly admires her beauty, until Orfeo unwittingly kisses a proffered male hand only to tear off his blindfold and discover the goof. The show could have used a good deal more of this invention. That Orfeo was similarly blindfolded as he poled across the Styx was a meaningful parallel moment recalling the courtship scene.
Once the grieving Orfeo travels to Hades, all hell visually breaks loose. More Spoilers: Wires get attached to the top of the mound and the entire thing gets hoisted in the air, along with a terrified Orfeo who is clinging, clinging, clinging to the underside edge of the structure, legs flailing. The visual reveals a space backed by morphing fungal growths, a veritable hall of Shitakes. Or is it schrooms?
This revelation is accompanied by much laying on of mist, projections, and flashing lights that morph and ooze and tumble kaleidoscopically ad infinitum. In front of this churning acid trip, it turns out Orfeo is suspended on wires, and he starts to descend, gesticulating, pitching now forward, now back, executing all but a full somersault, which was likely modified owing to a dress rehearsal mishap that kept Rolando Villazon out of the premiere.
His lengthy descent does go on. I was reminded of: "Those Magnificent Men in Their Flying Machines, they go up-a-dee-up-up, they go down-de-dee-own-down." So it went for the entire length of Orfeo's monologue. When he finally was back on terra firma, and we collectively sighed "thank God," up he went again. And to boot, HELLOOOOOO, Orfeo did not "swim" the Styx! He paid Charon to ferry him across.
Euridice seems to be trapped on the opening's hospital bed that has made a return, and now serves as the boat Orfeo steers to safety. Of course, Euridice's savior disobeys Plutone's warning, rips off his blindfold to look at his beloved, and she vanishes forever. And how does the production handle this moment of supreme tragedy?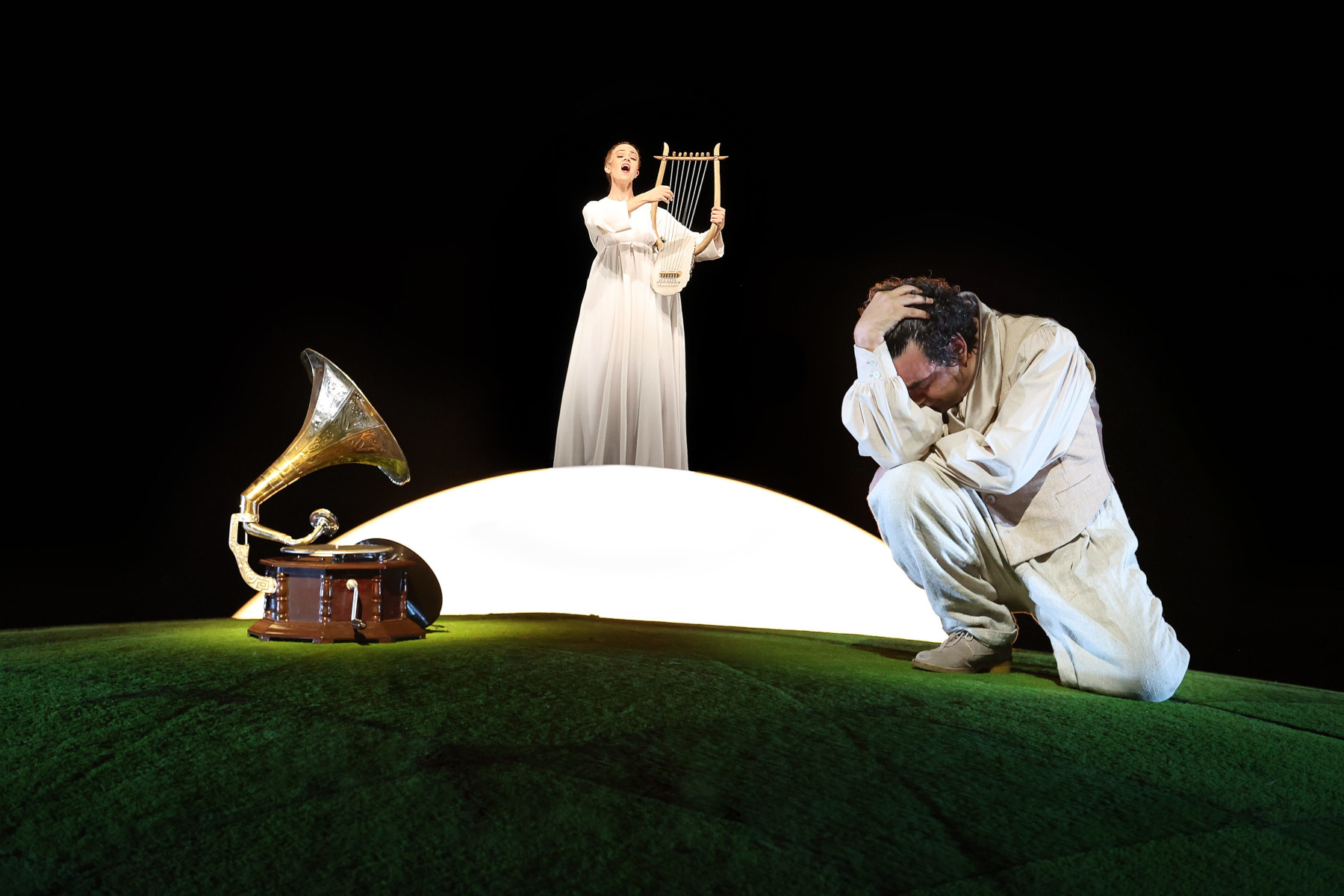 It abruptly thrusts a shiny gold Victrola into Orfeo's hands to the startled amusement of a bewildered audience. I am not sure that is the reaction Monteverdi envisioned. To clarify, the platter playing when the box is cranked is the voice of his beloved Euridice. There is a good deal of merit in this theatrical idea, however, it was ill-timed and capricious in its introduction.
The "Visual Environment" ("set design" apparently being too pedantic a nomenclature) was devised by Alex Schweder and Matthew Johnson, with projections by Hana S. Kim. I admire their obvious skill and talent, but they were in need of a much firmer editor who could have laser focused these restless large-scale efforts. One design element that eschewed the flamboyant and was economically and wholly successfully integrated, was the attractive lighting by Yuki Nakase Link.
At the risk of becoming the kind of opera writer I hate, I have dwelt on the physical production until now, but it claimed dominance and tended to overwhelm rather than complement the music.
Music Director Harry Bicket led with his customary secure baton, but he seemed to have his work cut out for him with the enjoyable but contemporary orchestration devised by composer Nico Muhly. First, Muhly has swapped out the straight toned strings, theorbos, and sackbuts of the period instrument movements for modern means. That included the very pleasant inclusion of piano, celesta, bass clarinet, contrabassoon, and glockenspiel. Fair enough, but while the bare bones of the continuo and the melody are respected, everything around them has not.
The cleanliness of the original orchestration was steadier, and easier to coordinate rhythmically, and with this new unconventional instrumentation there were a few moments of imprecision between stage and pit. To clarify, the assembled orchestra played what was asked of them with utmost professionalism. Susanne Sheston's well prepared chorus made the most of their critical contributions, whether mourning in pathos, or exultantly partying.
Another misconnect is that while the sounds from the pit are fresh and 21 st century, the singing honors the Baroque conventions of the recent past period styles, so the two don't mesh as a musical whole.
Bottom line up front: I love me some Rolando Villazón. Or to be clear, I love the Villazón I grew to admire and line up to see at the heady start of his career. He has been candid about his vocal trouble, his operation, his struggle to reclaim a career as a performer, specifically as a credible tenor. Mr. Villazón has taken on a mighty challenge with the role of Orfeo, which demands substantial resources.
The good news is that the singer remains a potent star presence. His honesty, animation, and engagement remain unparalleled. He knows how his voice currently works and plays to what it can do, eliding over what it can do no longer. Hence, he strives to act the living hell out of it. Along the way, he talk-sings any conversational passage he can, with conviction and bravado.
He has reasoned that the specific, often straight-toned delivery of Baroque singing serves him in good stead, with its trademark quivering held notes, accented phrases, and dry melismas. To a certain extent he is right. But he also has to now resort to bullying out a high note, ignore a phrase end that just won't phonate, and try to overcome momentary frayed lack of tonal beauty with aplomb, or at least disregard.
I call it a draw. It's impossible to dislike or dismiss this imminently personable and empathetic artist. Mr. Villazón's performance is many admirable things. What it seldom is, is attractive, freely produced singing. But like a beloved Raggedy Andy doll, a bit worn around the edges, I still esteem this treasurable artist.
There is no such reservation about the luminous soprano Laura Snouffer, whose radiant, poised singing anchored the show as La Musica and Speranza. Every phrase she uttered was fraught with emotional import and tonal beauty. She was equaled by the tremendous La Messagera, hauntingly voiced by mezzo Paula Murrihy. This was a faultless cameo star turn that was so poignantly voiced as to have the rapt audience members scarcely able to breathe, in reaction to the soulful agony of her announcement of Euridice's untimely death.
The SFO Apprentice Artist soloists had a fair degree of success with their demanding. assignments. 1st Pastore Philippe L'Esperance displayed a boyishly appealing lyric tenor that shone above the staff, although the lower phrases taxed his instrument. Lucy Evans' (La Ninfa) mezzo was agreeably haunting with its ripe lower register blending into a dusky middle and upper range.
As the production's lone counter tenor, Luke Elmer enthralled with a crisp, clear, well-colored delivery, though at times he could have had more presence. Amber Norelai, looked lovely and performed very musically as Euridice, although the role would benefit from a voice one size weightier than her polished, silvery soubrette. The 2nd Pastore of Brandon Bell benefitted from his intelligently deployed warm lyric baritone, which could use a bit more ping in its dispatch.
Le Bu doubles as the 5th Pastore and 2nd Spirit, his cavernous, weighty bass filling the house with potent sound. Caitlin Alloia brought a limpid, crystalline soprano to bear in the service of Prosperina. Younggwang Park's bass was characterized by a distinctive timbre and ringing delivery in the two roles of 4th Pastore, and 1st Spirit.
Mark Grey's tasteful sound design flattered the several off-stage singers: James Creswell's luxuriant, booming bass thundered with malevolent conviction as Caronte. Blake Denson's pointed and full-throated baritone gave much pleasure as Plutone. Apprentice Artist Luke Harnish's securely produced bass was elegantly grainy, and a good characterful match for the closing vocal solo turn as Apollo.
In a curious culmination, one of the production's most beautiful and appropriate scenic effects had La Musica far upstage atop a huge rising sun, brandishing Orfeo's lyre, and (wait for it) mouthing the words that Apollo was singing offstage. When (s)he bid Orfeo to join him, the hero just lumbered off nonchalantly, disappearing unceremoniously behind the mound.
And that just about summed up the evening for me. After all the distracting flash and dazzle, after all the well-intended but mismatched musical approaches, after the several memorable soloists and the outstanding choral work, in the end Santa Fe's misjudged Orfeo just kind of modestly slinked off the stage.
James Sohre
---
L'Orfeo
Music by Claudio Monteverdi
Libretto by Alessandro Striggio
World Premiere Orchestration by Nico Muhly
La Musica/Speranza: Laura Snouffer; 1st Pastore: Philippe L'Esperance; La Ninfa: Lucy Evans; 3rd Pastore: Luke Elmer; Orfeo: Rolando Villazón; Euridice: Amber Norelai; 2nd Pastore: Brandon Bell; 5th Pastore/2nd Spirit: Le Bu; La Messagera: Paula Murrihy; Caronte: James Creswell; Prosperina: Caitlin Alloia; Plutone: Blake Denson; 4th Pastore/1st Spirit: Younggwang Park; Apollo: Luke Harnish; Conductor: Harry Bicket; Director: Yuval Sharon; Visual Environment: Alex Schweder, Matthew Johnson; Costume Design: Carlos J. Soto; Lighting Design: Yuki Nakase Link; Projection Design: Hana S. Kim; Sound Design: Mark Grey; Chorus Master: Susanne Sheston
Top Image: Amber Norelai (Euridice), Rolando Villazón (Orfeo), Lucy Evans (La Ninfa), Luke Elmer (3rd Pastore), photo by Curtis Brown for the Santa Fe Opera.