There's a danger that a little-known work not previously performed in the UK may be all too quickly erased from memory when familiar works grab the listener's attention, especially when the performances are so vividly projected as they were in this Prom by the BBC Symphony Orchestra.  Maybe the starry combination of Finnish conductor Klaus Mäkelä, Chinese virtuoso Yuja Wang and American baritone Thomas Hampson was bound to put a UK premiere of an unfamiliar work in the shade.  That said, Jimmy López Bellido's extravaganza that is Perú negro was certainly an orchestral showpiece.
Described by the Chicago Sun-Times as 'one of the most interesting young composers anywhere today', Bellido (born 1978) draws musical inspiration from his native Peru for Perú negro's Afro-Peruvian influences, specifically six traditional songs.  Written for the centenary of the Fort Worth Symphony Orchestra in 2012, the work has been much admired by Mäkelä since his teenage years.  It can be likened to an affectionate yet sparkling postcard of evocations which the composer comments is 'something entirely new and personal – an invented folklore of sorts, which bears the seal of my musical language'. Its glitzy scoring and its sinewy, jazzy, even louche melodies made for a captivating curtain-opener, with the eye and ear continually held by timpani and a busy percussion section whose players (including a vibraslap, jawbone, cabasa, three tom-toms and a thunder sheet) were kept busy across its 16-minute span.  This is very much a work to be heard (and seen) again if only to absorb more fully the sheer quantity of orchestral detail, its ever-changing vistas and rhythmic frenzy.  It was given an atmospheric and clamorous outing by the BBC Symphony Orchestra and is richly deserving of further performances.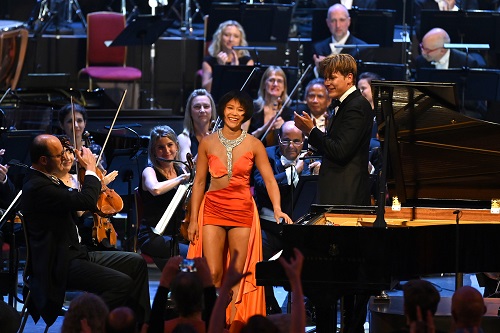 After a stage reshuffle, it was the turn of Yuja Wang to demonstrate her considerable prowess and outré attire in a revelatory performance of Rachmaninov's Rhapsody on a Theme of Paganini.  Nothing routine here, and from the start it was an inspirational collaboration between pianist and players (wind solos especially gratifying) that underlined the work's chamber scoring in a light-on-its-feet, no-nonsense rendition.  Characterisation might have been explored where gravitas, mystery and whimsy were hinted at, rather than stated.  More intimate than indulgent, and brilliance of execution understated rather than grandstanding, Wang carried the day with her exemplary delicate tone and crystalline articulation so that Variation XVIII stole in almost surreptitiously beguiling in its subtlety, tenderness and quiet rumination.  No rubato or sentimentalising either in the 'Hollywood' moment, all beautifully contained with an overall undemonstrative conception of the work.  Thereafter, Mäkelä presided over an ideal collaboration that enabled rising tensions to develop naturally, Rachmaninov's punishing octaves impeccably delivered and the final furlong rich in bravura and orchestral detail, closing with no small hint of roguish glee.  Returning to the platform, she offered Rachmaninov's Polka de W.R and Vincent Youmans's Tea for Two (arranged Art Tatum), encores in which her dazzling technique brought wit and scintillation and a roar of approval.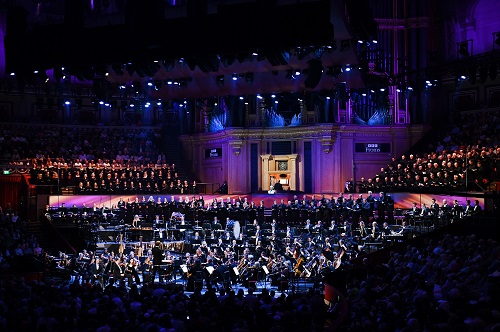 If the playing of Yuja Wang prompted superlatives, the performance of Walton's Belshazzar's Feast raised the bar, and emotional temperature, still further.  There were moments when the tempo – on the verge of being homicidal – took my breath away, alarmingly so in the Presto 'Alleluias' where Walton's theatrical instincts were stunningly captured.  It's hard to decide what impressed me most – Mäkelä's masterly control over his forces (galvanising with irrepressible energy from the podium with a slicing left hand) or the sustained heft of the BBC Symphony Chorus.  From the men's opening declamation, the chorus sang with demonstrable conviction and unmistakable authority.  It wasn't just the power or stamina that startled, nor even the precision of attack, it was more the range of expression that embraced both heavy hearted lamentation and then unbridled jubilation.  Considering the large orchestral forces, including two antiphonally placed brass bands, balance throughout was exceptionally good, and the brief semi-chorus passage sung with commendable polish.  Thomas Hampson appeared to set more store over characterisation than accuracy when delivering a well-projected 'shopping list' itemising the riches of Babylon.  While his lines were delivered distinctly and with measured grandeur, there were times when his singing sounded closer to speech.  That aside, this was an immensely compelling account leaving one in no doubt about its excellence, with a final word for the quality of vocal training from chorus master Neil Ferris.
David Truslove
Jimmy López Bellido – Perú negro; Rachmaninov – Rhapsody on a Theme of Paganini, Walton – Belshazzar's Feast
Yuja Wang (piano), Thomas Hampson (baritone), BBC Symphony Chorus, BBC Symphony Orchestra, Klaus Mäkelä (conductor)
Prom 27: Royal Albert Hall, South Kensington, London; Friday 4th August 2023.
ABOVE: Thomas Hampson with the BBC Symphony Orchestra and Chorus (c) BBC / Chris Christodoulou