Now in its fifth revival, the popularity of Laurent Pelly's L'elisir d'amore remains unchanged, his nicely observed 1950s rural Italy still pulling in the punters. It's not just the arresting sight of Chantal Thomas's pyramid of haystacks that continues to attract, or the credible community of farm workers lured to a lorry load of cures or even Nemorino's attempts to unseat Adina from her ciclo de moto. It's more the incidental detail on and off the stage that periodically draws the eye. Billboards on the front-cloth advertising Dulcamara's universal elixir include remedies for 'Costipazione' and 'Impotenza'. Along with these visual gags there's the novelty factor of a Jack Russell dashing across the stage and a befuddled Nemorino in charge of a real tractor drunk on a love potion that turns out to be nothing but a bottle of Bordeaux.
Arguably, the biggest draw is Welsh bass-baritone Bryn Terfel, reprising his quack doctor role of 2014. But there's some star casting from international singer, too, including Armenian tenor Liparit Avetisyan, reprising his much-admired performance as Nemorino in 2017, and Russian baritone Boris Pinkhasovich who has previously appeared at Covent Garden as Shchelkalov in Boris Godunov. Making the strongest impression, and her ROH debut, is the American soprano Nadine Sierra who gives a classy performance and is an ideal match for Avetisyan's Nemorino. Together, they ramp up the emotional temperature in Act 2 to conjure the evening's most poignant scene.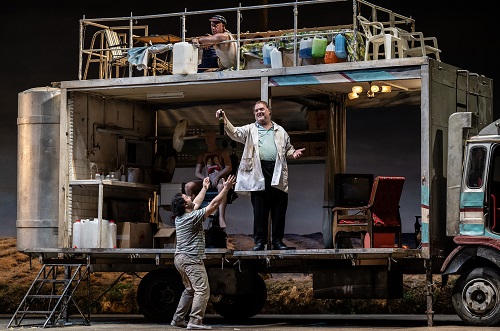 Act 1 is a slow burn but enlivened by Terfel's sleazy conman who pitches up with his no less fraudulent associates to swindle the gullible locals out of their lira. With his grimy lab coat and greasy hair, he's the very opposite of a well-groomed salesman with an ingratiating smile and dispenses the magical 'elixir' in grubby petrol cans, not even attempting to conceal his deception. As if to match his character his singing leans towards coarseness, but there lingers enough vocal technique, if somewhat muscle bound, to deliver his tongue-twisting 'Udite, udite, o rustici'. For all that, he's still a force of nature and delivers the role with aplomb.
Pinkhasovich makes for a dependable and narcissistic Belcore, supported by two unlikely looking subordinates whose farcical difference in height creates its own wry comedy. His macho and strutting Sergeant needs some fleshing out if only to avoid caricature, but his baritone has plenty of heft, coloured by a bullish tone to match his aggression. Just a pity his Act 2 enlistment duet with Nemorino lacked any visual contact, chemistry in short supply as both singers faced the audience with barely a glance towards one another.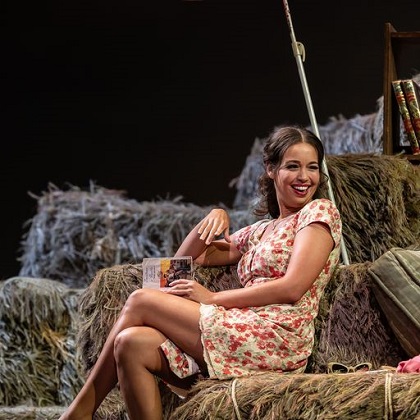 The success of this revival is down to well-defined characterisations from Sierra's Adina and Avetisyan's Nemorino, both captivating in their opening scenes and forming a magnificent partnership by the time Adina realises the extent of her true feelings. Capricious rather than haughty, teasing rather than superior, Sierra's hard-to-get minx gradually turns to uncertainty, and with little hesitant glances and fidgeting hands her indifference towards Nemorino melts. Allied to her comfortable stage presence is a voice that can glide across Donizetti's coloratura and reach the top of the staff with no sign of strain. A sparkling timbre, impeccable technique and emotional intelligence are all equally in evidence. Her 'Prendi per me sei libero' when she confesses her love for Nemorino, is truly heartfelt and utterly beguiling. Without doubt we will see more of Sierra in the future.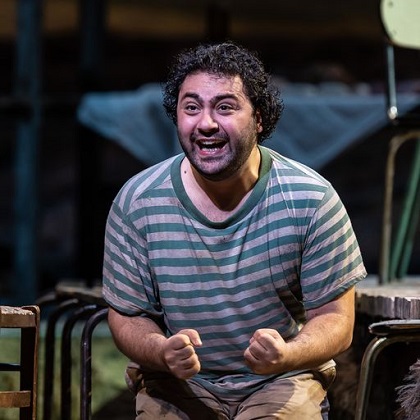 Avetisyan is no less engaging as he bounces around the haystacks, more a young buck than a village idiot and, from the off, clearly at home in a well-projected declaration of love to Adina. His fast but unobtrusive vibrato is tamed by the time he reaches his lament, 'Una furtiva lagrima', where his expressive warmth secured the evening's longest applause.
Elsewhere, the chorus are in fine fettle, and Sesto Quatrini (also making his house debut) secures characterful playing, notably from the woodwind, and ensures commendable balance between stage and pit. In short, this is a thoroughly entertaining revival, its Arcadia beautifully drawn and musical score finely realised.
David Truslove
Donizetti – L'elisir d'amore
Adina – Nadine Sierra, Nemorino – Liparit Avetisyan, Belcore – Boris Pinkhasovich, Dr. Dulcamara – Bryn Terfel, Giannetta – Sarah Dufresne; Director – Laurent Pelly, Revival director – Paul Higgins, Conductor – Sesto Quatrini, Sets – Chantal Thomas, Costumes – Donate Marchand, Lighting – Joël Adam, Chorus and Orchestra of the Royal Opera House.
Royal Opera House, Covent Garden, London; Friday 22nd September 2023.
ABOVE: Nadine Sierra (Adina) with the ROH Chorus (c) ROH 2023 / Clive Barda