Eslon Hindundu's new opera Chief Hijangua, the first ever composed by a Namibian, premiered in Windhoek last fall. Last weekend, I attended the third performance of its European premiere at Berlin's Haus des Rundfunks in a Namibian-German co-production.
Hindundu is a choir director who first came to prominence a decade ago as a soloist in Namibian youth choirs before receiving professional conservatory training in Windhoek and South Africa. Since then, he has composed works for choir, wind band, string quartet, symphony orchestra and now the stage.
Nikolaus Frei's libretto, sung in German and Otjiherero, combines traditional operatic tropes with a horrifying political dénouement. Hijangua, the son of a chief falls in love with a lovely young girl, Matjiua, who has been promised to his older brother. He leaves home and experiences an existential crisis in the terrifying Namibian wilderness, where plants, animals, water, and earth come to life. He eventually falls in with German colonialists, who convert him to Christianity and then manipulate him into inadvertently betraying his people to the German army, who massacre them in the opera's final moments.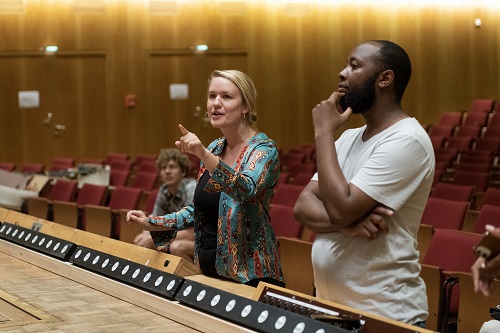 Hijangua's search for love and meaning, which dominates the first and second acts, exists in considerable tension with the subsequent exposé of colonial duplicity and violence. Indeed, both composer and librettist have publicly expressed diffidence about the political theme, which—interestingly—seemed more of a priority for German participants than Namibian ones. Incongruous though it was, it did elicit exciting music in the opera's concluding moments.
Hindundu's compositional style rests on the Western choral and pop music harmonies that dominate global listening these days, though he occasionally reaches for more unconventional open intervals. This relatively homogenous tone, tempo and scoring is interspersed with—but not truly integrated with—brief episodes of more clearly African-inspired and percussion-heavy scoring. Hindundu has said that he sought also to integrate traditional Namibian folk music, but his success in doing so is beyond my capacity to judge.
Among the performers, standouts were two charismatic young singers from South Africa, the powerhouse of opera training in southern Africa. Baritone Sakhiwe Mkosana, a competition-winning member of the Frankfurt Opera Studio, triumphed in the title role with clear diction and a particularly resonant lower register. Soprano Janice van Rody, currently studying in Hannover, sang the sweetheart Matjiua, who stands at the center of the first and last acts. She fearlessly commanded the stage with a firm and resonant voice and a lot of attitude—both signs of potential as a future diva.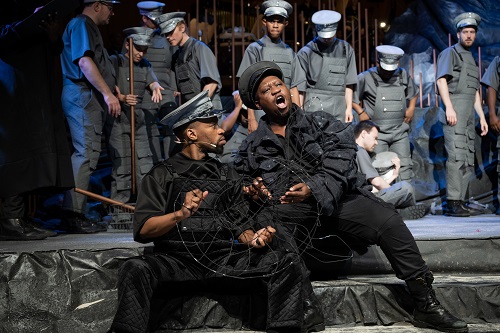 A trio of South African men—stentorian bass Monde Masimini as the father Hangane, penetrating baritone Yonwaba Mbo as the Pastor, and elegant tenor Rheinaldt Tschepo Moagi—sang with confidence throughout, lending the performance a firm vocal foundation.
Two younger artists, Namibian baritone Galilei Uajenenisa Njembo as the older brother Nguti and compatriot soprano Natasha Kitavi as Maria, performed creditably, even if both are still working to smooth out and bulk up their voices.
The semi-staged performance was accompanied by able members of the Berlin Radio Symphony Orchestra, fluently conducted by the composer. The choirs Cantus Domus from Berlin and Vox Vitae Musica from Windhoek lustily joined in. Exuberant direction and staging were spiced with costumes that melded the post-modern and the traditional. The Haus des Rundfunks lived up to its reputation for excellent acoustics.
Whatever its musical strengths and weaknesses, the historical importance of this Berlin premiere is indubitable. The institution where Eslon Hindundu received his initial musical training was established by people of German heritage in 1971 as a whites-only state conservatory. A half century later, with this European premiere of his opera, enthusiastically received by a large audience, he has become its most accomplished graduate.
Andrew Moravcsik
Hijangua – Sakhiwe Mkosana, Nguti – Galilei Uajenenisa Njembo, Matjiua – Janice van Rooy, Hangane/Lamb – Monde Masimini, Maria – Natasha Kitavi, The Major/Jackal – Rheinaldt Tshepo Moagi, The Pastor – Yonwaba Mbom, Director and Producer – Kim Mira Meyer, Co-Director – Michael Pulse, Conductor and Composer – Eslon Vakomboka Hindundu, Librettist – Nikolaus Frei, Stage Design – Felicia Riegel and Tanya Turipamwe Stroh, Costumes – Naomi Nambinga and Twapewa Amutenya, Members of the Rundfunk-Sinfonieorchester Berlin, Choir comprising Cantus Domus and Vox Vitae Musica.
Haus des Rundfunks, Berlin, Germany; September 17, 2023.
ABOVE: Janice van Rooy as Matjiua (c) Stefan Höferath