The first day of what would have been Glyndebourne's 2023 Autumn Tour, had not Arts Council England swung its financial axe, was as sunny and bright as the score which opened this autumn's 'staying-at-home' main stage productions: Annabel Arden's 2007 staging (ironically originally a touring production) of Donizetti's perennially charming L'elisir d'amore. Arden's production has done good service since its initial outing; revived this summer by director Sinead O'Neill, it offers plenty of fresh details, and new voices – it's a crisp and sharp revival that feel fresh and immediate.
Designer Lez Brotherston's set presents a tilting, worn stone wall – the crumbling edifice of a shabby chic rural manor house, whose window ledges and arching doorway provide plenty of opportunity for the locales to perch, spy and enjoy the romantic trials and triangles that unfold in the large piazza when Belcore arrives with his military entourage – a quartet of buffoons – in their sleepy village. The latter's black uniforms hint at the 1940s fascism which will disturb the rural tranquillity, but, in fact, time and place are really neither here nor there – it's all about the characters, and a fairy-tale timelessness prevails over realism and politics.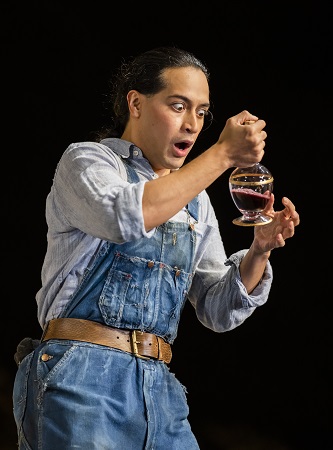 The bright golden sunshine of Act 1 (lighting design, Giuseppe Di Iorio) and the festoons of party-lights strewn across the square in Act 2 add to the sense of artifice. Indeed, the piazza itself is framed in black, adding to the story-book ambience. Sometimes the blocking feels a bit static; there's not a huge amount of room for the full chorus to move about. But, from the first, there is activity in the side-lines, and lots of small but vivid things happening that capture the eye, communicate character – Adina washing at the public fountain, knowing full well that she is being watched by an adoring Nemorino; or the latter, in his electrician's overalls, fiddling with wires rather than wooing his flighty sweetheart – and conjure a colourful sense of a rural community. There are similar details in the choral numbers that create dramatic vim and imaginative imagery, not least when the ladies learn of Nemorino's windfall and unleash a preening pantomime of stocking twisting, make-up tweaking and cleavage bolstering, egged on by Ffion Edwards' terrifically vivid and agile Giannetta.
The Ethiopian soprano Mariam Battistelli sported Adina's linen trousers and smart summer frock this time round. Her soprano is quite a small voice – and it's a pity that this production introduces Adina at the back of the stage, aloft on a windowsill, preparing to beguile the resting harvesters with tales of Tristan and tragic love – for she didn't initially make much impact. But it's a silvery-toned voice, and she has a lovely feel for Donizetti's phrasing. If there's a bit of an edge at the top, there's warmth at the bottom. The coloratura was spot-on precise, fluent and totally natural; the duet with Filipe Manu's Nemorino in Act 1, 'Chiedi all'aura lusinghiera' was a treat. Moreover, Battistelli acted this tricky role superbly: this Adina was never a spoilt madam and in Act 2 was both sincere and sympathetic. Just a bit more roundedness, such as might suggest swells of the heart and soul, in 'Prendi, per me sei libero', might have made us love and forgive her that bit more.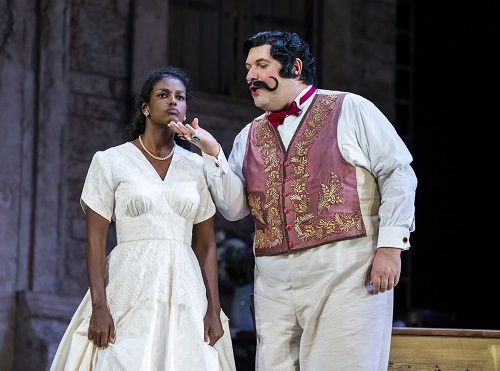 In Act 1, the New Zealand-Tongan tenor seemed to be making a super House debut.  He, too, doesn't have a large voice, but it matched perfectly with Battistelli and a lovely dramatic tension and energy developed between them.  His tone was Italianate, his phrasing unwaveringly stylish, with plentiful lyric elegance.  This was, appropriately, a not-too-goofy Nemorino, but one who wore his heart on his sleeve and touched our hearts.  It was a surprise to learn, then, at the start of Act 2, that Manu had been feeling unwell and that the role of Nemorino would be sung by the understudy, Rhys Batt – apparently plucked from his seat in the audience – while Manu acted.  This did unsettle the dramatic relationships and momentum for a while, but Manu was persuasive on stage.  When he repeated Adina's action of washing from the water-pump, before 'Una furtiva lagrima', the juxtaposition of sexual teasing and troubled sincerity was moving.  Batt's tenor has quite a different tone and weight, and it can't have been easy tuning into the drama or the score at the start of Act 2, when standing at a music stand stage left.  But, this was much more than a 'saving-the-show' performance.  His 'Una furtiva lagrima' rightly earned thunderous applause.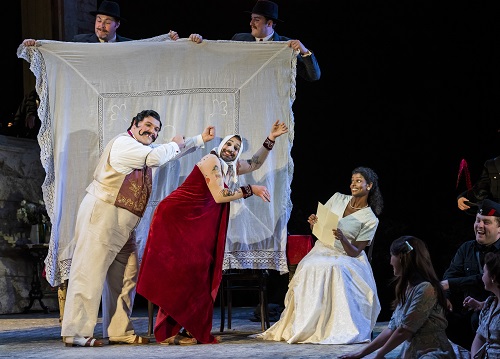 Theodore Platt's Belcore was a blend of brashness, brutishness and buffoonery – his inebriation at the close was convincingly lop-sided – but his bravado never became unattractively base, and he accepted his philandering failures with good grace. Tiziano Bracci was a more light-weight Dulcamara – vocally, comically and wickedly – than is often the case, and his patter didn't always pack a rib-tickling punch. Much of the amusement and antics were left to Dulcamara's mute assistant, played by Maxime Nourissat as a Rasputin-cum-Feste in harlequin leggings and feathered top-hat. He relished the sexual ambiguity of his gondolier-girl ravishing in the barcarolle 'Io son ricco e tu sei bella'; slugged and bottled the cheap Bordeaux with a gleeful twinkle; and whose spawning of a babe to illustrate the joyful outcomes of swigging Dulcamara's elixir was down-to-earth slapstick that transformed into a delightful sparkle of confetti. He was a bundle of kinetic fizz balanced by knowingness, nowhere more so than when he turned off the fairy-lights to bathe 'Una furtiva lagrima' in moonlight melancholy.
In the pit, Adam Hickox led the Glyndebourne Sinfonia in a vigorous performance, sometimes pushing just a bit ahead of his soloists and chorus, particularly in Act 1, though he later relaxed the tempi a little and the ensemble improved. All will settle down during the run.
The strength of Arden's production is that it's the artifice that makes the characters seems so 'real'. They will touch your heart.
Claire Seymour
Adina – Mariam Battistelli, Nemorino – Filipe Manu (understudy, Rhys Batt); Belcore – Theodore Platt, Dr Dulcamara – Tiziano Bracci, Giannetta – Ffion Edwards, Dulcamara's assistant – Maxime Nourissat, Actors – Jofre Caraben van der Meer, Anthony Kurt Gabel, Andrew Hayler, Bailey Pepper; Director – Annabel Arden, Revival Director – Sinead O'Neill, Conductor – Adam Hickox, Designer – Lez Brotherston, Lighting Designer – Giuseppe Di Iorio, The Glyndebourne Sinfonia, The Glyndebourne Chorus.
Glyndebourne, Sussex; Saturday 11th November 2023.