Known by his contemporaries as 'El cantor de Maria', Francisco Guererro (1528-99) was a much-travelled musician and composer whose career bridged the gap between Cristóbal de Morales and Tomás Luis de Victoria, thus belonging to a Holy Trinity of Religious Polyphony from the Spanish Golden Age. On the recommendation of Morales, Guerrero held the position of maestro di capilla at Jaén Cathedral in 1546 (an unhappy and short-lived appointment where he multi-tasked as teacher, vocal coach and house parent to six choirboys) from which he progressed to Seville Cathedral, initially as assistant and then maestro di capilla for some forty years. His employers clearly thought enough of him to permit periods of absence that enabled visits to Portugal and Italy and an eventful four-month pilgrimage to the Holy Land chronicled in his 'Journey to Jerusalem'.
Unlike Morales and Victoria, Guerrero's output was not solely devoted to sacred music and, in addition to 18 masses and some 150 other liturgical works, he left numerous secular songs and instrumental pieces. Inevitably, it was his works for the church, especially a substantial collection of motets in praise of the Virgin Mary, that are amongst his most widely known. During his lifetime he was the most admired musician in Spain, securing publication in the peninsula and in France and Italy. This apparent success did not rescue him from a brief period in a debtor's prison, nor from succumbing to the plague that swept across in Seville where he died aged 71.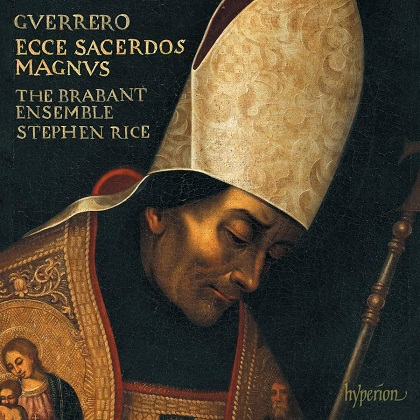 Guerrero's musical legacy is well represented on disc with explorations from a handful of vocal ensembles including The Tallis Scholars, The Cardinall's Musick, Ensemble Plus Ultra and Chapelle du Roi. Now, the Oxford-based Brabant Ensemble has added its two penn'orth in this valuable compilation of first recordings: eight motets, variously scored for four, five and six-part voices, a setting of the Magnificat and the glorious Missa Ecce sacerdos magnus, a work printed in Rome in 1582 and dedicated to Pope Gregory XIII.
Guerrero responds to his motet texts – including a Psalm, the Gospel of St Matthew, the Song of Songs and the Book of Hours – with an innate sensitivity, tailoring his polyphony to individual necessity.  In turn, Stephen Rice's vocal forces generate an appropriate emotional response.  The six-voice Gaude Barbara (a motet celebrating St Barbara) is suitably energetic, while the more restrained Quomodo cantabimus canticum Domini (Psalm 136) brings expressive weight to the plight of the Jews fleeing Jerusalem.  If not quite inhabiting a sense of grief, its long-limbed phrases bring yearning to this intimate account.
Generally, it's the reflective motets that produce a more even vocal tone and a more uniform ensemble, qualities absent in Simile est regnum caelorum where St Matthew's parable of the vineyard labourers is given a forthright and, at times, uncontrolled account.  A little more poise in the final bars would have brought dividends.  The confrontation in the wilderness between Jesus and the devil in Ductus est Jesus brings dramatic impetus and makes an effective foil after the solemnity of O crux splendidior – its closing 'Alleluias' unusually plaintive.  False relations add a certain tartness to the Lenten Peccantem me quotidie where fears for an unrepentant sinner conclude with gently repeated pleas for mercy, the whole intimate and sung with expressive reverence.
Arguably, the highlight of the disc is the five-part Missa Ecce sacerdos magnus, a work that unusually carries the plainchant melody with its own text (that of the title), rather than that of the Mass Ordinary. The chant is artfully embedded in the outer sections of the threefold 'Kyrie', the 'Sanctus' and the 'Agnus Dei' and provides an easily identifiable cantus firmus within the surrounding plainsong-based polyphony. A trio of solo voices (AAB) is deployed for the 'Benedictus' and tonal variety accumulates over the course of the 'Credo'.  Fascinating as the music is, the recorded sound continues, as on the adjacent tracks, to be bass light and top heavy with sopranos always a little too prominent.  But on a positive note, there's a more relaxed feel overall to each of the movements, now shaped to fully realise the spiritual essence of this wonderful Mass.
David Truslove
Guerrero – Gaude Barbara, Quando cantabimus canticum Domini, Simile est regnum caelorum a 6, O crux splendidior, Ductus est Jesus a 4, Missa Ecce sacerdos magnus, Peccantem me quotidie, Beatus es et bene tibi erit a 5, Quae est ista tam formosa? Magnificat secundi toni
The Brabant Ensemble, Stephen Rice (conductor)
Hyperion CDA68408 [72:29]