Bampton Classical Opera Young Singers' Competition 2023 – Finalists Chosen
Public Final: Saturday 25 November 2023, 6pm
Leonard Wolfson Auditorium, Wolfson College, Linton Road, Oxford, OX2 6UD
After an exciting first round of the Bampton Classical Opera Young Singers' Competition 2023 in London on 28 & 29 October, eight singers have been chosen for the Public Final in the Leonard Wolfson Auditorium, Wolfson College, Linton Road, Oxford, on 25 November at 6pm.
We are delighted to announce that the finalists will be:
Sarah Chae soprano
Aleksandra Dunaeva soprano
Melissa Gregory mezzo-soprano
Rhydian Jenkins tenor
Georgie Malcolm soprano
Dan D'Souza baritone
Myrna Tennant mezzo-soprano
Kieron-Connor Valentine countertenor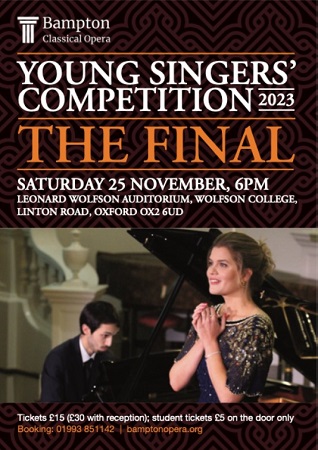 The Public Final is always an entertaining and thrilling event, and a chance to hear some remarkable performances. Each finalist will present a programme of around 15 minutes. Judges for the competition include the internationally renowned British singers: tenor Bonaventura Bottone and mezzo-soprano Jean Rigby. They are joined by the esteemed vocal coach, pianist and accompanist Ingrid Surgenor who is the senior coach at Glyndebourne Festival Opera, the Young Artists Programme at the Royal Opera House, Covent Garden and principal opera coach at the Royal Academy of Music. For many years she was the official accompanist to the BBC Cardiff Singer of the World.
First prize £2,000 – Second prize £1,000
There will also be a £600 Accompanists' Prize.
The Bampton Classical Opera Young Singers' Competition was launched in 2013 to celebrate the company's 20th birthday. It is now well established and identifies, rewards and nurtures some of the country's most talented young professional singers aged 21-32 and their accompanists. The previous winners were mezzo-soprano Anna Starushkevych (2013), soprano Galina Averina (2015), mezzo-soprano Emma Stannard (2017), soprano Lucy Anderson (2019) and soprano Cassandra Wright (2021). In 2017 an Accompanists' Prize was introduced, and the first winner was Keval Shah, followed by Dylan Perez in 2019 and Ilan Kurtser in 2021. Bampton Classical Opera has a reputation for its commitment to young talent, and a number of singers who have appeared on the Bampton stage have gone on to work with national companies such as The Royal Opera, English National Opera and Opera North.
Previous Winners and Runners-up:
2013
First Prize: Anna Starushkevych (mezzo-soprano)
Second Prize: Rosalind Coad (soprano)
2015
First Prize: Galina Averina (soprano)
Second Prize: Céline Forrest (soprano)
2017
First Prize: Emma Stannard (mezzo-soprano)
Second Prize: Wagner Moreira (tenor)
Accompanists'Prize: Keval Shah
2019
First Prize: Lucy Anderson (soprano)
Joint Second Prize: Daniella Sicari (soprano) and Carolyn Holt (mezzo-soprano).
Accompanists' Prize: Dylan Perez
2021
First Prize: Cassandra Wright (soprano)
Second Prize: Jessica Cale (soprano)
Accompanists' Prize: Ilan Kurtser
BOOKING NOW OPEN: PUBLIC FINAL 25 NOVEMBER 6PM
Venue: Leonard Wolfson Auditorium, Wolfson College, Linton Road, Oxford, OX2 6UD
Final only – £15
Final and post-event drinks and canapés reception – £30
Friends ticket (to include free admission to the post-event reception) – £15
Tickets available on-line or from 01993 851142
In addition, student tickets at £5 (Final only) can be purchased on the door only, subject to availability.
Website: www.bamptonopera.org
Telephone: 07500 827264