Signum's latest release of 21st-century choral music is a hugely rewarding survey of anthems and organ music from living composers, many of whom are graduates of Cambridge University. With eight commissions on board, much of the music will be largely unfamiliar. That Andrew Nethsingha likes 'pushing the boundaries of the Anglican choral tradition' is suggested by the disc's stylistic diversity and the periodic use of instruments. Recorded across three terms during 2022, with inevitable changes of personnel among the lower voices, the end product brings no lack of continuity.
The CD is bookended by two exuberant offerings by a pair of established composers. James MacMillan's 'O give thanks unto the Lord' opens with a startlingly assertive organ introduction leading to a jubilant setting of words from Psalm 105 and Robert Herrick. Its arresting outer sections are as unbuttoned as Iain Farrington's Advent-inspired 'Nova, nova' which, with its finger clicking, hand clapping and feet stamping, could find a place in a seasonal 'rave in the nave'. Choir and organist clearly revel in the jazzy rhythms. A similar wild abandon occupies Farrington's organ piece 'Celebration', a riotous segment from his seven movement Fiesta described as occupying a 'champagne-popping spirit'. His witty 'Conversations' is another organ miniature from the same collection and imitates, he suggests, the 'lively natterings and gossipings' of those who argue and laugh about life.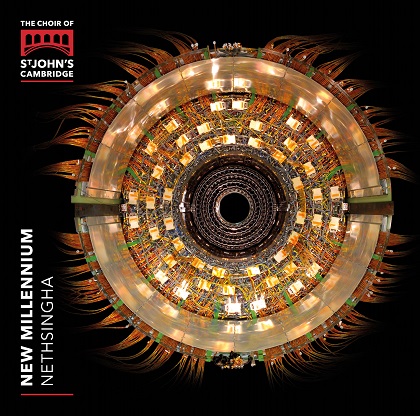 Francis Pott has earned acclaim for his choral works, but his organ pieces also demonstrate a meticulous craftsmanship. It's a quality that informs Laudes, written in response to a 2014 BBC Radio 3 commission and, according to the composer, designed to fill the short gap between the end of the broadcast and the start of the next programme. Anna Semple has a growing portfolio of choral works, but her 'Oriens' elaborates on the Advent chant to form a meditative organ solo.
Among more recognisable names there's Cheryl Frances-Hoad and her harmonically subtle 'A Blessing' and two works by Judith Weir. The latter has compared the first of these, Vertue', to a madrigal with an intention to achieve the clearest possible setting of George Herbert's words. It's a beautiful setting and affectionately sung. Weir turns to Christina Rossetti for the second of her works, 'Leaf from leaf Christ knows', which juxtaposes flowing choral writing and a pulsing organ part.
Several works are written for ATB voices and two include the addition of instruments.  Of this group 'Quiet Stream' by Sophie Westbrooke finds lower voices twinned with a recorder in a highly atmospheric piece in which a short notebook entry by Samuel Taylor Coleridge examines the link between creation and the divine.  A violin joins the organ and choir for Ben Comeau's 'Vanity of Vanities', a work unfolding from shape shifting harmonies to reveal much energetic passage work from the violinist set against choral chanting.  Further a cappella works for the adult choristers include a straightforward setting of 'O nata lux' by Piers Connor Kennedy and an ambituous setting of 'Salvator mundi' by Alexander Hopkins where added note harmonies and rich sonorities provide accumulating interest for this Compline text.
David Nunn's two contributions, both for choir and electronics, start with the hallucinogenic 'Sitivit anima mea' which is devised in such a way to follow seamlessly from Palestrina's 'Sicut cervus'. Biblical and secular texts give shape to his neo medieval 'oh pristine example' where the choral writing (both metered and free) is gradually subsumed in 'an immersive electronic texture' including the sound of seashells, a church bell and wind chimes.
The American composer Abbie Betinis includes a flute for her 'Cedit, Hyems', where the banishment of winter and the joys of spring (words derived from an ancient Bavarian manuscript) are fashioned with gathering excitement. Tentative opening phrases become increasingly animated and culminate in an ecstatic final flourish. No less exhilarating is the central panel of Janet Wheeler's 'Alleluia, I heard a voice', its driving rhythms flanked by restrained Alleluias with echoes of Stravinsky.
Needless to say, the standard of playing and singing from St John's is impeccable.  These are wonderful performances underpinned by superb balance and intonation, Nethsingha bringing out musical detail and textural meaning with a finely judged ear that does small miracles with every piece. A fascinating and indispensable collection!
David Truslove
The Choir of St. John's College, Cambridge, George Herbert (organ), Anna Ryan (flute), Alex Semple (violin), Sophie Westbrooke (recorder), Andrew Nethsingha (director).
James MacMillan – O give thanks unto the Lord, David Nunn – Sitivit anima mea*, Judith Weir – Vertue I: Vertue, Abbie Betinis – Cedit, Hyems, Ben Comeau – Vanity of Vanities*,
Piers Connor Kennedy – O nata lux, Iain Farrington – Celebration, Janet Wheeler – Alleluia, I heard a voice, Weir – Leaf from leaf Christ knows, Farrington – Conversations, Betinis – Carmina mei cordis I: Aeterna lux, divinitas, Anna Semple – Oriens*, Sophie Westbrooke – Quiet Stream*, Francis Pott – Laudes*, Alexander Hopkins – Salvator mundi, Domine*, Nunn – oh pristine example*, Cheryl Frances-Hoad – A Blessing,
Farrington – Nova, nova*
* Commissioned for the College Choir
Signum SIGCD750 [73:26]