It was a big leap today from the effervescent afternoon performance of Gaetano Donizetti's acclaimed comic delight, The Daughter of the Regiment, to the somber evening show of the same composer's elementary early work, Zoraida di Granata (Zoraida from Granada).
The simplistic plot is essentially a love triangle. The King of Granada, Almuzir, a two-faced murderer, aspires to wed Zoraida, the daughter of the late King (who he had killed). She, however, loves the victorious Moorish general, Abenamet. But in order to save her beloved from a death sentence imposed upon him by the malevolent scheming of the King (it's complicated), Zoraida agrees instead to indeed marry Almuzir. Although Abenamet has doubts about Zoraida's fidelity, and has been pretty well jerked around, somehow a pretzel-like plot twist brings us to a situation where King Almuzir gives up his claim to Zoraida and allows her to marry Abenamet after all.
If you think that sounds like a pretty flimsy, unbelievable premise for a three hour opera, you would be right. But the piece is important for a few reasons. Donizetti was only twenty-four when he had his first real success with this now barely known piece. It is interesting as a curiosity, since it was a springboard to a prolific career that ultimately produced more than a handful of true masterpieces. Indeed, its success led to his winning a contract that opened his path to Naples and an eight-year apprenticeship there that left him ready to burst through with Anna Bolena at La Scala. So, in context, it is worth exploring this seminal opera, even with its youthful shortcomings.
The Wexford Festival has espoused this mission since its founding in 1951. That the company seeks to shed a spotlight on neglected, forgotten, and obscure works, by assembling highly talented professional performers and creative artists to stage them, is unique and praiseworthy. And that audiences have been flocking to attend such largely unfamiliar works for over sixty years is nothing short of miraculous. So, the full house on this evening were fully expecting to be regaled with the best possible case that could be made for Zoraida di Granata.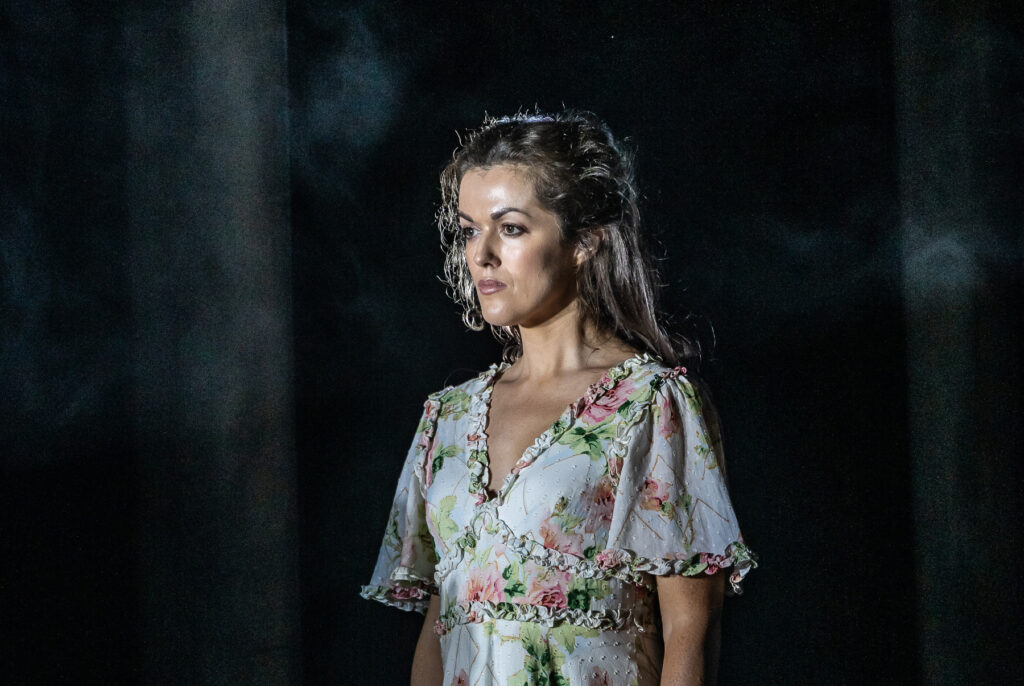 As King Almuzir, tenor Konu Kim was an authoritative figure, vocally secure, with a portentous, ringing delivery that exuded power and oozed duplicity. Mr. Kim sang with good variety, even when Donizetti did not always provide it, and his powerful top notes could be softened to a melting effect. The golden sheen of his middle and lower registers were very pleasurable.
His nemesis, Abenamet, Matteo Mezzaro displayed a tenor that had a considerably darker hue that contrasted nicely with his rival. Mr. Mezzaro seemed at times to have two techniques, one that was warm and flowing when in the lower regions and at "conversational" levels, and one that muscled up and lost the forward focus at the top, hardening at full volume. His musicianship and dramatic intentions are sound, and he gives a poised performance, but he verges on bullying out the top.
Soprano Claudia Boyle is just lovely in the title role, and it is easy to believe that men would fight over her. And she sings, too! (Boy, does she.) Ms. Boyle ravishes us with an effortlessly produced, silvery soprano of consummate range, deployed with a superb legato line. When the time comes for vocal fireworks, she dispatches fioritura with a flawless, trip hammer technique that is jaw-dropping. Even when Donizetti gives her impossible effects like prestissimo arpeggiated chord figures, she nails them without a hitch. Although it should be said that her crystalline instrument and tonal production do not allow for much variation in dramatic coloring, Claudia is a sincere and affecting actress, and makes the role impactful with heartfelt emotion.
Matteo Guerzè provides some welcome baritone relief in this tenor heavy opus, and as Ali Zegri he has a number of prime stretches in which to flex his craft. Mr. Guerzè is possessed of a rolling, warm tone, and his sizable instrument rides even the most robust orchestrations. He is a natural stage presence, and his unaffected vocal delivery was a pleasure all evening long. Mezzo Rachel Croash made the most of her limited stage time as Ines, her well-schooled mezzo possessing a rich timbre that was a fine complement to Ms. Boyle's soprano. As Abenamet's friend, Almazor, Julian Henao Gonzalez eagerly seizes his allotted opportunities to show off a gleaming tenor of poise and polish.
Although Gary McMann was the set and costume designer, it seemed as though he had a split personality.  The story takes places in Granada, Spain in 1480, and Mr. McCann's imposing setting approximates a decaying two story stone courtyard building of that period.  There is a partial Moorish inspired lattice scree that bisects the playing space at first.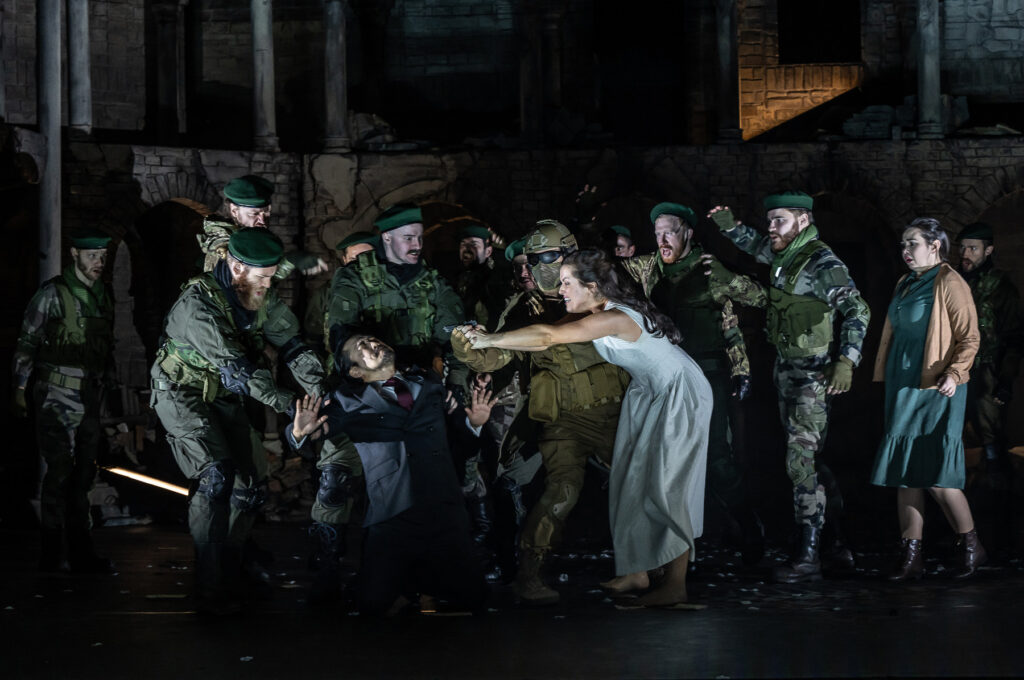 Within that edifice, there is a contemporary "desk," actually a long table for the King. And costume-wise, everything was modern business attire, or military fatigues, save the Spanish slave Ines who was in a rather shapeless schmatta. The King looked not unlike a Capo, and Zoraida, handsome in her deep blue dress, could be headed to a board meeting. Throughout, the look of the show juxtaposed the contemporary with the historic, and while not always logical, it was nonetheless intriguing, thought-provoking, and fresh. The outstanding lighting was once again designed by the consistently accomplished Daniele Naldi.
Director Bruno Ravella pretty much played it straight and created logical and economic movement. The simplistic character relationships were offset by the preposterous plot contrivances, but through it all, Mr. Ravella kept it clean and as sincere as possible. That said, one oddity was that when Ines had her (extraneous) aria in the first half, she was joined by two backup dancers, like an errant Las Vegas lounge act. It was a curiosity out of sync with the rest of the sensible staging.
Conductor Diego Ceretta elicited good results from the excellent Wexford Festival orchestra. Indeed, the overture was so jaunty and colorful, that I was hoping that infectious experience would carry on. Maestro Ceretta certainly maintained a decently controlled performance that was stylistically sound, but curiously, he seemed to not have a knack of pacing the end and start of set pieces so that momentum was fully sustained. Too, Andrew Synnott's excellent chorus, was allowed to get off the beat in the opening pages. To his credit, Ceretta partnered well with his soloists, and made the quartets and concerted passages some of the evening's most glorious highpoints.
Zoraida di Granata's (too) many arias churn on with little distinction, and assuredly will not send you out humming the hit tunes like Donzetti's later success, Lucia di Lammermoor. But hopefully, this first-rate production will have made you glad to know in some measure how the master built the foundation for his greatness.
James Sohre
Zoraida di Granata
Music by Gaetano Donizetti
Libretto by Bartolomeo Merelli
Zoraida: Claudia Boyle; Almuzir: Konu Kim; Abenamet: Matteo Mezzaro; Ines: Rachel Croash; Almanzor: Julian Henao Gonzalez; Ali Zegri: Matteo Guerzè; Conductor: Diego Ceretta; Director: Bruno Ravella; Set and Costume Designer: Gary McMann; Lighting Designer: Daniele Naldi; Chorus Master: Andrew Synnott
Top Image: Konu Kim (Almuzir), Matteo Mezzaro (Abenamet), Claudia Boyle (Zoraida) and members of the chorus of Zoraida di Granata (Gaetano Donizetti)
All photos © Clive Barda/ArenaPAL