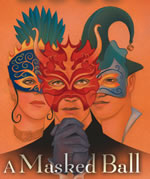 Behind the mask
As the Lyric prepares a Verdi opera, real-life parallels emerge
By PAUL HORSLEY [The Kansas City Star, 6 Mar 05]
In the resonant, garishly lighted basement of Trinity United Methodist Church, art is imitating life.
A tall, rugged baritone with reddish-blond hair and goatee is in agony. A rehearsal pianist pounds out tortured harmonies. A conductor and stage director watch, alert.
Bystanders also watch, almost embarrassed, as Jeffrey Kneebone exposes his soul.
Click here for remainder of article.