This was true in the autumn revival (the cast will change again come spring),
but some of the dopier director's touches have been toned down a bit,
and to top it off, there was a major set malfunction at the Saturday
performance: the great spiral staircase that is the center of the action in
Act III was a no-show, and the chorus and soloists were obliged to invent new
business on a bare stage on the spur of the moment – which they did,
improving markedly on last year's skit.
The stars of the night – who brought the audience to its feet, and
kept them cheering, though it was already half an hour past midnight –
were Diana Damrau and Piotr Beczala. Damrau is a full-voiced dramatic
coloratura, a type we haven't heard much of late (who was the last one?
June Anderson, perhaps), and her cool, beautifully straightforward soprano is
carved from golden ore not unlike Joan Sutherland's. She imitated that
lady in several Mad Scene touches, and though lacking a genuine trill and a
perfectly secure top, gave a credible version of her style of Lucia, adding
many dramatic touches, perhaps just because she was feeling the part and the
occasion. She can certainly improvise on stage, never one of La
Stupenda's skills.
Item: During her first cabaletta, "Quando rapito in estasi,"
when her luscious high legato was being amusingly shushed by Michaela
Martens's Alisa, Damrau occasionally sacrificed flawless phrasing to
cute little jokes. This gave us an idea of Lucia as a person, a Scottish girl
with a sense of humor – but as that is not the Lucia she played in
later acts (or that Donizetti wrote), I couldn't quite see the point of
it, and would have preferred more of that easy, purling legato.
Item: Damrau showed rather more fire in confronting brother Enrico –
Dessay played a feather in the wind, with no fight at all – but the
music says "fire," and Damrau played fire. But I think it an
error to have her palm a dagger at the end of the scene – she is not
planning bloodshed; she will do it on the spur of the moment.
Item: She did not seem oblivious to everything around her during the
sextet, as Dessay did. That never made any sense. (Wouldn't Arturo
notice?) Damrau tried to keep an eye on the violence while posing for the
photographer. She sang it beautifully, too. The photographer was not so
obtrusive as last year, but still unnecessary – Zimmerman put him in
because she thinks there is nothing happening when people are merely standing
about singing. That is fundamentally not the case in bel canto
opera, or we wouldn't be at the opera – in bel canto, singing is
the action, is the point. Zimmerman was the person who
shouldn't be here. Neither should the photographer. Or the ghost. Or
the doctor in the Mad Scene. Or the distracting servants changing the scenery
when Raimondo sings his cabaletta. But mostly Mary Zimmerman.
Diana Damrau in the title role of Donizetti's "Lucia di Lammermoor."
Item: The shocked turn of the head when the flute solo intrudes in the Mad
Scene, Sutherland's signature, was well achieved, and the craziness was
lower key, more integral, than Dessay's, but what really thrilled in
this long stretch of bravura singing was the dramatic variety and color
Damrau brought to Lucia's mad changes of mood: elegiac (with a truly
ghostly glass harmonica accompaniment) during the wedding hallucination,
cries of grief defending herself to the imaginary Edgardo, and then, after
(in this production) the doctor has injected her with a sedative, singing the
second verse of the cabaletta in an ever more woozy, weavy way, like an
exhausted bird spiraling down to the floor. It was a complete
characterization.
Damrau's voice, large, suave, cool, lovely, after a few wooden
phrases in the lower ranges in her opening scene, filled the house with no
trouble at all, and turned into glittering silver cascades at Lucia's
dreamy moments. It was the prettiest Lucia at the Met since the heyday of
Ruth Ann Swenson, and first-rate bravura acting as well.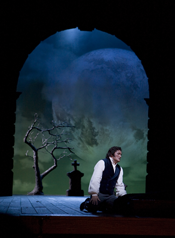 Piotr Beczala as Edgardo in Donizetti's "Lucia di Lammermoor."
The evening's second star – by a hair (and because Donizetti
designed the opera for prima donna) – was the Polish tenor, Piotr
Beczala. He has a rich, liquid tenor of exceptional quality, top to bottom,
with a never overstated sob when necessary, and urgency when the dramatic
moment demands. Too, he fills the house with it, without pushing or barking.
Edgardo is a plum for the tenor who knows how to seize it, and Beczala did
not waste anything. Withal, he cuts a slim, handsome figure, is a good actor,
and his Italian diction is impeccable. It was easy (if a pity) to shut
one's eyes and enjoy oneself whenever the direction demanded he do
something stupid. The one thing I might have wanted that was not here,
vocally, was a bit more maddened forza during the famous Curse after
the Sextet, a moment that can make or break a tenor's reputation.
Vladimir Stoyanov's baritone sounded a bit hollow in the opening
scene, but he sang it, not screamed it, and that is a good thing. He
warmed up by Act II, but (aided by a plain face and an unattractive
pre-Raphaelite haircut) he always remembered he was the nasty in this opera.
Ildar Abdrazakov used his height and sturdiness to enhance the impression his
singing gave that Raimondo is the still, sane center of this damnfool family.
Sean Panikkar – much too tall and strapping for a fellow who is knocked
over and dispatched by a slip of a girl in thirty seconds flat – sang a
promising Arturo, matching the impression he made as Edmondo in Manon
Lescaut last year. (Don't blame Donizetti for the folly of this:
it was Zimmerman's idea to cut the murder to thirty seconds by having
bride and groom climb the staircase at the scene's opening. Donizetti
and his librettis, Romani, would never have been so dumb.)
A scene from Donizett's "Lucia di Lammermoor" with Diana Damrau in the title role.
Damrau seemed especially delighted to run off stage during the curtain
calls to bring on conductor Marco Armiliato; she hugged him, and he waved a
bit of bloody veil at us. Doing a staircase Mad Scene impromptu, with no
staircase, calls for reliability in the pit, and he was happy to stand in for
the rickety stairs. Certainly he propelled things capably, kept cool while
those on stage invented, and the ghostly orchestral effects that can fade for
lack of attention were on this occasion exceptionally noteworthy, moody and
striking.
The crowd, rather small for a Saturday night, stuck it out, and responded
with enthusiasm. You have to wonder what the effect on the audience would
have been with such a first-rate cast if they had been performing in a
decent, old-fashioned staging of an opera that, after 175 years of success,
really doesn't need a tyro director's helping hand.
John Yohalem

image=http://www.operatoday.com/LUCIA_Damrau_Stoyanov_0703a.png
image_description=Diana Damrau in the title role and Vladimir Stoyanov as Enrico in Donizetti's "Lucia di Lammermoor." [Photo by Ken Howard courtesy of The Metropolitan Opera]
product=yes
product_title=G. Donizetti: Lucia di Lammermoor
product_by=Lucia: Diana Damrau; Edgardo: Piotr Beczala; Enrico: Vladimir Stoyanov;
Raimondo: Ildar Abdrazakov; Arturo: Sean Panikkar. Conducted by Marco
Armiliato. Metropolitan Opera; performance of October 18.
product_id=Above: Diana Damrau in the title role and Vladimir Stoyanov as Enrico in Donizetti's "Lucia di Lammermoor."
All photos by Ken Howard courtesy of The Metropolitan Opera