The play was adapted from a novel by Alexandre Dumas
fils, who actually knew the real life heroine, Marie Duplessis.
When Alphonsine Rose Plessis was born on the 15th of January, 1824, in the
tiny village of Nonnant in Normandy, no one could have imagined that within
twenty years she would become the famous courtesan, Marie Duplessis. Her father
put her to work at an early age, first as a beggar and later as a prostitute.
When he was investigated for child abuse, he sent the girl to live with
relatives in Paris. There, at age 15, she began to frequent dances where she
hoped to meet men who would pay her living expenses.
Director of the Paris OpÈra Nestor Roqueplan wrote that he once saw her on
the Pont Neuf eating a green apple, but gazing hungrily at the fried potatoes
being sold nearby. He bought her a large portion and watched as she wolfed them
down and even licked the paper in which they had been wrapped. Roqueplan would
recall this incident in 1851 when he spoke with Giuseppe Verdi about bringing
La Traviata to the OpÈra.
Marie worked hard at bettering herself. She not only learned to read and
write, but she also attained an appreciation of the arts. When Roqueplan next
saw her, he was astonished to note that the little waif from the Pont Neuf had
become the fashionable lady on the arm of the Duc de Guiche.
One evening, when Marie was attending a party with Alexandre Dumas, son of
the famous writer, she had a dreadful coughing spell. She explained that since
there was no cure for her illness she chose to be among interesting people who
would distract her from her pain. Dumas continued his affair with her for about
a year, but he had to evade detection by her actual protector because he did
not have anywhere near enough money to maintain her household. Another of her
admirers, Franz Liszt, wrote: "She had a great deal of heart, a great
liveliness of spirit and I consider her unique of her kind.She was the most
complete incarnation of womankind that has ever existed." This is the
femme fatale we see on the stage as "Violetta" in La
Traviata.
On March 4, 2011, Phoenix opera presented Carroll Freeman's
traditional staging of La Traviata at the historic Orpheum Theater.
Peter Dean Beck's set, originally designed for Florida Grand Opera, was
easily transformed into the opera's various scenes. John Lehmeyer's
detailed costumes set the period securely and added considerably to the
opera's visual appeal.
Viennese soprano Julia Koci was a radiantly beautiful Violetta who sang with
taste and musicality. She is one of the few interpreters of this role who can
truly handle both the coloratura of the first act and the dramatic
singing required by the following scenes. Operalia winner Jesus Garcia was a
passionate young lover who sang with robust, ringing tones. Together they were
an ideal couple in Act I, and a pair of troubled but intriguing lovers
thereafter. One could not help reaching for a handkerchief in the last act when
Germont, not the soprano, read the letter which comes too late. That was an
interesting choice by the director and it worked well.
Germont was sung with panache by veteran French Canadian baritone GaÈtan
LaperriËre. He made you angry as he gave Violetta a piece of his narrow mind in
Act II, but he tore at your heart strings at the end with his expressions of
remorse. An attractive Flora, Erin Tompkins sang with a solid sound while
Francisco Renteria was an unwavering Gastone. Alexis Davis Hazell was a
poignant Annina and her husband, Earl Hazell, sang the Commissioner with a
stentorian voice. Baritones Christopher Holmes and Christopher Herrera
portrayed Baron Douphol and Doctor Grenvil with authority, while bass baritone
Andrew Gray proved to be a commanding Marchese.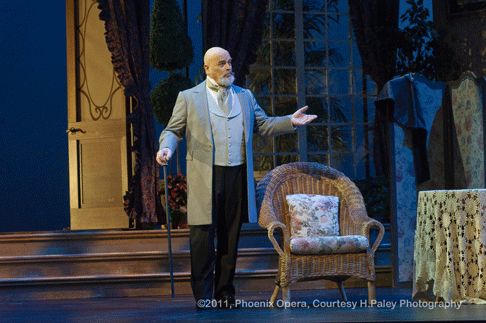 Company Founder and Artistic Director John Massaro led the rather small
orchestra in a smooth, lyrical rendition of the work. The audience response at
the end of the opera was tumultuous and it was fitting praise for the excellent
performers who brought Verdi's wonderful opera to life.
Maria Nockin

image=http://www.operatoday.com/HHP_PMO_Traviata_DSC_4949.gif
image_description=La Traviata [Photo courtesy of Howard Paley Photography]
product=yes
product_title=Giuseppe Verdi: La Traviata
product_by=Violetta: Julia Koci; Alfredo: Jesus Garcia; Germont: GaÈtan LaperriËre; Flora: Erin Tompkins; Annina: Alexis Davis; Gastone: Francisco Renteria; Baron Douphol: Christopher Holmes; Marchese d'Obigny: Andrew Gray; Dr. Grenvil: Christopher Herrera; Commissioner: Earl Hazell. Conductor: John Massaro. Director: Carroll Freeman. Scenic Design: Peter Dean Beck. Costume Design: John Lehmeyer.
product_id=All photos courtesy of Howard Paley Photography