Zurich Opera, finding itself without its star mezzo (Elīna
Garanča fell ill) and finding no viable substitute, re-purposed much of
the Donizetti cast, rang up diva Inva Mula and superstar Jonas Kaufmann, and
had themselves a gala-quality La BohËme (or, Anna Bohema, if
you will) instead.
Having recently "done" the Puccini opus in Catania, and having
already experienced this same Swiss production on DVD, I must say my enthusiasm
was dampened as I entered the theatre. Routine Puccini seemed to loom in place
of rare Donizetti. Still, I mused, I could see how well the production fared
"live" and probably enjoy the starry line up.
Imagine my pleasant surprise when, from the downbeat, I was mesmerized.
Vincent Lemaire's spare set design works wondrously well. A basic
raised platform spanning the width of he stage is flanked by multi-purpose
walls left (with household cabinet inset that swaps out with other scenic
elements) and right (the obligatory door to the garret that doubles as Act
Three's Inn entrance). A claustrophobic skylight presses down on the
opening scene, and a back wall is topped by cutouts of Parisian rooftops poking
up over the ceiling. An omnipresent stove with smokestack craning jauntily
upward remains down center left throughout, and the few requisite pieces of
furniture complete the shabby lodgings. In a brilliant visual coup, as Act
Two's first chord sounds in a breathless segue from Mimi and
Rodolfo's Act One exit, the upstage wall falls backward in a glance and
opens the apartment playing space to encompass the full stage, a
"street" which immediately fills with revelers as the skylight
flies up and away. Act Three simply re-dresses the platform once again with a
simple addition of a bench, a "buffet" sign at the inn and a
customs office window where the garret's cabinet had been. All of this
was atmospherically lit by Hans-Rudolf Kunz (with one caveat below), and
ingeniously costumed in riffs on 60's Free-Love garb by Jorge Jara.
Jonas Kaufmann achieved world star status while coming of age in a variety
of roles in this house, and he continues to have a special relationship with
the Zurich Publikum. Were any proof needed for his world-wide acclaim,
Mr. Kaufmann provided it in abundance. First, he has an actor's instincts
for subtle character development and encompasses a richly diverse Rodolfo in
physical action as well as vocalization. Yes, he covers the voice on occasion,
most usually on introspective phrases, but the trick pays off in deeply felt
effects. On this occasion the role's high-flying, soaring phrases rang
out with thrilling, gleaming, full-throated tone every bit as Italianate as my
recent encounter with Giordani's interpretation. He did misjudge the very
end of the Act One duet, starting out taking the lower harmony with Mimi, and
then flipping up to the unison/octave high note in voix mixe. Not bad, secure
enough, just …odd. Still, this was a consummate performance from one of
the world's leading singers, and the shouts of approval and cadenced
clapping greeting Jonas at curtain call threatened to bring the plaster down
off the ceiling.
Nor was he alone in his triumph. Inva Mula is an ideal Mimi, petite and
youthful in demeanor, yet with a soprano mature enough to handle every spinto
demand of the role's heavier going. Her "Mi chiamano Mimi"
was both a model of clarity for its character exposition, and a Masters Class
in how to build and shape an aria. The substantial pregnant pause before she
began "ma quando vien lo sgelo" had us on the edge of our seats in
anticipation as Ms. Mula drew us into most willingly into Mimi's world
with what seemed liked a giant "exhale' of a phrase. Her
full-bodied lyric has just a bit of an edge giving the voice a vibrant presence
in all registers and volumes. A treasureable performance.
Massimo Cavalletti
Massimo Cavalletti contributed a memorable Marcello, not only for the
straight forward deployment of his rich and robust baritone, but also for his
winning stage demeanor and personal investment in the emotional
'money' moments. Carlo Colombara proved to be another audience
favorite for his soundly sung, unusually specific Colline, whose 'Coat
Aria' was characterful and moving. Cheyne Davidson was the high-caliber
Schaunard, rounding out the quartet with his solid singing easy stage
deportment.
Eva Mei, who was to have sung the title part in Anna Bolena, did
not face near the same challenges as Musetta, but the glamorous and gifted Ms.
Mei threw herself into the proceedings with relish, and regaled us with some
delightful sights and sounds. Making the most of every opportunity, she
negotiated her creamy soprano through a wholly engaging "Quando
m'en vo," dominating Act Two as she must. Proving a wonderful
collaborator, in later acts Eva ceded the focus to her colleagues all the while
remaining dramatically engaged in a well-rounded, 'human'
interpretation. Davide Fersini was an unusually youthful, opportunistic, and
well sung Benoit; Giuseppe Scorsin provided the 'glue' needed to
hold together Act Two as Alcindoro; and Carl Hieger was the secure Parpignol.
Ernst Raffelsberger's chorus sang cleanly and enthusiastically.
Ulrich Senn has re-mounted Philippe Sireuil's direction with marvelous
results. I have seldom seen characterizations and inter-relationships so richly
detailed, so grounded in truth, so well-motivated, and so excitingly blocked.
The by-play between Marcello and Rodolfo, for example established a loving,
almost co-dependent relationship that was reinforced right up until the last
moment, when Marcello tightly hugs and physically restrains Rodolfo from going
to Mimi's corpse. What a powerful moment! I never thought I could be
moved to tears at the end of this chestnut, but there I was blubbering like
Cher after her Met visit in "Moonstruck." Mimi's final
moments were similarly well crafted, with her lying on her side, suggesting a
fetal position. When her hand fell out of the muff she looked for all the world
like a wounded bird who had fallen from a tree. There were so many creative
touches that were so right, so fresh, so telling, that it would be impossible
to discuss them all here. This kind of inspired specificity is what fine
direction is about.
A very small quibble, though, which I hope future revivals might correct:
the solo character placement in Act II needed focus, perhaps only so much as
better lighting specials. Puccini paints a busy canvas in the Momus scene and
the principals occasionally got lost in the bustle. But, even with that small
consideration, this was a stunning achievement.
Javier Camarena and Massimo Cavaletti
Maestro Massimo Zanetti paced the proceedings with infectious drive,
infusing the performance with a freshness and spontaneity I did not think
possible with this thrice-familiar opera. He also proved an amiable partner for
his exceptional soloists, seeming to live the scenes with them, enabling
moments of exceptional impact. The first rate pit responded with luminous
playing throughout.
Would that conductor Daniele Gatti have been infected by such inspiration ,
for the next night's Falstaff was not helped by his atypically
detached musical leadership. Some of the great moments of Verdi's final
work scored their full effect, to be sure, but others, like the male and female
quartets dueling in different meters hung together, but were not seamless.
Ditto the "pizzica-stuzzica" ensemble which lacked the cleanliness
it needs to sparkle. I have long admired Maestro Gatti, but this night he too
often seemed distracted.
There was a lot to admire in the accomplished cast, however, not least of
which were the Nanetta and Fenton of Eva Liebau and Javier Camarena. Ms. Liebau
has the sort of youthful, crystal clear, shimmering soprano that is a perfect
fit for Nanetta's lyrical flights of fancy. The best tunes in the show
are split between her and Mr. Camarena who regales us with a simply gorgeous,
wide-ranging, dulcet tenor, effortlessly produced, that blossoms more the
higher it goes. Massimo Cavalletti was back on stage with a potent,
rafter-rattling turn as Ford; ditto Eva Mei with her well-sung and finely tuned
characterization as a wilier-than-usual Alice Ford. The role of Mrs. Quickly
suits Yvonne Naef to a tee, and she relished every phrase of it, putting her
imposing lower middle and chest registers in over drive, and her wicked sense
of fun on full alert. I have never heard Ms. Naef perform better. How utterly
delightful it was for once to have a Meg Page that held her own with the other
three (better-drawn) ladies' roles. Judith Schmid was a determined foil
and her sassy, ringing mezzo had fiery intent.
I wanted to like Anthony Michaels-Moore's seasoned Falstaff more. He
has certainly performed the role widely, he has the physique du role, and he
has a charismatic presence. But the part seemed to be pitched about a third too
low for the core of his resonant baritone, diminishing the impact of several
key phrases. AM-M seemed game for anything and he was an assured, fleet-footed
protagonist, although on occasion his attempts to make some cute on-stage moves
came off a bit fey for such a womanizing lecher.
Peter Straka was a capable Dr. Cajus; the reliable Martin Zyssett an
appropriately scruffy Bardolfo; and Davide Fersini gave us an unusually
well-sung Pistola. Domeni Gloor was given more stage time than is common, and
the young lad acquitted himself commendably.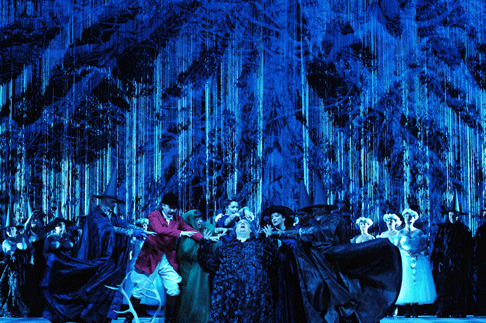 Scene from Falstaff
Set Designer Rolf Glittenberg provided a very handsome playing space, with
solid side walls and vaulted ceiling creating a 'house' out of
white louvered panels. The back wall had stylized, changeable open windows and
doors that gave way to a floral wallpaper in Ford's house and then in the
forest scene, to a shimmering beaded curtain with a huge Herne's Oak
pattern in the bead work. Juergen Hoffmann devised a pretty straight forward
light plot, but also came up with some wonderful fantasy effects for the forest
scene. Marianne Glittenberg's costumes were eye-catching if curious. Like
some of the props and set dressing, the attire in the home was inspired by
1950's fashions, while the Garter Inn scenes were inspired by
Shakespearean times. Not unpleasing, and they were all character-specific,
just…curious.
There were fewer oddities in Sven-Eric Bechtolf's direction, and he
managed the traffic well enough with straight forward blocking. But Bechtolf
also miscued a couple of surefire moments like the kiss-behind-the-screen which
was simply not heard, and the basket toss out the window which simply
didn't 'read.' Too, the double marriage was clumsily managed
and visually implausible. In the end though, Zurich's talented principals
carried the day, supported by some intriguing design choices and an unobtrusive
director, and Mr. Gatti rallied the assembled forces to a taut and compelling
finale which sent at least this 'fool' out of the theatre with a
smile on his face.
James Sohre

image=http://www.operatoday.com/ASC_0331.gif
image_description=Jonas Kaufmann [Photo by Suzanne Schwiertz courtesy of Opernhaus Z¸rich]
product=yes
product_title=Giacomo Puccini: La BohËme
Giuseppe Verdi: Falstaff
product_by=La BohËme — Mimi: Inva Mula; Musetta: Eva Mei; Rodolfo: Jonas Kaufmann; Marcello: Massimo Cavalletti; Schaunard: Cheyne Davidson; Colline: Carlo Colombara; Benoit: Davide Fersini; Alcindoro: Giuseppe Scorsin; Parpignol: Carl Hieger. Conductor: Massimo Zanetti. Director: Philippe Sireuil. Revival Director: Ulrich Senn. Set Design: Vincent Lemaire. Costume Design: Jorge Jara. Lighting Design: Hans-Rudolf Kunz. Chorus Master: Ernst Raffelsberger.
Falstaff — Sir John Falstaff: Anthony Michaels-Moore; Mrs. Alice Ford: Eva Mei; Ford: Massimo Cavalletti; Nannetta: Eva Liebau; Mrs. Quickly: Yvonne Naef; Mrs. Meg Page: Judith Schmid; Fenton: Javier Camarena; Dr. Cajus: Peter Straka; Bardolfo: Martin Zysset; Pistola: Davide Fersini; Page: Domeni Gloor. Conductor: Daniele Gatti. Director: Sven-Eric Bechtolf. Set Design: Rolf Glittenberg. Costume Design: Marianne Glittenberg. Lighting Design: Juergen Hoffmann. Chorus Master: Ernst Raffelsberger.
product_id=Above: Jonas Kaufmann
All photos by Suzanne Schwiertz courtesy of Opernhaus Z¸rich