You would do no better than to scurry to the Grand Theatre of Geneva where
this first rate ensemble is producing a snazzy, energetic, in-your-face
production of Prokofiev's The Love for Three Oranges. Just like
the opera's hapless Prince we all could use a therapeutic laugh, and this
the Swiss company decidedly delivers.
Although it is billed as a "co-production" with Deutsche Oper am
Rhein and La Fenice, in truth, the physical design is so definitively
reproductive of the Venice Theatre's architectural elements that is is
hard to consider this re-mounting as more than a "rental." Consider
this: the massive masking "legs" stage right and left are
photographic copies of the boxes in La Fenice, clearly meant to
"extend" that 'teatro's' structure onto the
stage. Too, the 'stage-within-a-stage' up center has a replica of
the Fenice grand drape, and the stucco elements in the backdrop are derived
from those in the Italian house. While it does not wholly matter, it does seem
to stifle any of the 'local' resonance that was clearly
intended.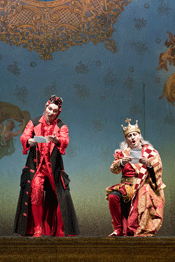 Heikki Kilpel‰inen and Jean Teitgen as the King
That said, Ezio Toffolutti's scenery functioned well, was handsome to
look at, and contributed a smooth-moving parade of inventive visual delights
required by the libretto. I did wish that the "stage" had not been
so far upstage as it served to distance us visually, if not aurally, from the
two-thirds of the action that was played there. There was just that big empty
expanse of prime "real" stage area unused for much of the time.
Maybe shuttering the lighting to more tightly encompass the false stage might
have focused the action more and edited the dead space out, although I found
Volker Weinhart's varied lighting design quite well-judged, with good
area isolation, effective specials, smooth cross-fades and on the whole, very
tightly cued.
Patricia Toffolutti's fashion parade of meaty, varied, multi-faceted
costumes (a 'char-couture-y'?) provided constant colorful delight.
Moreover, her creations were character-specific, greatly helping the actors in
embodying their (largely) stock characters. The stage direction by Benno Besson
and Ezio Toffolutti managed the large crowd scenes well enough, although the
traffic patterns became repetitive. The pair seemed less interested in
directorial distinction in the more personal scenes where they contented
themselves with getting characters on and offstage with ease and pace. Power
loves a vacuum, and absent a scintillating directorial hand, the cast filled in
the dramatic blanks with savvy and imagination.
The hardest-working cast member had to be Emilio Pons, whose Truffaldino was
not only a master of invention, but also was exceedingly well sung. Mr. Pons is
almost never still as he leaps, kicks his heels, spins, cowers, beseeches,
minces, and prances with more infectious energy than a Billy Blanks Tae-Bo
session. His fearless, manic, even demented, cavorting during the playing of
the famous March was a scintillating high point. Too, Emilio deployed his
secure lyric tenor to fine effect, pouring out secure, arching phrases on
demand, and 'speechifying' with good purpose, presence and diction
on the many parlando passages. A definitive impersonation from this talented
young tenor.
Chad Shelton gave us first a sympathetic and, later, a self-assured Prince.
Mr. Shelton has just a hint of a 'bite' in his well-schooled tenor
which stood him in good stead as the phrases got higher-flying and the
instrumental density ratcheted up. His tireless, solid upper extension recalled
the young Chris Merritt, and his command of the stage is already even better.
On the distaff side, it was a distinct pleasure for me to encounter anew the
(apparently) ageless mezzo of Jeanne Piland. I first took notice of Ms. Piland
at New York City Opera as Orisini and Smeton in the year…well…we
were all younger then. I caught up with her a few years ago as a riveting Sara
in Munich's Roberto Devereux. And here she was again engaging us
with a real star turn as Fata Morgana, her rich, plummy voice in fine estate
and skillfully deployed; still treading the boards as if born to the stage;
still glamorous and vibrant. This was luxury casting and the opening nighters
responded enthusiastically.
Chad Shelton as the Prince, Katherine Rohrer as Princess Clarisse, Nicolas TestÈ as Leandro and Michail Milanov as Tchelio
Jean Teitgen was a positively splendid King of Clubs. His rich, mature bass
rolled out line after line of imposing phrases. And Mr. Teitgen devised an
exceptionally well-rounded characterization, one moment amusing us as the
exasperated buffoon-royal, and the next truly breaking our hearts after his son
slaps him — a moment every bit as genuine and touching as the
Pasquale equivalent.
Katherine Rohrer (Princess Clarice) and Nicolas TestÈ (Leandro) sang with
solid panache, and prowled the environment with suitable relish of their evil
intent. Smeraldina was as over-the-top and vibrant as her co-conspirators, but
Carine SÈchaye's sizable mezzo-soprano, when pressed at forte,
was occasionally marred by an overly generous vibrato that resulted in
approximation of pitches above the staff. Heikki Kilpel‰inen was a reliable
Pantalone, Thomas Dear stood out with his virile baritone and committed stage
action as Farfarello, and Christopher Stamboglis made a strong impression as
the Cook. Some artists would be content to let the drag costume do all the
work, but Mr. Stamboglis not only sang the role beautifully with a soft
grained, weighty bass, but also imbued the part with considerable
sensitivity.
The Princesses Linette, Nicolette and Ninette are usually as individual as
Huey, Dewey and Louie. Here however, there was good distinction offered by
three young sopranos: Susanne Gritschneder with her limpid, lyric Linette;
Agnieszka Adamczak with a slightly darker, urgent Nicolette; and ClÈmence
Tilquin in the more extended role of Linette. Ms. Tilquin was just lovely
— slim as a ballerina, but with a sizable soprano with a hint of metal
that sailed over the orchestra and proved a good partner to Mr. Shelton's
pointed tenor.
The seasoned bass Michail Milanov may not be producing the most fresh-voiced
or roundly sung performance of the evening. But, damn if his demonstrative
Tchelio didn't score every point as he brought his years of experience to
bear, husbanding his resources to make the most of every dramatic statement.
The Geneva public lavished Mr. Milanov with a warmly appreciative ovation for his efforts.
Chad Shelton as the Prince and Katherine Rohrer as Princess Clarisse
Arguably the star of the evening was conductor Michail Jurowski. Never have
I heard such fire in this score tempered by such nuance. Maestro Jurowski not
only had all the angular, rhythmic flash and dazzle abundantly in place, but he
also lovingly inspired contrasting moments of transparency, tenderness, and
mellow rumination. This was as deeply felt, stylistically impeccable,
personalized and persuasive a reading as you might be lucky enough to encounter
once every ten years. The Maestro was ably abetted by Ching-Lien Wu's
meticulously prepared chorus.
James Sohre

image=http://www.operatoday.com/Three_oranges_Geneva_03.gif
image_description=Chad Shelton as the Prince, Katherine Rohrer as Princess Clarisse and Nicolas TestÈ as Leandro [Photo by Yunus Durukan courtesy of Grand ThÈ'tre de GenËve]
product=yes
product_title=Sergei Prokofiev: The Love for Three Oranges, Op. 33
product_by=The King of Clubs: Jean Teitgen; Prince: Chad Shelton; Princess Clarisse: Katherine Rohrer; Leandro: Nicolas TestÈ; Truffaldino: Emilio Pons; Pantalone: Heikki Kilpel‰inen; Tchelio: Michail Milanov; Fata Morgana: Jeanne Piland; Princess Linette: Susanne Gritschneder; Princess Nicolette: Agnieszka Adamczak; Princess Ninette: ClÈmence Tilquin; Cook: Christophoros Stamboglis; Farfarello: Thomas Dear; Smeraldina: Carine SÈchaye; Master of Ceremonies: Fabrice Farina; Herald: JÈrÈmie Brocard. Conductor: Michail Jurowski. Directors: Benno Besson and Ezio Toffolutti. Choreography: Maria Cristina Madau. Set Design: Ezio Toffolutti. Costume Design: Patricia Toffolutti. Lighting Design: Volker Weinhart. Chorus Master: Ching-Lien Wu.
product_id=Above: Chad Shelton as the Prince, Katherine Rohrer as Princess Clarisse and Nicolas TestÈ as Leandro
All photos by Yunus Durukan courtesy of Grand ThÈ'tre de GenËve