Maybe it's those three boy sopranos who impeccably deliver the words and tones of Mozart's three spirits and in their innocence make the hopes of mankind so real.
Nathan Gunn as Papageno and Nadine Sierra as Papagena
Maybe it's the rhyming couplets of David Gockley's new translation of the lyrics, and the rhythm and flow, and the internal and period rhymes of his dialogues that harmonize like square dance calls. It's somewhere between cradle, pub and couch and makes you feel really good.
Certainly it's the kaleidoscope of lines and dots and a thousand colors, maybe more that percolate across the proscenium canvas in always changing, never ending orders that make you feel that the good life will never end, and that, well, even if life may not always be that simple it keeps moving. Finally all those lines and all those dots will become a perfect circle!
This new Magic Flute is indeed a perfect circle, a masterpiece of conception and execution. There is even an illustrated book that engagingly documents the massive scope of a production process that traces the circle from idea to fact and makes artistic creation seem like a piece of cake.
Some of us like to think of San Francisco Opera as synonymous with Covent Garden and Vienna, like sharing productions with, uhm, La Scala (Attila for example) so it comes as a bit of a shock to realize that SFO is sharing productions with Omaha and Kansas City. In fact Japanese born artist Jun Kaneko, the creative force behind the sets and costumes of this production, makes his home in Omaha where he makes ceramics, conceives massive public art projects and designed Madama Butterfly for Opera Omaha.
San Francisco Opera has distinguished precedent for productions based on visual rather than theatrical art, like David Hockney's Turandot, and even like Marc Chagall's Magic Flute. And speaking of the Flute, South African artist William Kentridge created one for Brussels' Monnaie about a decade ago that set the benchmark pretty high.
Greg Fedderly as Monostatos
But middle America has its own things to say these days, like Picasso's French Riviera had its things to say a hundred years ago at the OpÈra de Monte Carlo. Maybe it says most about the America that looks westward to Asia for so much of its persona that remains so hidden. Artist Kaneko who emigrated to the U.S. in 1961 creates an endless landscape, like the American Midwest, but in Asian lines and colors. He constructs a Chinese puppet dragon and draws costumes that seem made of glazed clay or painted porcelain. In fact we felt quite at home as all of this is so much a part of our national heritage. Come to think of it.
Within this visual realm stage director Harry Silverstein finds constant movements and antics to enliven Gockley's earthy contemporary banter. Things are left pretty basic, the cosmic conflict between Sarastro and the Queen of the Night has the weight of a domestic spat. It is taken for granted that women need to be put in their place, not to mention that people of color exhibit libidos that are not philosophic and that love conquers all obstacles, like fire and water.
Casting was young and fun. Rather than attempt the more usual and appropriate jugendliche dramatic voices for Tamino and Pamina, San Francisco Opera cast light lyric tenor Alex Shrader and soubrette Heidi Stober. The fine singers brought youth and lightness and consummate charm to Mozart's young lovers, plus they seemed the very embodiment of corporate promise. Baritone Nathan Gunn was Tamino's cool sidekick Papageno, everyone's good friend who isn't going to make it out of the warehouse.
Russian dramatic coloratura Albina Shagimuratova with her threatening accent (even if slight — she is an alumna of the Houston Opera Studio) was the appropriately toned Queen of the Night. Like nearly always this role gets the biggest ovation because she has the highest notes, and of course the niftiest arias as well. Mlle. Shagimuratova well earned her ovation with extraordinarily clean delivery of her stratospheric notes. Iceland born bass Kristinn Sigmundsson used his Germanic accented English to add more imperative to righteousness though vocally he no longer has the equipment to embody such depth and authority.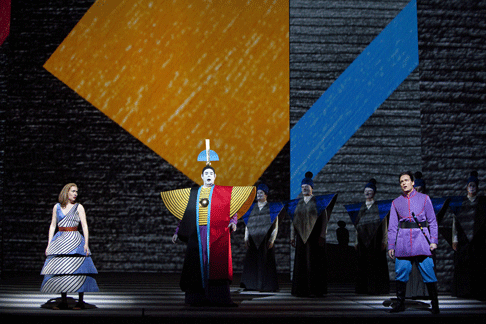 Heidi Stober as Pamina, Kristinn Sigmundsson as Sarastro and Alek Shrader as Tamino
Baritone Greg Fedderly made Monostatos absolutely delightfully unthreatening, because as we all now know libido is fun after all. Mr. Fedderly is in good voice. Melody Moore Lauren McNeese and RenÈe Tatum were First, Second and Third Ladies, lighter voiced than the usual specimens, appropriate to convey the Valley Girl syndrome they knowingly managed.
Not least were the Three Spirits, Etienne Julius Valdez, Joshua Reinier and John Walsh who have to have been the best Three Spirits that ever hit the earth.
Where was the music in all of this, you ask. Well, we were having so much fun that we almost didn't notice it. But when we did it seemed to support the words with grace and ease and the San Francisco Opera Orchestra did play with lovely sterling tone. British Conductor Rory Macdonald felt tempos that seemed quite slow, but they were tempos that allowed the words to sail across the pit and amuse us. Mozart's ultimate symphonic thrust, the sublime musical process that propels Tamino and Pamina to an advanced humanity sadly did not happen.
Michael Milenski

image=http://www.operatoday.com/Flute-05.gif
image_description=Albina Shagimuratova as The Queen of the Night [Photo by Cory Weaver courtesy of San Francisco Opera]
product=yes
product_title=W. A. Mozart: The Magic Flute
product_by=Pamina: Heidi Stober; Tamino: Alek Shrader; Papageno: Nathan Gunn; The Queen of the Night: Albina Shagimuratova; Sarastro: Kristinn Sigmundsson; First Lady: Melody Moore; Second Lady: Lauren McNeese; Third Lady: RenÈe Tatum; Papagena: Nadine Sierra; Monostatos: Greg Fedderly; The Speaker: David Pittsinger; First Spirit: Etienne Valdez; Second Spirit: Joshua Reinier; Third Spirit: John Walsh; First Armored Man: Beau Gibson; Second Armored Man: Jordan Bisch. San Francisco Opera Orchestra and Chorus. Conductor: Rory Macdonald, Stage Director: Harry Silverstein; Production Designer: Jun Kaneko; Lighting Designer: Paul Pyant. War Memorial Opera House, San Francisco, June 13, 2012.
product_id=Above: Albina Shagimuratova as The Queen of the Night
Photos by Cory Weaver courtesy of San Francisco Opera