In his contribution to the ENO programme booklet, 'Gilbert & Sullivan:
some reflections' (which reproduces an article which Leigh published in the
Guardian in November 2006), the director sets out his understanding of
Gilbert's means and ends:
'The operas have often been misunderstood. They are referred to as
satires, which they are not. There may be satirical elements in
Iolanthe or Utopia Limited, but Gilbert's true intention is
never to draw specific parallels. He merely holds up his mirror to the world,
and reflects on its madness. Similarly misunderstood is his much-criticised
attitude to elderly women. He is not attacking them; he is doing no more than
lament the way life is. We all grow old, and the plain and the ugly have a
harder time than the beautiful.

If these shows have fallen into disrepute over the years, it is because
directors have failed to understand their raw edge. This results in boring,
bland, sentimental, self-conscious, often gratuitously camp productions, which
entirely miss the point.'
Making his operatic directorial debut with this staging of The Pirates
of Penzance at English National Opera, Leigh now has the chance to show us
how to avoid tedious mundanity and kitschy mawkishness. He has offered an
analysis of what he terms 'the stylistic alchemy of Gilbert's art as a
dramatist': 'His genius is to fuse opposites with an imperceptible sleight
of hand, to blend the surreal with the real, and the caricature with the
natural. In other words, to tell a perfectly outrageous story in a completely
deadpan way. Indeed, to disguise a subversive anarchist bomb as bourgeois
respectability.' And, this production lives up to those ideals. But, the
'deadpan' approach also runs the risk of snuffing out both the dissent and
the fun.
Designer Alison Chitty's complementary colour scheme is a beguiling emblem
of a 'wrong-side-up' world. Blue bangs against orange, red against green,
just as order slides into disorder. As conductor David Parry leads the
Orchestra of English National Opera through a detailed, nuanced and
surprisingly genteel reading of the overture, we are presented with a midnight
blue front-drop adorned with a shining ring of cobalt, at the base of which is
perched a complacent seagull, the circle marred with a vigorous orange splurge
— the sort of wildly exuberant, rebellious gesture which Timothy Spall might
have made as the painterly protagonist in Leigh's recent film Mr Turner.

Claudia Boyle as Mabel, Robert Murray as Frederic and chorus
So, we are in a Dali-esque world. Is the circle a rabbit hole from Alice's
Wonderland down which we will plunge into a world of inversions and
subversions? Later the colours will reverse: a parrot will squat within a
hanging orange loop. And, in Act 2 the circle will become a cameo medallion
from which the disapproving frown of Queen Victoria will glower. In the first
instance, as the curtain rises it is revealed to be a foreshadowing of a
'porthole' through which jut the orange deck-planks of the pirates'
rigging-bedecked ship.
The circle can be split and pulled apart, elongated across the stage,
mimicking the movements of a camera from short to long range. In Act 1 the
hemispheres slide outwards to reveal a lurid green stairway — a slippery
seaweed escalator down which the Major-General and his daughters effect their
arrival on the shore. In Act 2, the squashed oblong contains a cross on a
pedestal — Victorian hypocrisy? — the only item of 'furniture'
decorating the Major-General's chambers. But, the design is also limiting; in
the opening scene there is little room for the pirates to do more than wave a
flag and slap a thigh. When the Major-General's dozens of daughters gather on
the shore — their Victorian bustles replicating all the shades of the ocean
from its creamy white horses to its deep-blue depths, via every tint of emerald
and aquamarine — the foreshortened stage forces them to huddle on mass, first
right then left. The marauding pirates, claiming these feminine fancies for
their wives, hoist them aloft and rustle their ruffs, but cannot actually whisk
them away.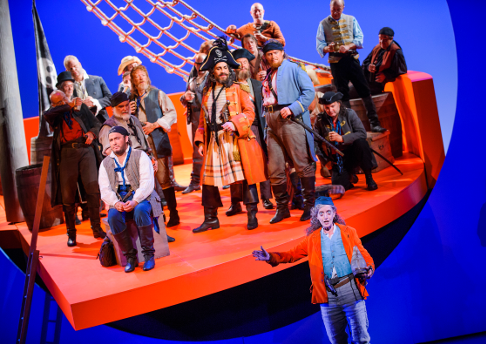 Robert Murray as Frederic, Joshua Bloom as the Pirate King, Alexander Robin Baker as Samuel, ENO Chorus and Rebecca de Pont Davies as Ruth
The direction is unfussy: although there are thoughtful details and nuances,
on the whole Leigh has decided to tell it straight and let Gilbert's irony do
its own work (there has been no meddling with the libretto). And, his cast
served him well, if cautiously, on this opening night. Joshua Bloom was
terrific as the Pirate King: a Dustin Hoffmane-sque Hook — all wry winks and
sinister smiles – he beguiled with his ingenuity, honesty and innate
warm-heart. For this listener, with his resonant tone, athletic projection and
meticulous comic nous — and, his disreputably shabby black tricorn
— Bloom stole the show. As Frederic, tenor Robert Murray — his knotted
'kerchief less impressive than Bell's splendid skull-and-cross bone adorned
headgear — sang endearingly but, after the opening scenes he was
under-directed and made less dramatic impact. Jonathan Lemalu's generous
bass-baritone made him a striking Sergeant of Police, and his Act 2 number,
'When a felon's not engaged in his employment', was one of the highlights
of the evening.
Rebecca de Pont Davies was a characterful Ruth — the muddled maid whose
auditory mix-up (pilot/pirate) is the start of Frederic's woes; her
excruciatingly emphatic enunciation of Gilbert's rhymes in 'When Frederic
was a little lad' was a wry reminder of her phonic blunder. As Mabel, Irish
soprano Claudia Boyle rivalled Bloom for candid audacity, cheekily claiming
Frederic as her beau, and flitting from coquetry to feistiness. Boyle's Mabel
sparkled and captivated; vocally she gleamed. Making her ENO debut, soprano
Soraya Mafi (second prize winner in the recent 2015 Kathleen Ferrier
competition) was a lively Edith. The chorus and orchestra performed with style
and discipline, and Parry brought out the beauty of the score.
Joshua Bloom as the Pirate King and Andrew Shore as Major-General Stanley
So far, so unobjectionable: but, subversive? Anarchic? Andrew Shore, veteran
musical comedian, ticked all the right boxes as the Major-General: sporting an
extravagantly plumed helmet and imperial scarlet, he delivered the patter of
'I Am the Very Model of a Modern Major-General' with a metronomic
exactitude which seemed to uphold Victorian certainty and presumption, but at a
breakneck pace which made a mockery of such self-assurance and values. Leigh
has remarked that, 'Gilbert saw the world as a chaotic place, in which our
lives are brutal accidents of birth, fate and human blunder, a jungle of
confusion and delusion, where we all aspire to be other than who we are, and
where nobody is really who or what they seem to be.' Yet, there was a
predictability about Shore's interpretation that conveyed little of what
Leigh describes as the innate 'dark side' and 'hard edge' of G&S.
The newspaper Fun was launched in 1861 and for ten years Gilbert
wrote articles and poems for the magazine. This production, for all its
coherence and authenticity, seemed markedly lacking in 'fun'. Perhaps it
was a mere diversion for Leigh, who may be more focused on Peterloo than
Penzance (his next film is to tackle the 1819 massacre in Manchester) but the
ENO management need this production to succeed. Two extra performances have
been added to the run, but, while advance booking is high, one questions
whether the pirates will have the lasting pulling power of the Jonathan
Miller's Mikado which returns in the autumn, thirty years after it
first appearance. The trouble with (and joy of) G&S is that the operas are
all individual but also absolutely alike. Miller made The Mikado his
own. Topsy Turvy — warm-hearted and droll — was essentially about
two men's devotion to the theatre, and Leigh's love and reverence for this
piece is clear: but, it needs a bit more rough-handling.
Claire Seymour
---
Cast and production information:
Major-General Stanley: Andrew Shore, The Pirate King: Joshua Bloom,
Frederic: Robert Murray, Sergeant of Police: Jonathan Lemalu, Mabel: Claudia
Boyle, Ruth: Rebecca de Pont Davies, Samuel: Alexander Robin Baker, Edith:
Soraya Mafi, Kate: Angharad Lyddon, Isabel: Lydia Marchione; Conductor David Parry, Director Mike Leigh, Designer
Alison Chitty, Lighting Designer Paul Pyant, Choreographer Francesca Jaynes.
English National Opera, Saturday 9th May 2015.

image=http://www.operatoday.com/ENO%20The%20Pirates%20Of%20Penzance%20Joshua%20Bloom%20%28c%29%20Tristram%20Kenton.png
image_description=Joshua Bloom as the Pirate King [Photo by Tristram Kenton]
product=yes
product_title=The Pirates of Penzance, ENO
product_by=A review by Claire Seymour
product_id=Above: Joshua Bloom as the Pirate King
Photos by Tristram Kenton