Perhaps this was a sign
that I was in for an unusual evening: after all, it was Grange Park Opera's
first appearance at the Proms and the first time that Fiddler on the
Roof — the 1964 Broadway hit by Jerry Bock (music) and Sheldon Harnick
(lyrics), based on Yiddish tales by Sholem Aleichem — had been performed at
the Proms. To add to the novelty, there was the casting of Welsh bass-baritone
Bryn Terfel as the deep-thinking Russian dairyman, Tevye, who struggles to
maintain his Jewish cultural traditions in the face of his daughters' wishes
to marry for love and the Tsar's efforts to expel the Jews from the Anatevka
shtetl in 1905.
But, then again, diversity of genres has become a staple feature of the
Proms scheduling over recent years: European dance music, a 'grime
symphony', Bollywood and bhangra music all feature this year. Moreover, opera
companies are increasingly turning their attention to 'popular' repertoire
which, one presumes, they hope will fill seats and win new audiences for opera
(whether they are right or not is open to debate). Thus, Opera North will
follow this season's Carousel with Kiss Me Kate in 2015-16;
at Welsh National Opera Sweeney Todd is scheduled for the autumn, hot
on the heels of this summer's production of Sondheim's musical thriller at
ENO. In the case of Grange Park Opera, they tested the waters ten or so years
ago with productions of Anything Goes, Wonderful Town and
South Pacific. This year, the opportunity to see a 'star' of
Terfel's calibre and renown may have tempted some of those who travelled to
bucolic Hampshire in June to see director/designer Antony McDonald's
production of Fiddler at The Grange. Terfel's certainly not new to
the genre having shown his musical theatre calibre as the Demon Barber in
several productions since 2007. So, maybe this was 'first' was simply a
sign of the times rather than a revolution.
I'll get my major criticism out of the way first. Not surprisingly, and
perhaps necessarily, the performance was amplified; but, either the engineers
seriously misjudged the volume level or the singers' unfamiliarity with the
venue led them to fear inaudibility, because the amplification was simply too
loud. Ear-splittingly so at the start. I assume adjustments were made, or
perhaps the singers adapted — because things did improve and were markedly
better after the interval.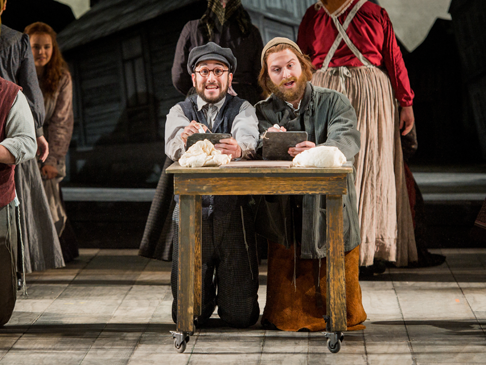 Terfel himself must take some of the blame. In contrast to his fellow
performers with their light-weight music theatre voices, his Wagnerian
bass-baritone can undoubtedly swell to the far reaches of the vast auditorium
unassisted Yet, he boomed the opening dialogue, completely obliterating the
solo Fiddler perched in the organ loft (a somewhat dishevelled and melancholy
Houcheng Kian, who played suavely and linked the scenes effectively, but who,
except when he was front of stage, might have benefited from some magnification
himself), and encouraging the chorus members to strive to match his thunder. It
would have been an exciting opening but for the painful rattling of my
ear-drums. Perhaps if I was a habitual rave or gig attendee I'd have had no
objection. Fortunately, things did improve but throughout the performance
spoken text in particular was frequently yelled, sometimes at the expense of
emotional intimacy between the characters on stage.
With that complaint out of the way, I should say that this was an absorbing
and highly entertaining evening, one in which Terfel perhaps inevitably
outshone his fellow cast members vocally, although there were some strong
performances. Dressed in his milkman's apron, lamenting the changes that were
sweeping away heritage and homeland, but relishing a wedding knees-up, Terfel
looked utterly at home in the role. The sung text was crystal clear, with a
relaxed sense of rhythmic give-and-take which showed a natural feeling for the
idiom.
Reviewing Terfel's first essay as Dulcamara in the revival of Laurent
Pelly's production of Donizetti's L'elisir d'amore at the ROH
last November, I expressed admiration for his comic judgement and pacing. I had
feared that he would over-egg the sleaze and slap-stick but the bass-baritone
showed discernment and imagination: his Dulcamara had seemed to be a ruthless
conman with little care for his victims or his own personal hygiene but later
revealed himself as a mischievous charmer with twinkling charisma. It was a
winning transformation. Here, too, Terfel balanced worldly authority with
familial warmth: his temper may have been quick to spark but it was just as
readily tempered by love and reflection.
The big numbers all come early in the show. 'If I were a rich man' may
have been a trifle stentorian in places — as Terfel stood like an imperious
Wotan, each foot atop a milk churn — but he used his voice intelligently and
during the evening conveyed touching, diverse emotions. And, there were more
intimate moments, as in his lovely duet, 'Do you love me?' with Janet
Fullerlove's Golde; although there was some vocal mismatch in terms of timbre
and projection, there was convincing feeling, and Fullerlove demonstrated her
neat comic timing, deftly and wryly denying he husband a kiss in the song's
final moments.
Charlotte Harwood was a characterful Tzeitel, Tevye's eldest daughter, and
her scenes with Anthony Flaum's Motel, the tailor who convinces Tevye to give
both his blessing and his permission to their marriage, were touching.
Flaum's strong singing and responsive acting made him an appealing presence.
Katie Hall sang Hodel's 'Far From the Home I Love' sweetly and without
affectation, abandoning the nasal twang and exaggerated American accent which
had marred some of her earlier numbers (exacerbated by the miking — and, she
was not alone in this regard); as her beloved, Simon Pollard was a dynamic
Perchik. The more tentative sentiments of Molly Lynch (Chava) and Craig
Fletcher (Fyedka) complemented the older pairings nicely. Rebecca Wheatley was
the busybody matchmaker Yente, with a tendency to shriek her dialogue; Cameron
Blakely proved nimble of voice and footwork as the butcher, Lazar Wolf, who
believes he has won his dream bride only to be denied by Tevye in the face of
Tzeitel's sincere entreaty
Much of the driving momentum of the work comes from its wonderful ensemble
set-pieces. The GPO Chorus sang with gusto and mastered the complex, inventive
choreography (Lucy Burge) with aplomb. Even more impressive were the
Cossack-leaps, bottle-balancing routines and wild whirlings of the dancers. The
BBC Concert Orchestra, seated behind the performers, gave a sparkling reading
of the score. They seemed to be having fun rendering the rich orchestrations,
guided by nimble direction from conductor David Charles Abell.
The semi-staging was simple but serviceable — a few tables on wheels,
assorted chairs and beds, and a fine chuppah for the matrimonial ceremony. The
musical is somewhat imbalanced: the best-known numbers and the most up-beat
ensembles are clustered into the long first part, with the emotional barometer
swinging from festive to forlorn after the interval, as Tevye and his community
face a battle for survive at home or uncertainty in the 'promised land' of
America. It's probably not the fault of McDonald, stage director Peter
Relton, or the performers that the ending felt somewhat rushed, with the pathos
of the uncertain ending not fully conveyed.
Though Terfel received a rapturous reception at the curtain call, he seemed
keen to insist this was an ensemble performance, taking his place among the
ranks despite the Prommers' wish to laud his individual triumph. But, at the
final reckoning it was Terfel's vocal expertise and allure, and his stage
magnetism, which made this such a heart-warming evening.
Claire Seymour
---
Cast and production information:
Tevye: Bryn Terfel, Golde: Janet Fullerlove, Tzeitel: Charlotte
Harwood, Hodel: Katie Hall, Chava: Molly Lynch, Yente: Rebecca Wheatley, Motel:
Anthony Flaum, Perchik: Jordan Pollard, Lazar Wolf: Cameron Blakely, Constable:
Mark Heenehan, Fyedka: Craig Fletcher, Fiddler: Houcheng Kian; Conductor: David
Charles Abell, Stage director: Peter Relton (based on the production by Antony
McDonald), Choreographer: Lucy Burge, Costume designer, Gabrelle Dalton, BBC
Concert Orchestra, Grange Park Opera Chorus. BBC Proms, Royal Albert Hall,
London, Saturday 25th July 2015.

image=http://www.operatoday.com/GPO_FiddlerOnTheRoof_2015_Robert_Workman_001.png
image_description=Bryn Terfel as Tevye [Photo © Robert Workman]
product=yes
product_title=Prom 11 — Grange Park Opera: Fiddler on the Roof
product_by=A review by Claire Seymour
product_id=Above: Bryn Terfel as Tevye
Photos © Robert Workman