Assuredly, there was nothing phony about Santa Fe Opera's total commitment to quality in producing this lesser Mozart opus. There is nothing really wrong with the writing to be sure, but neither is there the brilliance of his masterpieces yet to come. Still, second tier Mozart is arguably better than first rate Soler, or Salieri.
The production itself could hardly have been bettered, however, and if this meticulously performed Finta didn't stir you, it probably never will. This was stagecraft and music making as good as it gets. The starry cast was under the inspired baton of conductor Harry Bicket.
Maestro Bicket is celebrated for his especial skills in this type of repertoire and he led a vivid, urgent reading of great variety and color. His attention to detail drew committed playing from the exceptional orchestra, and impassioned, heartfelt vocalizing from his singers.
William Burden is one of the finest lyric tenors in the business, and one of the busiest. I know of no one else who can survey such a wide range of roles from Baroque to Contemporary with such assurance. As the Podest‡ (Magistrate), Mr. Burden has ample opportunity to show his full bag of tricks which includes honeyed tone, supple technique, and dead accurate melismas. A consummate actor, he always, always sings with utter conviction and understanding of the drama. This was but another outstanding portrayal from this treasurable tenor.

Susanna Phillips as Arminda and Joel Prieto as Count Belfiore
I first encountered soprano Heidi Stober at Opera Theatre of Saint Louis where I thought she was remarkably fine. In the intervening years, Ms. Stober has grown even more and on this occasion, her Sandrina was individualized, poignant, musically faultless, and fully realized as a wonderfully complex character. She did not sing the part so much as inhabit it. Her poised, warm instrument had enormous appeal.
Providing welcome balance, Laura Tatulescu combined sass and pointed singing to create an edgy, confrontational impression as the sharp-tongued Serpetta. It is to her credit and skillful technique that Ms. Tatulescu is able to craft a personality that is acerbic, without the vocals turning acidic. Her clear, rhythmically assured singing was a pleasure and she clearly relished her comic opportunities and wrung every bit of firebrand potential out of the role.
Joshua Hopkins is a suave performer, with a rich, manly baritone, evenly produced with a suggestion of plush velvet. His Nardo was a perfect foil for Serpetta and they created real sparks between them. Mr. Hopkins knows how to command the stage and his physical presence was as handsome as his vocalizing. Cecelia Hall effected just the right hangdog look to engage our sympathies as Ramiro, and her creamy singing was vibrant and characterful. Even in such a less developed role, Ms. Hall more than held her own in this polished ensemble.
Susanna Phillips took obvious delight in playing Arminda, the opera's Queen of Mean. She found ample excuses to unleash pointed phrases styled with laser-like accuracy. Yet she resisted delving into caricature, and she also lavished us with singing of amplitude and richness. Ms. Phillips' disciplined vocal portrayal was nevertheless wedded to a sense of spontaneity thanks to her canny acting.

Joshua Hopkins as Nardo and Laura Tatulescu as Serpetta
Rounding out that cast as Count Belfiore, Joel Prieto offered witty, fluid phrases that were well served by his congenial tenor. Mr. Prieto, too, had a good sense of fun and a loose, easy stage presence. His flexible technique and appealing bright timbre suited the role, although there may be more to be mined in the complicated Count.
Tim Albery has directed with simplicity and clarity. His fluid movement of the actors was highly effective, and the shifting pairings-up, and squarings-off of the cast were brilliant. The whole evening played out as a balletic cat and mouse game with roles, and advantage of positions, in constant flux.
Hildegard Bechler has certainly done her part to ensure the evening's success with a set design that is at once functional, mysterious, bare bones, and profound. There is an arching wall stage left that is impeccably detailed with an ornate tromp l'oeil recreation of a period palace hall. Chairs with upholstered seats stand against the wall, while a large dining room table sits center stage. This functions as occasional meeting place where character some together, or as a barrier, keeping characters apart.
About two thirds of the stage is covered with lush green Astroturf-as-carpeting, abutted by the requisite garden which takes up the down left area. The rust and yellow flowers (many planted by Sandrina in Act One) are a beautiful balance as they encroach on the formal interior. The dining table is replaced in Act Two by a chaise lounge, which got cleverly incorporated into the staging.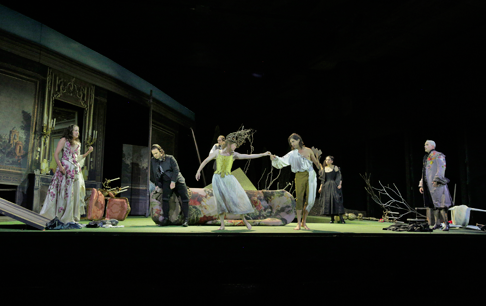 The ensemble
Jon Morrell created totally apt costumes that aided greatly in the characterizations, black and severe for the servants (including the phony farmerette), and sumptuous for the nobles. The incorporation of floral images in such things as Arminda's dress and the tablecloth only added to the cheeky visuals. Thomas C. Hase's slowly unfolding lighting effects were mesmerizing. The extremely deliberate cross fade from sunny exterior to moody interior in the first act was stunning.
Every element of La finta giardiniera was committed to showing that this talented group absolutely believed in the worth of this piece. And damn, if ultimately they didn't succeed in making me believe in it, too!
James Sohre
---
Cast and production information:
Sandrina: Heidi Stober; Serpetta: Laura Tatulescu; Ramiro: Cecelia Hall; The Podesta: William Burden; Nardo: Joshua Hopkins; Arminda: Susanna Phillips; Count Belfiore: Joel Prieto; Conductor: Harry Bicket; Director: Tim Albery; Set Design: Hildegard Bechler; Costume Design: Jon Morrell; Lighting Design: Thomas C. Hase.

image=http://www.operatoday.com/6-Heidi-Stober-%28Sandrina%29-and-William-Burden-%28Podesta%29-in-%E2%80%98La-Finta-Giardiniera.%E2%80%99-Photo-%C2%A9-Ken-Howard-for-Santa-Fe-Opera%2C-2015.png
image_description=Heidi Stober as Sandrina and William Burden as the Podesta [Photo by Ken Howard]
product=yes
product_title=Santa Fe: Secondary Mozart in First Rate Staging
product_by=A review by James Sohre
product_id=Above: Heidi Stober as Sandrina and William Burden as Podesta
Photos by Ken Howard