Few performances, though, have been further off the beaten path than Floating Opera New York's recent Pelleas and Melisande at the Water Front Museum in Redhook.
The hundred-year-old barge sits on a dark pier, giving spectacular views of lower Manhattan. Audience members were given detailed instructions on the location, and asked to please arrive on time. As the last of the full house were seated, the gangplank was raised, and barge drifted next to the dock; late seating was not an option.
Performed in English translation with piano accompaniment, this production starts off with a handicap. Despite Eric Kramer's sensitive conducting and George Hemcher firm hands at the piano, this is a score that pales in reduction. Tucked away in a corner, Kramer was able to keep the cast together, even with the difficult sight-lines of playing in the round.
The ensemble cast was strong, and in the small space, words were understandable without supertitles.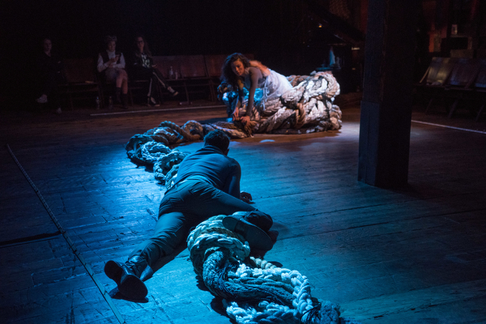 Pelleas caressing Melisande's hair
As Melisande, Aude Cardona gave a rivetingly physical performance. Like Von Stade, she brought a darker tone than normally associated with the role, and sounded more human than ethereally pre-Raphaelite. As Pelleas, Christopher Dylan Herbert sang with a bright, clear baritone, matching Cardona's physical abandon.
Sidney Outlaw's brought a rich baritone to the brooding role of Golaud, and projected the clearest diction of the evening. He clearly delineated the path from enthrallment with Melisande, to eventual jealousy and rage. As the aging monarchs Arkel and Genvieve, Paul Goodwin-Groen and Jazmin DeRice sang and acted with intensity, giving memorable characterizations of these brief roles. Caroline Rose Loeb as Yniold, and Brett Harrison Vogel as the Doctor rounded out a strong ensemble cast.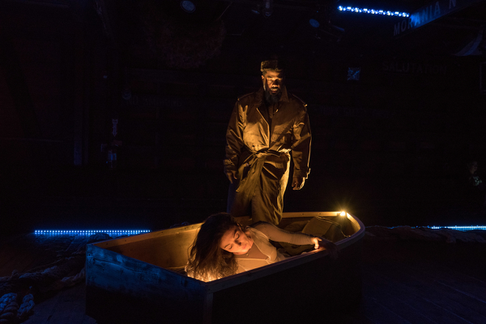 Sidney Outlaw as Golaud, Aude Cardona as Melisande
Isabel Milenski's production was paired down to the most essential elements. Like Weiland Wagner's minimalist productions at Bayreuth in the 1950s, Milenski has discarded with the traditional rings and flowing locks. So cleanly had the staging been conceived, that when props did appear, they felt superfluous. Jian Jung's set consisted of a rowboat, moored with an oversized tangle of rope. The rope was both a nod at the history of the barge, and to Melisande's long hair.
Jeanette Oi-Suk Yew added delicate strips of floor-lights which helped delineate the playing space, and managed to keep the space feeling dynamic through the evening with a very limited set of tools. Christina Lorraine Bullard's costumes suggested barge workers, as though the tiny floating world was the kingdom in contention.
As in the best site-specific work, the location was the undisputed star. The atmosphere was ephemeral, with the gently swaying of the barge echoing the sinuously shifting harmonies of Debussy's music. Milenski's staging had the singers using every corner, even climbing the walls behind the audience and singing inches above their heads. As the evening finished, Melisande rose slowly from a deathly stupor, throwing open the barge doors, and disappearing into the Manhattan Skyline.
Andreas Hager
---

Andreas Hager is a New York based opera critic who has written for Feast of Music, Theatre is Easy and Parterre Box. www.andreashager.com
Casts and production information:
Pelleas: Christopher Dylan Herbert; Melisande: Aude Cardona; Golaud: Sidney Outlaw; Arkel: Paul Goodwin-Groen; Genevieve: Jazmin DeRice; Ynold: Caroline Rose Loeb; the doctor: Brett Harrison Vogel. Steinway B piano: George Hemcher, pianist. Conductor: Eric Kramer; Stage Director: Isabel Milenski; Scene Design:Jian Jung; Costumes: Christina Lorraine Bullard; Lighting:Jeanette Oi-Suk Yew. Lehigh Valley Barge #79 (1914) now the Water Front Museum, Red Hook, Brooklyn. October 15, 2015

image=http://www.operatoday.com/Pelleas_Brooklyn1.png
product=yes
product_title=Pelleas and Melisande in Brooklyn
product_by=A review by Andreas Hager
product_id=Above: Christopher Dylan Herbert as Pelleas, Aude Cardona as Melisande [All photos copyright Tony Gale courtesy of Floating Opera New York].