This is the one where the young sculptor Cellini must cast a statue of Perseus (the Greek hero who killed Medusa) commissioned (only in the opera) by Pope Clement VII, the high renaissance Medici pope. A true Renaissance man Cellini was a sculptor, soldier, flute player (like Berlioz), rogue, lover and author — his famous autobiography self-celebrates his considerable exploits in all these fields.
Hector Berlioz and Benvenuto Cellini were kindred spirits. They both thought big, very big, and imagined grandiose accomplishment. Both had absolute certainty of their genius and never doubted their abilities. This got Cellini into quite a lot of trouble. While Berlioz steered clear of the law he heroically schemed to effect the politics or raise the money to realize huge symphonic and operatic projects. Case in point Benvenuto Cellini — four horns, four trumpets, three trombones plus tuba, winds, two harps, seven percussion players, fifty-eight strings [the count in Rome], seven principal singers and the trappings of grand opera (huge choruses and lots of fire) to tell this far-larger-than-life exploit of a far-larger-than-life personage.
So you must think big if you want to attempt Berlioz' Cellini opera. It is not said if film director Terry Gilliam (Fear and Loathing in Las Vegas among many more films and many Oscar nominations) initiated the idea to exploit this opera, or if English National Opera seized the opportunity to exploit the resources and processes of big time film making to create something really big.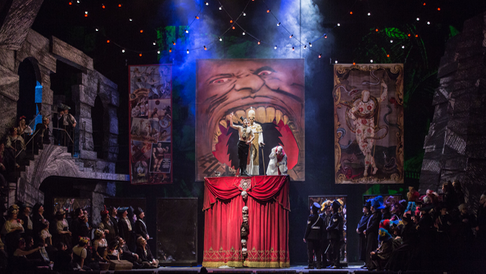 The commedia dell'arte performance in Act I
Mr. Gilliam's team for this 2014 ENO production included scenographer Aaron Marsden (the film Moulin Rouge!), choreographer Leah Hausmann, costumer Katrina Lindsay and lighting designer Paule Constable (recipient of many Oliver and Tony awards), and videographer Finn Ross. The result is a huge and spectacularly cinematic production. Along with Cellini's struggles to cast his statue in bronze and Berlioz' struggles to conceive, compose and get his opera produced, you viscerally felt the tremendous creative energy and talent expounded by Mr. Gilliam's team. It propelled this opera to an ultimate theatrical level.
Every note of Berlioz' sprawling, elaborate, generally manic, often naive score was taken into consideration and turned into big time, let us say manic theater. It sat splendidly in the Teatro Costanzi, filling the proscenium width with wide screen presence, equalling in scope the enormous sound and color emanating from the expanded pit.
Conductor Roberto Abbado offered breadth and sympathy to the Berlioz score, underscoring its out-of-left-field musicality. Mo. Abbado allowed what seem to be illogical musical ideas to flow straight-on, avoiding compromise to ears (like the Parisian public of the 1830's) that are (and were) accustomed to classic French grand operas like La Juive (1835) and to Roberto Devereux (Paris, 1838), operas that I had seen/heard only days before. Benvenuto Cellini was not a success in 1838. Even now musically it was a strange, long haul that profited greatly from expansive production values.
After its London premiere the production traveled to Amsterdam in 2015 where American tenor John Osborne took on the role of Benvenuto Cellini with solid success, a success repeated just now in Rome. Mr. Osborn is a very physical performer, a real actor and a beautifully voiced singer. Vocally he is a more lyric Bellini tenor than an heroic tenor, but this allows him to soar through the role's high tessitura with ease. At the end when we expected and maybe wanted a physically exhausted Cellini Mr. Osborn sounded like he could take it from the top all over again.

Mariangela Sicilia as Teresa, Nicola Ulivieri as Balducci
Teresa, the daughter of the pope's banker and betrothed to Cellini's untalented rival Fieramosca, was Mariangela Sicilia, again from the Amsterdam cast. This young Italian soprano brought spunk, sassiness and brilliant high notes galore to seduce Cellini, as well as several moments of pitch and vocal uncertainty. Ascanio, Cellini's apprentice/sidekick was Armenian mezzo soprano Varduhi Abrahamyan, new to the production. A confident, strong voiced singer she perhaps too soberly anchored this trouser role character as the sole voice of good sense amongst a field of buffo males (let us include Cellini among these guys).
The three lively buffo baritone/bass roles, Fieramosca, Balducci, Pope Clement were entrusted here in Rome to Italians who simply did what the Italians alone can do best — buffo!
Michael Milenski
---
Casts and production information:
Ascanio: Varduhi Abrahamyan; Benvenuto Cellini: John Osborn; Fieramosca: Alessandro Luongo; Giacomo Balkducci: Nicola Ulivieri; Pope Clement: Marco Spotti; Pompeo: Andrea Giovannini; Teresa: Mariangela Sicilia; Francesco: Matteo Falcier; Le Cabaretier: Vladimir Reutov; Bernardino: Graziano Dallavalle. Chorus and Orchestra of the Opera di Roma. Conductor: Roberto Abbado; Stage Director: Terry Gilliam; Co-director and Choreography: Leah Hausman; Set Design: Terry Gilliam and Aaron Marsden, originally conceived by Rae Smith; Costume Design: Katrina Lindsay; Lighting: Paule Constable; Video: Finn Ross. Teatro Costanzi, Rome, Italy, March 29, 2016.

image=http://www.operatoday.com/Cellini_Rome1.png
product=yes
product_title=Benvenuto Cellini in Rome
product_by=A review by Michael Milenski
product_id=Benvenuto Cellini (John Osborn) disguised as a monk [all photos copyright Yasuko Kageayama / TOR courtesy of the Opera di Roma]