This riveting new work by composer Jack Perla and librettist Rajiv Joseph (based on Salman Rushdie's novel of the same name) is not so much a towering achievement, as another astonishing over-achievement from this committed and (apparently) tireless company. Like OTSL's Champion and 27 before it, Shalimar the Clown seems destined for further greatness.
That is owing to not only a restless, unnerving score replete with profound dramatic declamations but also colored with serenely beautiful melismatic phrases. Mr. Joseph as crafted a lean skeleton of a libretto that connects all of the major occurrences with uncanny precision. And composer Perla has masterfully crafted a score that truly sings, and which sounds like nothing else in the operatic canon.
The piece is beautifully, virtuosically scored, showcasing a rich palette of the "usual" operatic band ably augmented by the addition of a sitar (Arjun Verma) and tabla (Javad Butah). The two "local color" instruments were ingratiating without being overwhelming. Indeed, perhaps they might have been even more prominently incorporated.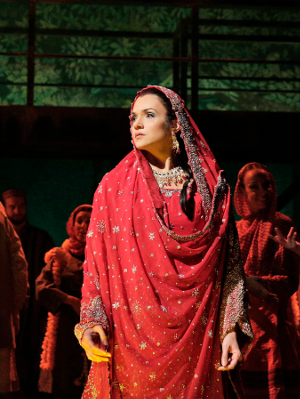 Andriana Chuchman as Boonyi
The orchestra under the firm control of Jayce Ogren was disciplined and provided atmospheric playing of the highest quality. The scoring starts off rather lean and angular in the opening LA segments, and the reading was appropriately taut and jittery. That yielded soon enough to more expansive, lush scoring and Maestro Ogren lavished us with some gorgeous ensemble playing, accented by tasty solo work, especially the bird-like commentary from the solo flute.
The choral writing was simply splendid and under Robert Ainsley's tutelage, the cast excelled in countless moments of incomparably beautiful ensemble singing. The overall arc was meticulously controlled by Maestro Ogren who led the massed forces with conviction and obvious affection for the challenging score.
There is arguably no director working today who is more skillful than James Robinson in giving legs to new work. He proved such mastery once again with Shalimar the Clown. Making full use of Allen Moyer's versatile two story set and carefully selected minimal set pieces, Mr. Robinson created contrasting milieus as he explored a story that encompassed both the bustling world of 1989 Los Angeles and the idyllic folk charms of 1964 Kashmir.
Completing the usual OTSL technical "Dream Team" were Greg Emetaz, who conjured up highly evocative video projections; James Schuette, whose apt costumes ran the gamut from peasant attire to dazzlingly colorful folk costumes to ¸ber-hip California styles; and Christopher Akerlind, whose lighting could effectively wash a scene in vivid colors one minute and chillingly isolate key emotional moments in a harsh glare the next.
It would be difficult to over-praise Se·n Curran's ingenious choreography. Indeed, dance was a key element of the score, not only in celebratory group numbers or seductive solos, but also as integral storytelling. I will not soon forget the incidence of the brutal rape of three women by marauders menacing them into submission as they pounded the ground with sticks, augmenting the score's abrasive percussive effects. Chilling use of stage movement and dance.
Mr. Joseph's libretto has quite skillfully (and necessarily) reduced Rushdie's complex novel to begin as a Romeo and Juliet cautionary tale. The Hindu girl Boonyi (Andriana Chuchman) and the Muslim boy Shalimar (Sean Panikkar) fall in love at first sight, religious differences be damned. Very soon thereafter, the story seems to morph into more a Pagliacci-inspired plot, with the cuckolded, abandoned Shalimar fixated on revenge.
Onto this, the creators have layered many rich details and nuances, many of which resonate with the sad topicality of religious radicalization. Complicated social and political developments are served up with bold strokes in the music and stirring pictures in the staging. But the single mindedness and obsession of the title character is even more potent as the music-making winnows down to a laser-accurate simplicity of purpose.

From left to right: Andriana Chuchman (Boonyi), Gregory Dahl (Max Ophuls) and Katharine Goeldner (Peggy Ophuls)
I would only wish that the introduction of the "clown" allowed a bit more time to acquaint us with a joyful young man, and that the immediate attraction between Shalimar and Boonyi were a bit more expansive and romantic. As it is, the meeting becomes almost immediately about only the sex act. This is further reinforced by the plot turn in which a lecherous older teacher films them in that act and subsequently seeks to blackmail Boonyi into submitting to his desires by threatening to expose them (as it were).
That immediate physical connection was wholly believable since Ms. Chuchman and Mr. Panikkar are two of the best-looking young singers in opera today. As Shalimar, the tenor essayed a taut, focused persona, spending little time as a carefree street entertainer, and immersing his character in white hot revenge mode with abandon. Having heard his radiantly voiced Tamino in two different Magic Flute productions, the honeyed tones on offer in those in no way prepared me for the savage, searing intensity he summoned here. Sean fulfills every vocal demand as he journeys from a sweet-voiced lover to despairing husband to murderous terrorist. His was a mighty achievement in a punishing assignment.
Ms. Chuchman possesses a full lyric soprano with admirable control, capable of serene beauty, wily insinuation, powerful dramatic statement, and heart-rending pathos. She calculated limpid phrases with unerring dramatic instinct. Her poised vocalizing was matched by some of the most skilled dancing I have yet seen from an opera singer. Andriana is the total package, She does not so much perform the difficult role of Boonyi as inhabit it.
As the womanizing diplomat Max who has no problem luring Boonyi to stray from her marital vows, Gregory Dahl put his engaging baritone to good use. Physically and vocally, Mr. Dahl has a solid, beefy presence and he suggested an oily charm that was believably persuasive. As his sterile wife Peggy, Katherine Goeldner was icily imperious, her ripe mezzo slicing out proclamations with steely precision.
OTSL has offered Aubrey Allicock several starring opportunities over recent years, and the abundantly talented baritone has made the most of each and every one. Here, Mr. Allicock offered his usual generous outpouring of well-modulated tone as the jihadist Bulbul Fakh, at once disturbing in his focused intensity and alluring in his mellifluous delivery.
Bass-baritone Thomas Hammons (Abdullah Sher Noman) was convincingly conciliatory and appealing as the paterfamilias who brokers peace in the village. As his wife Firdaus Noman, mezzo Jenni Bank brought a solid vocal presence to her impersonation of the chiding, nattering mother. Justin Austin's polished baritone contributed much pleasure as Boonyi's conflicted father Pyarelal Kaul.
As the blackmailing teacher Gopinath Razdan, Geoffrey Agpalo almost walked off with the confrontation scene, his finely focused tenor hurling accusatory phrases that soon effortlessly modulated into a cowed retreat. Elliot Page's good presence and pliant tenor made the most of his stage time as Grand-Chef Bombur Yambarzal.
Composer Jack Perla has crafted a uniquely atmospheric score using tonal palettes and instrumental effects that run the gamut from soothing to shocking to pleasing to disturbing to violent and back again. And while he wrote innumerable sensitive lyric lines for the soloists and multiple lush choral segments, he also pushed the singers to their dramatic limit, occasionally asking them to essentially produce controlled screaming effects rather than beautiful tone. The accomplished cast rose to every requirement.
Shalimar the Clown may not always be bel canto, but it is a pretty damn' thrilling addition to the repertoire.

James Sohre
---
Cast and production details:
Boonyi Kaul/India Ophuls: Andriana Chuchman; Max Ophuls: Gregory Dahl; Bulbul Fakh: Aubrey Allicock; Shalimar: Sean Panikkar; Peggy Ophuls: Katherine Goeldner; Firdaus Noman: Jenni Bank; Abdullah Sher Noman: Thomas Hammons; Pyarelal Kaul: Justin Austin; Gopinath Razdan: Geoffrey Agpalo; Bombur Yambarzal: Elliott Paige; Zahir: Eric Ferring; Cowardly Giant: Benjamin Taylor; Clumsy God: Samuel Weiser; Mystic Blind Woman: Gina Perregrino; Conductor: Jayce Ogren; Director: James Robinson; Set Design: Allen Moyer; Costume Design: James Schuette; Lighting Design: Christopher Akerlind; Video Projection Design: Greg Emetaz; Wig and Make-up Design: Tom Watson; Choreographer: Se·n Curran; Chorus Master: Robert Ainsley; English Diction Coach: Erie Mills

image=http://www.operatoday.com/SHAL_2630a.png
image_description=Aubrey Allicock as Bulbul Fakh and Sean Panikkar as Shalimar [Photo by Ken Howard]
product=yes
product_title=Shalimar in St. Louis: Pagliaccio Non Son
product_by=A review by James Sohre
product_id=Above: Aubrey Allicock as Bulbul Fakh and Sean Panikkar as Shalimar
Photos by Ken Howard