The piece premiered here of course, so there is significant resonance to experiencing it anew in such an invigorating, immensely moving realization. The company covered itself in glory starting with the casting of the title role.
Anna Christy is born to play Baby Doe. Diminutive and appealing, blessed with a limpid, silvery soprano, the role seems to have been tailored to her significant gifts. While she can certainly easily encompass the spunk and grit of the determined heroine, where Ms. Christy uniquely excels is in the incredible legato flights above the staff.
It is not often one encounters such total ease of vocal production, seamless phrasing, and alluring timbre. She also thoroughly understands the full range of emotions in Baby's journey, and she communicates them with an honest simplicity. I have often marveled at Anna Christy's achievements in the past, but with this role assumption she is at the height of her powers, an utterly perfect marriage of artist and material.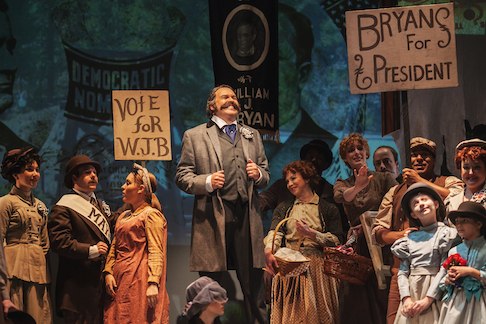 Grant Youngblood as Horace Tabor
As the object of her affection, Grant Youngblood, too, was a splendidly apt choice for Horace W. Tabor. His physical stature and self-assured bearing were matched by a dependable, rich baritone of considerable import. Mr. Youngblood perfectly balanced the public swagger of the successful businessman-politician with the pathos of his personal longings and shortcomings.
His version of Warm as the Autumn Light was luxurious in its outpouring of burnished tone. As he ultimately descended inexorably into a state of drunken despair, he infused his voice with such pathos and anguish that no one could have been unmoved. The final pages of the score with his compelling, unaffected enactment of Tabor's death, followed by Ms. Christy's crsytalline performance of Always Through the Changing were unbearably moving. There can't have been a dry eye in the house.
As the third part of the story's love/power triangle, Susanne Mentzer emphatically held her own as the determined, staunch, till-death-do-us-part wife Augusta Tabor. To her great credit, Ms. Mentzer finds every cranny of nuance in an often unsympathetic personage. She wisely invests the role with as much dignity as outrage, balancing the overt self-righteousness with an abiding sense of loss.
She is an attractive woman, her handsome bearing able to suggest severity as well as noble suffering. She has an incisive, throbbing mezzo-soprano, and her technique is rock solid, reveling in a freely ringing top and upper middle, while wisely negotiating lower passages with savvy dramatic flair. Ms. Mentzer also excels portraying the character's physical deterioration, dramatically and vocally. When she appears as her youthful self in Horace's final hallucination, she is stunningly renewed: sassy and fresh-voiced.
Bryan for President (Anna Christy and ensemble)
The featured character William Jennings Bryan was served up with gusto by bass-baritone Donald Hartmann. His characterful, sonorous singing boomed out in the house and his take-no-prisoners campaign persona was the riveting focal point of his scene, as was required. As Baby Doe's near harridan of a mother, Sarah Barber dominated her scenes with potent stage presence and a highly-charged, brilliantly aggressive vocal delivery of penetrating power.
The large cast of featured roles was so uniformly excellent, it seems a shame not to have space to single all of them out for praise. These dynamic cameos were mostly peopled by the outstanding corps of Apprentice Artists, and the entire laudable cast list is enclosed for your perusal. Moreover, Chorus Master Aaron Breid has molded these talented artists into a precise and finely-honed ensemble.
Conductor Timothy Myers seemed to be having a ball in the pit, and his skillful orchestra responded with a reading that was by turns heady, colorful, atmospheric, driving, introspective and sweetly sentimental. Maestro Myers wrung every bit of variety from this popular score, managing a perfect combination of folksy Americana and profound operatic expression.
If this is not the year that Central City Opera discovered the possibilities of scenic projections, then mark it as the year they perfected them. Is there a show with as many different locations as this one? (Gypsy, maybe?) The over-achieving David Martin Jacques devised a truly wondrous design for sets, lighting and projections juggling all three duties with consummate skill. This achievement was so virtuosic that I suspect the talented Mr. Jacques could have done it all while still clanging a pair of cymbals between his knees like a consummate busker.
What Do You Intend to Do Augusta Tabor? (Susanne Mentzer)
The scenery was largely scrim panels and painting frames that flew in and out in various combinations. These frames were stretched with 'canvases' that were also scrim, spookily ragged, trailing downward as the bottom crosspiece of the frames was missing. On these shifting surfaces were projected real images of the locations and personages of the story. Highly effective.
The few pieces of furniture were chosen with great care and specificity, and it did not hurt that the actors were clad in Sarah Jean Tosetti's spot-on period costumes. The sweep of the story and the definition of the characters and their stations in life were inestimably aided by Ms. Tosetti's fine work. The icing on the cake was a beautifully judged wig and make-up design from Liz Printz.
Ken Cazan's loving and knowing direction was so effective as to almost not be noticeable. The movement was natural and made good use of the space. He brilliantly peopled the stage with inevitable pictures and well-motivated crowd control. Mr. Cazan seems to have created highly productive subtext with his performers since their relationships were so connected and meaningful.
He also had great skill crafting powerful images, none more so than when Augusta is firmly planted center stage, with her lady 'friends' buzzing around her with unwanted advice. That they appeared and disappeared from behind a quintet of scrim projections of Horace's 'portraits' was even more powerful, and the complete stasis of the upright, uptight Augusta made the visual startlingly impactful.
I also very much liked having a mute Baby Doe ambling on stage at the beginnings of the acts and other selected times, all buttoned up and moving stiffly as the eccentric recluse she would become after Tabor's death. Indeed, the show started with her older self, standing in the middle of a snowy ground cloth, soon pulled away as the opera started. At the opera's close, the same austere cloth was drawn around the dying Horace, and his grieving wife. Touching and meaningful.
This enduring company seems to return to celebrate its 'signature opera,' The Ballad of Baby Doe, every ten years. Based on this year's loving and beautifully rendered landmark production, I can't wait for the 70th anniversary edition.
James Sohre
---
Cast and production details:
Old Silver Miner: Justin Berkowitz; Bouncer: Chad Sonka; Kate, Saloon Girl: Ashley Fabian; Meg, Saloon Girl: Tatiana Ogan; Horace W. Tabor: Grant Youngblood; Sam: John David Nevergall; Bushy: Daniel Ross; Barney: Leroy Y. Davis; Jacob: Samuel Hinkle; Augusta Tabor: Susanne Mentzer; Sarah: Danielle Palomares; Mary: Marlen Nahhas; Emily: Anna Laurenzo; Effie: Megan Case; Mrs. Elizabeth (Baby) Doe: Anna Christy; Samantha, a Maid: MicaÎla Aldridge; Clarendon Hotel Clerk: Peter Lake; Albert, a Bellboy: Michael Floriano; Mama McCourt: Sarah Barber; Washington Dandies: Terence Chin-Loy; Nathan Ward, Christopher Kenney, Cody M¸ller; Father Chapelle: Peter Lake; Footman: Michael Floriano; President Chester A. Arthur: Justin Berkowitz; Elizabeth (child): Lucy Crile; Silver Dollar (child): Carly Crile; Mayor of Leadville: Justin Berkowitz; William Jennings Bryan: Donald Hartmann; Stage Doorman: Peter Lake; Denver Politician: Stephen Clark; Silver Dollar (adult): Kaileigh Riess; Conductor: Timothy Myers; Director: Ken Cazan; Set, Lighting and Projections Design: David Martin Jacques; Costume Design: Sarah Jean Tosetti; Wig and Make-up Design: Liz Printz; Chorus Master: Aaron Breid.

image=http://www.operatoday.com/2016%20CCO%20BOBD%20Baby%20Doe%27s%20Wedding%20%28Anna%20Christy%29%20Photo%20Amanda%20Tipton.png
image_description=Anna Christy in the title role [Photo by Amanda Tipton]
product=yes
product_title=Evergreen Baby in Colorado
product_by=A review by James Sohre
product_id=Above: Anna Christy in the title role
Photos by Amanda Tipton