With characteristic ingenuity and wit, the company presented two little-known but musically rewarding operas, each under an hour in length, in which
meetings between mortals and deities give rise to conflict and confusion but conclude, inevitably, with Love triumphant. Bampton director Jeremy Gray has
treated these classical allegories with a healthy dose of insouciance. And, with so much to-ing and fro-ing between earthly and celestial realms, where
better to set the action than a terrestrial portal – an airport arrivals lounge – and an airplane in transit to the heavens. At Bampton in July, RAF Brize
Norton had contributed some all too realistic supplementary sound effects, but we were safe from unscheduled flypasts inside St John's and the Corinthian
columns of the nave provided an appropriately classical ambience.
Gluck composed PhilÈmon e Baucis in 1769 for the extended festivities which accompanied the marriage of his long-term Hapsburg employer Ferdinand,
Duke of Parma (who was the grandson of Louis XV of France) and Maria Amalia, Archduchess of Austria, the sister of Marie Antoinette. The myth tells of two
young lovers, the eponymous shepherd and shepherdess, who show great respect and care for the god Jupiter when he appears before them disguised as a
pilgrim. In return, the rustic couple are blessed by Jupiter with everlasting life and elevated to the status of demigods. At the same time, he curses
their fellow Phrygians who had refused to help him.
Catherine Backhouse (Philemon) and Barbara Cole Walton (Baucis). Photo Credit: Jeremy Gray.
In Gray's neat and natty production, Philemon (mezzo Catherine Backhouse) and Baucis (soprano Barbara Cole Walton) have cast aside their shepherds' smocks
and crooks for an immigration officer's uniform and cleaner's mop respectively. Last through customs is a scruffy, irascible Jupiter (tenor Christopher
Turner) who wastes no time in making clear his displeasure at having to travel in economy, and his disgruntlement with the failure of Arne Airways ('the
low-cost airline – no frills, plenty of trills!') to offer him some complementary champagne.
Fortunately, the musical musings of the two lovers are sufficiently dulcet to sweeten the tetchy deity's mood – he is even inspired by Philemon's melodious
strain to take up his guitar and strum a gentle accompaniment – and tea and biscuits prove an effective substitute for Dom Perignon.
Backhouse's mezzo was rich and vibrant, full of character and expressively phrased. It's a lovely clean sound and blended perfectly with Cole Walton's
crystalline soprano in the roulades of thirds and sixths which spun deliciously in their duets. Both singers acted well: their joyful smiles and
affectionate teasing conveyed an innocent wonder that they had been so lucky in love. And, Cole Walton wowed in her florid coloratura aria, 'You are my
shepherd and lover', by climbing to heights which I had thought were beyond the reach of human voice (top G?). She leapt and glided into dog whistle
territory without the slightest hint of strain, as if propelled ever higher by infinite ardour and delight; the intonation was spot on and the tone
pleasing as she slithered and curled back down again. Stunning!
Christopher Turner as Jupiter. Photo Credit: Jeremy Gray.
Christopher Turner was fittingly snappish and petulant as the peeved god, but puffed up proudly with gilded self-importance when revealing his true
identity to the lesser mortals. Turner's tenor is a versatile instrument and his diction was excellent (though we were, helpfully, given a copy of Gilly
French's pithy translation).
Bampton's trademark visual gags and irony were present in abundance. An air-traffic controller in high-vis vest semaphored the plane across the runway to
the overture's perky rhythms. A sign warned against sleeping in the multi-faith chapel before the latter was transformed by Jupiter into a 'Templvm'; giant Toblerones grabbed from the duty-free shop by the returning travellers' chorus (soprano Aoife O'Sullivan, tenor Robert Anthony Gardiner and
baritone Robert Gildon) formed a perfect nuptial arch to frame the married couple. Turner's impressively authoritative aria di furia prompted a
clamorous storm sequence and both raging god and thunder were calmed only after extensive, robust fanning, umbrella twirling and a cooling spray from a
fire-extinguisher. There was some minor 'funny business' and mime during the instrumental episodes which did not feel entirely natural or necessary, but I
suppose there was a need to invent 'activity' to keep the visual drama running.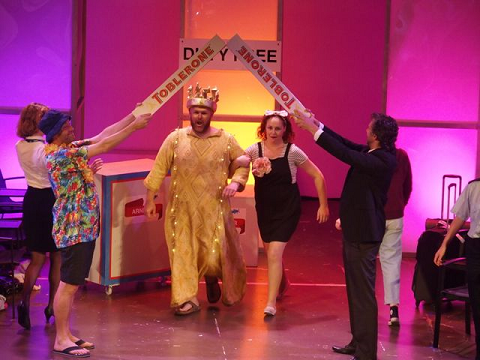 Christopher Turner (Jupiter) and Aoife O'Sullivan (Chorus soprano). Photo Credit: Jeremy Gray.
Thomas Arne's The Judgment of Paris, which Bampton first performed during the 2010-11 season was first performed in London on 12 March 1742, and
it has been suggested that it may have been intended to upstage Sammartini, the protÈgÈ of Frederick the Prince of Wales, for the Italian's own The Judgment of Paris had been performed at Cliveden in 1740 alongside Arne's masque, Alfred.
William Congreve's droll libretto relates the episode in which Paris, a shepherd, is obliged to choose the fairest among the three goddesses, Juno, Pallas
and Venus. During the competition, Paris finds himself the subject of various enticements as the goddesses attempt to persuade him in turn to award them
the symbol of victory, a golden apple. Far from displaying bucolic gaucheness, Paris demonstrates unanticipated wile in delaying his judgement for long
enough to incite the impatient goddess into singing several arias and engaging in a degree of disrobing. Just how is a director to treat Paris's line,
'When each is undrest, I'll judge of the best'?
Demoted from omniscience to mortality, Turner again impressed as the vacillating protagonist who – clearly a flying-phobic – was escorted through security
by a smooth-voiced Mercury (Robert Anthony Gardiner), an Arne Air pilot, and charged with the task of deciding which of the three air hostesses deserved the
prize – a golden i-Apple. The cast relished the easy melodiousness of Arne's vocal lines and at St John's I was able to appreciate even more than in the
open-air acoustic at Bampton the instrumental invention evident in the accompaniments, which are often quite light in texture and make beguiling use of obliggato instruments. There was some fine playing by the members of CHROMA, by turns animated and expressive, always lucid. Paul Wingfield
conducted with alertness and sensitivity – all the more impressive given that he couldn't actually see his singers.
Catherine Backhouse (Pallas), Barbara Cole Walton (Juno) and Aoife O'Sullivan (Venus). Photo Credit: Jeremy Gray.
Soprano Aoife O'Sullivan was excellent as the lewd and lustful Venus. The fact that O'Sullivan is seven-months pregnant added a further dash of drollery;
and it perhaps wasn't fanciful to imagine that the hormones also furnished her wonderfully glossy soprano with even more shine. O'Sullivan produced an
easy, full tone, and the high-lying lines were attractive of tone and purposefully shaped. When Venus's charming aria, 'Stay, lovely Youth', enticed the
bewildered Paris into the passenger toilet, the rival hostesses knew all was lost.
Movement director Triona Adams and Gray have crafted some waggish and witty routines. Who knew that aircraft safety paraphernalia – seat-belts, whistles,
life jackets and the like – had such erotic potential? Paris's air-sickness during the storm whipped up by Pallas's musical call-to-arms suggested that
perhaps he wasn't cut out to be a hero after all.
Staging opera at St John's Smith Square is a tricky business: audience sight-lines are not good, the acoustic can be unhelpful, and where does one put the
orchestra and conductor? (Behind the set, in this case.) This duo of divine comedies was not disadvantaged by the limitations of space and dimension,
though; after the charming open-air of the Bampton Deanery Garden, it seemed to me that the more compact stage area actually helped to intensify the focus,
particularly of the Gluck which is dramatically rather slight, sharpen the pacing and make for slicker comic capers. The clashing complementaries of the
pink/green lighting scheme were also more vivid, set against the sombre, darker interior.
Catherine Backhouse (Pallas), Robert Anthony Gardiner (Mercury), Barbara Cole Walton (Juno) and Robert Gildon (Chorus baritone). Photo Credit: Jeremy Gray.
The Judgement of Paris
ends with the proclamation of Victory: 'The Queen of Love, is Queen of Beauty crown'd.' Bampton Classical Opera certainly deserved a laurel crown of their
own for this impudent duo of 'divine comedies'.
Claire Seymour
Gluck: Philemon and Baucis
Baucis – Barbara Cole Walton, Philemon – Catherine Backhouse, Jupiter – Christopher Turner, Chorus soprano (shepherdess) – Aoife O'Sullivan, Chorus tenor –
Robert Anthony Gardiner, Chorus baritone – Robert Gildon
Arne: The Judgment of Paris
Juno – Barbara Cole Walton, Pallas – Catherine Backhouse, Paris – Christopher Turner, Venus – Aoife O'Sullivan, Mercury – Robert Anthony Gardiner, Chorus
baritone – Robert Gildon
Director/designer – Jeremy Gray, Conductor – Paul Wingfield, Movement director: Triona Adams –
Costume designer – Vikki Medhurst.
St John's Smith Square, London; Tuesday 13th September 2016.

image=http://www.operatoday.com/Three%20goddesses.png
image_description=Bampton Classical Opera at St John's Smith Square
product=yes
product_title=Bampton Classical Opera at St John's Smith Square
product_by=A review by Claire Seymour
product_id=Catherine Backhouse (Pallas), Aoife O'Sullivan (Venus) and Barbara Cole Walton (Juno).
Photo credit: Jeremy Gray