Beginning as a lovesick teenager, Lopez grew in the role as she began to realize that she was on her own with a child, having lost her protective husband as well as the closeness of friends and family. Lopez sang with strong well-supported tones from the entrance with her family to her finale with her father's dagger. If only the Japanese girl had listened to her mother, the family priest, or the Consul, she would never have been caught up in the final disaster, but she was a normal teenager and we relate to her all-encompassing love.
Supporting Lopez in the title role were a number of fine singing actors. Daniel Montenegro was a lyrical Pinkerton who sang a most memorable Love Duet with her. Levi Hernandez was a dramatic Sharpless with a burnished bronze sound. I think we will hear a great deal more from him. Usually, Suzuki, the maid, is a role to which we pay little attention. Not this time! Mezzo Deborah Nansteel, who caught the eye of both audience and opera management last summer at the premiere of Jennifer Higdon's Cold Mountain in Santa Fe, was a charismatic Suzuki whose low notes helped establish her place on the opera stage for coming seasons.
Sandra Lopez as Cio-Cio-San, with Jason Ferrante as Goro and the Arizona Opera Chorus
Completing the cast were several more excellent artists. Jason Ferrante was a skittish Marriage Broker who tried to get Butterfly to consider wedding the rich but fickle Prince Yamadori. Joseph Lattanzi seemed to be having fun as the overdressed prince and he sang his lines with polished tones. Zachary Owen was a bit disappointing as the Bonze. He should be frightening and even violent, but Owen scared no one. Alyssa Martin, on the other hand, created interest in Pinkerton's American wife with her chain smoking. Would she be healthy enough to raise Butterfly's child? What would happen to the little boy in the United States?
Matthew Ozawa's direction gave us a story we could relate to despite its taking place in a foreign environment. John Gunter's house of sliding doors, which seemed fragile when seen at Los Angeles Opera, loomed much larger on Phoenix Symphony Hall's shallow stage where its charming details were more apparent. Arizona Opera's own Kathleen Trott designed a gorgeous orange and white kimono for Butterfly's wedding. Hanging on a chair, it was a decorative reminder of her marriage. Later, it became the gown for her final, heart rending hara kiri.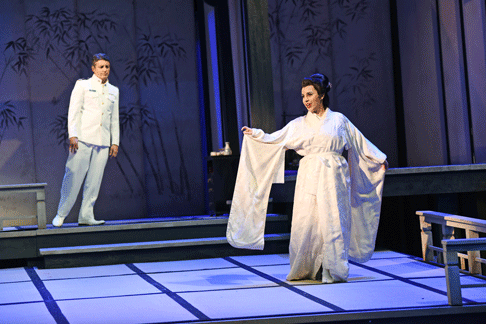 Daniel Montenegro as B.F. Pinkerton and Sandra Lopez as Cio-Cio-San
AZ Opera played the composer's fifth version of the score, now the standard three-act version of the work. Puccini's first version had only two acts and attained nowhere near the success of his previous works: Manon Lescaut, La bohËme, and Tosca at its 1904 La Scala premiere. Immediately afterward, the composer began to rewrite Madama Butterfly and it received a much better reception later that year in Brescia. Two years later, a company in Washington DC performed it in English. Puccini made more changes for the Metropolitan Opera in 1906 and for the Paris performances of 1907. The version we saw in Phoenix last weekend was the one he completed in 1907.
Henri Venanzi's chorus added charm and ebullience to the wedding and pulled at our heartstrings with their Humming Chorus. Maestro Craig Kier is new to Phoenix, but his leadership of the Arizona Opera Orchestra resulted in an intense and forward-thrusting performance of the well-loved score.
Maria Nockin
---
Cast and Production Information:
Composer, Giacomo Puccini; Librettists, Luigi Illica and Giuseppe Giacosa; Based on John Luther Long's short story "Madame Butterfly;" Conductor, Craig Kier; Director, Matthew Ozawa; Scenic Designer, John Gunter; Costume Designer, Kathleen Trott; Lighting Designer, Gregory Hirsch; Chorus Master, Henri Venanzi; Cio-Cio San, Sandra Lopez; Pinkerton, Daniel Montenegro; Suzuki, Deborah Nansteel; Sharpless, Levi Hernandez; Goro, Jason Ferrante; Prince Yamadori, Joseph Lattanzi.

image=http://www.operatoday.com/M-Butterfly-13.png
image_description=Levi Hernandez as Sharpless, and Sandra Lopez at Cio-Cio-San, with the child supernumerary [Photo by Tim Trumble]
product=yes
product_title=A Relevant Madama Butterfly
product_by=A review by Maria Nockin
product_id=Above: Levi Hernandez as Sharpless, and Sandra Lopez at Cio-Cio-San, with the child supernumerary
Photos by Tim Trumble