The Exterminating Angel
– a co-production with the Salzburg Festival, The Metropolitan Opera and
the Royal Danish Opera – was premiered to great acclaim at the 2016
Salzburg Festival, and most of the original stellar ensemble cast reprise
their roles here at Covent Garden. The libretto is the result of a long
collaboration between AdËs and director Tom Cairns (according to the latter,
work on the text started in 2009), and is based upon Luis BuÒuel's 1962
film El ·ngel exterminador, in which the Mexican surrealist
lampoons a bunch of egocentric aristocrats who, gathering for a lavish
post-opera dinner party, find themselves afflicted by a surreal curse.
Despite the open door, they are inexplicably unable to leave the elegant
dining room. Even as their conditions deteriorate, and hunger and
desperation bring degradation, they cannot will themselves to cross the
threshold. Outside, the servants – who, blessed with a sixth sense that
scented the imminent danger, fled the mansion before the guests arrived –
are disinclined to rescue their social betters.
BuÒuel injects the carnivalesque with a dose of Sartre and a dash of
Beckett. The inexact but excessive repetitions of his film reveal the
solipsism and arrogance of these vain bourgeoisie who accuse the servants
of being like rats deserting a ship, blaming them for their predicament
rather than acknowledging their own lack of will. The tone is abstract and
absurd, and the focus is on the ensemble rather than on individual
protagonists, as BuÒuel exposes the sterility of the ritual-like behaviour
that structures daily life and social interaction.
AdËs replaces BuÒuel's cinematic wit with musical parody and ingenuity, but
the musical structures, macro and micro, confirm the film's exposure of
mankind's obligation to repeat, even while the opportunity for individual
musical expression offers emotional 'close-ups'. The clamour of church
bells which accompanies the audience's arrival in the auditorium,
heralds the exterminating angel is heard again at the opera's close. The
arrival of the guests is not only staged twice – as in the film – but is
also built upon a passacaglia form, as if the aristocrats are stuck on a
spiralling stairway, plummeting down into the abyss. In the final Act, as
the guests seat themselves around the burning brazier to devour their feast
of lamb (as Bach's 'Sheep May Safely Graze' insouciantly but piquantly
infiltrates the score), they slip back into the obsequious small talk of their opening dinner party in a futile attempt to
re-establish social equilibrium, just as the quasi-waltz of Lucia's Act 1
'ragout-aria' lurches distortedly into ear-shot.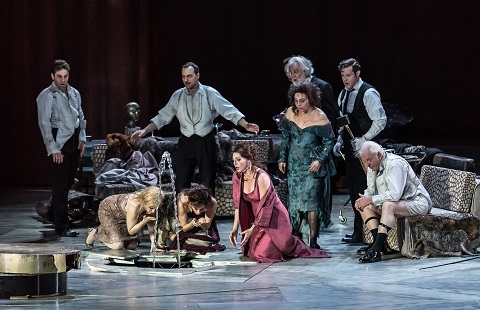 Photo credit: Clive Barda.
Many of the moments of musical 'stillness' are built upon variation forms.
For example, the music of Blanca's Act 1 aria – based on the children's
poem 'Over the Sea' by Chaim Bialik – takes the form of variations on the
Ladino song 'Lavaba la blanca niÒa', intimating the vapid predictability of
post-dinner discourse. Many of the arias make use of strophic forms, and
frequent pedal points and ostinatos enhance the sense of overwhelming
stasis, as such repetitive devices musically embody habitual bourgeois
behaviour. Even the thundering interlude between Acts 1 and 2 – which
alludes to BuÒuel's Drums of Calanda (1964) and the filmmaker's
native Calanda where, during Holy Week, the drums would resound for three
days and three nights – develops from a repeating rhythmic motif.
The opera's score is an ingenious re-enactment of the past in the present.
But, in this work AdËs's characteristically and remarkably skilful parodic
eclecticism does more than remind us that our experience of music is
filtered through our memory of past musical experiences – from medieval
song to modernism; here, such musical echoes imply own our entrapment. So,
in Act II the 'Fugue of Panic' layers snatches of Strauss waltzes – and AdËs imagines the latter as teasing and taunting,
'Why don't you stay a little longer? Don't worry about what's going on
outside' – as the artifice of which the waltz is a symbol, and upon which
the guests' sense of propriety is founded, is exposed as illusory.
There is no doubting AdËs's astonishing dexterity and perspicacity, nowhere
more evident than in his inventive handling of the large orchestral forces,
comprising piano, guitar and a whole arsenal of percussion. But, BuÒuel's
black humour seems diluted; the 'laughs' – judging from the audience
reaction at this performance – are primarily derived from recognition of
musical echoes, which ironically makes BuÒuel's point.
Anne Sofie von Otter. Photo credit: Clive Barda.
BuÒuel, irritated by attempts to psychologically 'un-pick' his film,
retaliated, "I simply see a group of people who couldn't do what they
wanted to – leave a room". (Luis BuÒuel, My Last Breath, trans.
Abigail Israel, 1984). AdËs's exterminating angel takes more tangible form.
It is a supernatural or mythical force which takes possession of the guests
and leads to what the composer describes as 'an absence of will, of
purpose, of action'. Musically, the angel is embodied by the nightmarish
wail of the ondes martenot – the first time that AdËs has used an
electronic instrument in his music. At moments when the characters find
themselves unable to act, or when they die, the return of this alien timbre
reinforces their entrapment; it is a 'voice' that AdËs describes as
treacherously attractive and alluring, "like the sirens of Greek mythology,
saying: 'Stay!'"
Tom Cairns directs the large cast with meticulous attention to detail while
Hildegard Bechtler's set is sensibly sparse, dominated by an imposing,
square proscenium which swivels like a Kafkaesque plot, denying the
characters escape until the closing moments.
John Tomlinson (centre). Photo credit: Clive Barda.
The cast list reads like a family-tree of British singing-aristocracy, with
John Tomlinson and Thomas Allen relishing their character roles as fusty
doctor and lusty conductor respectively, while Christine Rice sings
beautifully as the latter's wife, Blanca, and Sally Matthews wins our
sympathy as the bereaved Silvia de ¡vila who in Act III pitifully cradles a
dead sheep in her arms believing that her 'Berceuse macabre' is a lullaby
for her son Yoli. Anne Sofie von Otter is brilliantly baffled as the old
battle-axe, Leonora Palma, slipping painfully from reality in her Act 3
aria, a number which sets BuÒuel's 1927 poem 'It Seems to Me Neither Good
Nor Evil' – a textual strategy that Cairns and AdËs employ in several of
the 'aria moments' to convey the characters' mental states.
Iestyn Davies and Sally Matthews. Photo credit: Clive Barda.
In a parodic Baroque mad aria, Iestyn Davies (as Francisco) becomes
wonderfully and woefully unhinged when he finds that there are no coffee
spoons with which to stir his post-dinner beverage, and his sister-fixation
with Matthews' Silvia is convincingly conveyed – well as 'convincing' as
surrealism can be. Sophie Bevan and Ed Lyon are a touching pair of lovers,
Beatriz and Eduardo, remaining apart from the bourgeois vacuities and
choosing to commit suicide, in the score's most delicate duet – a veritable
Liebestod, sung from within a suffocating closet – rather than to become
victims of the exterminating angel.
Sophie Bevan and Ed Lyon. Photo credit: Clive Barda.
Though I couldn't hear a word she sang, Amanda Echalaz is a luscious-toned
hostess, Lucia Marquesa de Nobile, and if Charles Workman, as her husband,
scales the tenorial heights with aplomb, then Audrey Luna tops him,
literally and figuratively, as Leticia Maynar – the opera singer whose
performance in Lucia di Lammermoor ostensibly prompts the original
gathering. Luna's stratospheric peels are as 'unreal' as the ondes
martenot's eerie howl and perhaps it is no coincidence that Leticia, the
so-called 'Valkyrie', who does not share the aristocratic pretensions of
the other diners, is aligned with the otherness of the exterminating angel;
for it is Leticia who first recognises their entrapment and it is she, at
the close, who, with her strange quasi-medieval chanson, enables their
'release'.
Audrey Luna. Photo credit: Clive Barda.
At the end of El ·ngel exterminador, the characters are 'freed' by
the re-enactment of the patterns of their imprisonment. The survivors go to
the cathedral to mourn those who have been lost and give thanks for their
own assumed emancipation, but as they seek solace in the passive church
rituals they find themselves entrapped once more, the cathedral doors
locked.
AdËs and Cairns offer a different conclusion. The Chorus sing a line from
the Requiem mass over and over in a chaconne that, it seems, could go on
for ever. The score has no double-bar line to signal its close. The music
simply stops in the present, presumably to continue for eternity. And, so,
the opera is itself a 'repetition', or a 'repetition with difference',
reprising BuÒuel's film and creating a discursive space between the media
of film and opera.
BuÒuel sometimes showed contempt for those who tried to pin down the
'meaning' of his films. A caption at the start of El ·ngel exterminador reads, 'The best explanation of this film is
that, from the standpoint of pure reason, there is no explanation' and the
film-maker declared, "This rage to understand, to fill in the blanks, only
makes life more banal. If only we could find the courage to leave our
destiny to chance, to accept the fundamental mystery of our lives, then we
might be closer to the sort of happiness that comes with innocence". ( My Last Sigh)
But, it is difficult to ignore the search for 'meaning'. One might look to
BuÒuel's own time: are the film's aristocrats, marooned in their elitism
while the populace protest outside, a metaphor for Franco's Spanish regime,
from which BuÒuel was in exile in Mexico when he made the film? Is the film
a nihilistic statement by one who had witnessed the catastrophes of the
Spanish Civil War?
At the 'close' of AdËs's opera I found myself wondering to what extent he
was playing musical games and how far he was – hilariously and terrifyingly
– satirising our own lives.
Claire Seymour
Thomas AdËs: The Exterminating Angel
Libretto: Tom Cairns, after Luis BuÒuel and Luis Alcoriza
Leonora – Anne Sofie von Otter, Blanca – Christine Rice, Nobile – Charles
Workman, Lucia – Amanda Echalaz, Ra˙l – FrÈdÈric Antoun, Doctor – John
Tomlinson, Roc – Thomas Allen, Francisco – Iestyn Davies, Eduardo – Ed
Lyon, Leticia – Audrey Luna, Silvia – Sally Matthews, Beatriz – Sophie
Bevan, Lucas – Hubert Francis, Enrique – Thomas Atkins, SeÒor Russell –
Sten Byriel, Colonel – David Adam Moore, Julio – Morgan Moody, Pablo –
James Cleverton, Meni – Elizabeth Atherton, Camila – Anne Marie Gibbons,
Padre SansÛn – Wyn Pencarreg, Yoli – Jai Sai Mehta; Director – Tom Cairns,
Conductor – Thomas AdËs, Set and costume designer – Hildegard Bechtler,
Lighting designer – Jon Clark, Video designer – Tal Yarden, Choreographer –
Amir Hosseinpour, Orchestra of the Royal Opera House (ondes martenot –
Cynthia Millar, piano – Finnegan Downie Dear), Royal Opera Chorus (Chorus
director – William Spaulding).
Royal Opera House, Covent Garden, London; Monday 24th April 2017.

image=http://www.operatoday.com/170421_0813%20angel%20adj%20EXTERMINATING%20ANGEL%20PRODUCTION%20IMAGE%20%28C%29%20ROH.%20PHOTO%20BY%20CLIVE%20BARDA.jpg
image_description=The Exterminating Angel, Royal Opera House
product=yes
product_title=The Exterminating Angel, Royal Opera House
product_by=A review by Claire Seymour
product_id=Above: The Exterminating Angel
Photo credit: Clive Barda