The opera is fairly light-weight dramatically. Giovanni Ruffini's libretto
is a variation on countless commedia dell'arte and buffe
scenarios: a rich old man denies his lovelorn nephew his low-born bride
and, falling prey to the scheming machinations of a clever duo of
pranksters, exposes his own ridiculous pretensions and unworldliness about
the wily ways of womankind. Humiliated and humbled, the aged dupe
acknowledges his own foolishness and forgives all: old and young, rich and
poor, man and woman are united in harmonious happiness.
Recognising that the leading characters and the make-believe marriage plot
can easily slump into caricature, ClÈment tries to render the protagonists
as three-dimensional individuals, but in doing so she sharpens the edge of
the comedy to such an extent that, for the first two Acts at least, there's
scarcely a laugh to be had. Don Pasquale – essentially decent despite his
all too human flaws – is used and abused by the sinister Dr Malatesta and
the shrewish Norina: not so much taught a lesson as tossed pitilessly into
a pit of abjection.
I'm not convinced that Don Pasquale deserves such cruelty. We first meet
him, in nightcap and grubby shirt, slumped on a chaise longue
beneath a memento mori painting, waiting for Doctor to cure his
aches and pains. Yes, he is – as Norina bluntly states – old, fat,
lecherous and parsimonious, but he's not really doing anything 'wrong', at
least by the mores of his day, in seeking to protect his family line and
wealth through a profitable marriage for his nephew.
Don Pasquale (Renato Girolami) and Dr Malatesta (Andrey Zhilikhovsky) Photo credit: Bill Cooper.
Moreover, ClemÈnt's intimations of a relationship between Malatesta and
Norina add an uncomfortable tinge. Meeting the young widow in her bedroom
to divulge his scheme, the doctor unties Norina's corset, fondles her neck,
and joins her, fully clothed, in her bath of bubbles. Despite the faux foam
there's not much frothiness about the scene.
Dr Malatesta (Andrey Zhilikhovsky) and Norina (Lisette Oropesa) Photo credit: Bill Cooper.
In any case, Malatesta may be the ingenious intriguer, but this Norina is
indisputably in charge of her own destiny: indeed, we meet her seated at
her desk, quill in hand, penning romantic stories, run-throughs for her own
amorous fortunes. She relishes her power over the hapless Pasquale and
delights in the effortlessness of his undoing; only Malatesta's
intervention stops Norina smashing the flower vase over her new husband's
head, whipped as she is into a crazed excitement by her newfound freedom
and dominion. Liberated by her widowhood, flirtatious and flighty, this
Norina struggles to sustain her play-acting as the demure, pure 'nun' who
is offered to Pasquale as a bride.
It's a weakness of ClÈment's conception of the character that there is very
little difference between the 'real' Norina and the profligate 'Sofronia'
who unleashes her spite and snappishness on the ill-fated Pasquale. Slapped
by his spendthrift bride, Pasquale is utterly humiliated but this Norina
shows not the slightest twinge of regret in the face of his vulnerability.
However, if Norina does not display a little essential warmth, whatever her
vivacity and feistiness there's a danger that we will lose sympathy with
this heartless viper.
Juxtaposed with this harsh realism, though, ClÈment repeatedly foregrounds
theatrical artifice. The set is a circular revolve rimmed with a swishing
red curtain which withdraws to reveal Don Pasquale's slightly down-at-heel
house (presumably he's too mean to pay for redecoration). As the overture
plays – lilting lightly in conductor Giacomo Sagripanti's hands – we spin
through the old miser's rooms and espy Pasquale, his nephew Ernesto and the
latter's beloved Norina asleep in their bedchambers, and occasionally
snatch a glimpse of Glyndebourne's stage-crew speedily redistributing beds,
baths and boudoir paraphernalia. It's a musical 'Once upon a time': we're
about to be told a story and there's no doubting its author: the menacing
Malatesta who creeps through bedrooms, sidling through doors, slithering
through picture frames, like a Knecht Ruprecht of children's gothic
nightmares. With the concluding accelerando, the revolves spins
ever faster and we tumble off the merry-go-round into the first scene.
Don Pasquale (Renato Girolami) and The Glyndebourne Chorus Photo credit: Bill Cooper.
ClÈment uses the Chorus – in superb voice here – to sustain the
stage-within-a-stage. Just when we've forgotten that there is a
Chorus, at the end of Act 2 the principal quartet step off the revolve – as
Norina, having abandoned her pretence, issues demands and summons
Pasquale's servants to carry them out – and it swivels, bringing into view
an 'audience' of eighteenth-century 'idle rich', head to toe in white,
watching Pasquale's dressing-down with cool amusement. The busy overture to
Act 3 brings the aristocrats back as they bustle and elbow their way
through the drawn-back curtain aperture – all waggling wigs and fluttering
fans – to take their places in Don Pasquale's room, where the luckless dupe
is mourning his lot, amid the mounting piles of bills, invoices, jewels and
finery. Forming a formal tableau, the Chorus fling out the cries – 'The
diamonds, the brilliants — here, quick, quick!' – which belong to the maids
and milliners, hairdressers and horsemen who populate the libretto: it's
all rather disorientating.
Don Pasquale (Renato Girolami) Photo credit: Bill Cooper.
But, after two somewhat cold-blooded acts, the final act comes to life, not
least due to some fine duets which soften the steeliness of the concept. In
fact, there's much fine singing and acting to enjoy throughout. Renato
Girolami's Pasquale blunders with charm: there's plenty of ego-massaging
and preening but as he clutches a rocking-horse and dreams of a brood of
children to fill his empty rooms, it's hard not to feel that a man who is
this naÔve at seventy-years-old must truly be in need of a woman's love.
Occasionally Girolami's bass lacked focus, but he exhibited a range of
colour, able to convey the languid self-absorption of the bed-bound
Pasquale and, in a flash, to enrich his voice with the old lecher's
fired-up ambition. Moreover, he was good at distinguishing between the
asides and self-mutterings and the text exchanged with the other
characters.
Girolami made the text work, too, and the rapid-fire articulation in
Pasquale's patter duet with Andrey Zhilikhovsky's Malatesta was one of the
highlights of the evening – the more so for its slick reprise.
Zhilikhovsky's baritone was unforced and focused, even of strength, and he
used a resonant legato to shape the bel canto lines effectively.
He was a convincingly cunning schemer: no doubt he would make an astute Don
Alfonso.
Andrew Stenson's Ernesto – prone on his bed, reading poetry, surrounded by
teddy bears – was less tempestuous poet than petulant toddler, taking his
frustration out on his guitar. Stenson has a pleasing tone but lacked the
necessary agility; strong through the range, at the top his tenor felt a
little tight and the fortes needed more flexibility. He sang his
serenade sweetly enough but was rather overpowered in his Act 3 love duet
with Lisette Oropesa's Norina.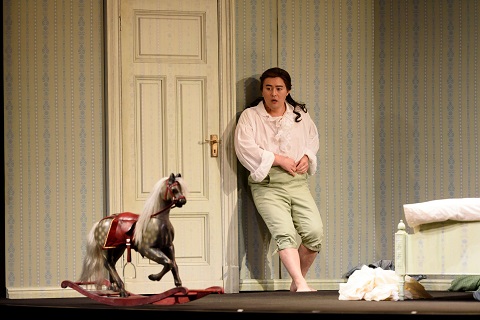 Ernesto (Andrew Stenson) Photo credit: Bill Cooper.
Oropesa doesn't have a huge voice but it's a carefully placed one that sits
absolutely securely but lightly on the roulades. This was a prima donna performance in every sense, and the foot-stamping
accolades Oropesa received were totally deserved. At first there was a
slightly hard edge to the tone – perhaps it was intended to reflect
Norina's flintiness – but in her Act 1 duet with Malatesta, and during her
raging assault on Pasquale in the final act, Oropesa's accuracy and ease
were notable.
Sagripanti gave his singers plenty of time and space in the arias, though
there was some loss of ensemble during the act finales; no doubt the minor
blemishes will be erased as the run proceeds. The London Philharmonic
Orchestra played sensitively – including a lovely solo cello foretaste of
Ernesto's serenade in the overture and stylish playing from the trumpet in
the Act 2 prelude – but also with tautness and incisiveness.
The thing about stereotypes is that in their faults and flaws we recognise
our own, and such acknowledgement creates humanity and empathy. They may be
caricatures, but we laugh at them and by implication ourselves. Pasquale
fulminates and fumes but, ultimately, he forgives. I'm not sure, faced with
the wanton cruelty of ClemÈnt's characters I'd have been so inclined to be
generous. Yet, while Donizetti's music may need to be sung with more of a
smile in the voice, the singing on this occasion certainly offered plenty
to smile about.
Claire Seymour
Don Pasquale – Renato Girolami, Dr Malatesta – Andrey Zhilikhovsky, Ernesto
– Andrew Stenson, Norina – Lisette Oropesa, A Notary – James Newby, Servant
– Anna-Marie Sullivan; Director – Mariame ClÈment, Conductor – Giacomo
Sagripanti, Designer – Julia Hansen, Lighting designer – Bernd Purkrabek,
Revival lighting designer – Andrew May, London Philharmonic Orchestra,
Glyndebourne Chorus (Chorus Master, Jeremy Bines)
Glyndebourne Festival Opera; Thursday 13th July 2017.

image=http://www.operatoday.com/-%C2%AEBC20170708_DonPasquele_0455.jpg
image_description=Don Pasquale, Glyndebourne
product=yes
product_title=Don Pasquale, Glyndebourne
product_by=A review by Claire Seymour
product_id=Above: Norina (Lisette Oropesa) and Don Pasquale (Renato Girolami)
Photo credit: Bill Cooper