Though it really was not crumbling, decaying socialist housing, it was actually a vagina shaped cavity into which thrust two phallic platforms, in and out repeatedly throughout this long, loud, gross evening.
Shostakovich's cheeky opera meant to impress Soviet authorities with politically correct attitudes backfired at its premiere, and Shostakovich was artistically sidelined for years. Just now stage director Andreas Kriegenberg's extreme re-imagining of the piece in monumental uber-expressionistic terms, meant as well to be politically correct and impress the sophisticated Salzburg Festival audience, backfired as well.
Without comment on current, hackneyed socio-artistic platitudes let me simply attribute the misfortune that beset Herr Kriegenberg's production to the common cold and attendant laryngitis. Heroically voiced soprano Nina Stemme, indisposed, sang but the first two of five performances. She was replaced for the remaining performances by the sweetly voiced rape victim of the opera's second scene, Russian mezzo soprano Evgenia Muraveva.
Make no mistake. Mlle. Muraveva is already a first-class Katerina Ismailowa. She is young and pretty and has a beautiful lyric voice, ideal for a straight forward take on life in czarist Russia by a young, sympathetic and erotically motivated Soviet composer.
But with cast concrete sets soaring 20 meters (60 ft) into the loft of the Grosses Festspielhaus, with two suspended phallic appendages charging in and out, with high powered character singers in all other roles, and with the super-charged Vienna Philharmonic in the pit this fine young artist was out of her depth.
Thus the production failed.
My suspicion is that Nina Stemme was the key to Herr Kriegenberg's production. Mme. Stemme is not a simple woman. She is both Br¸nnhilde and Elektra, and she is well able to scale the heights of Herr Kriegenberg's socialist Valhalla in all its putrid glory.

Nina Stemme as Katerina, Stanislav Trofimov as the Pope
And it was indeed putrid. Shostakovich's opera is famously pornographic. Mr. Kriegenberg, abetted by conductor Mariss Jansons made sex as ugly as it could possibly be in scenes of anal penetration, colossal, collective humping. Not that there were not some light, kitsch touches. The arrested atheist who proclaims that frogs have souls was a Shostakovich look alike, the policemen effeminately cooked, wove and crocheted, the priest was dead drunk, etc.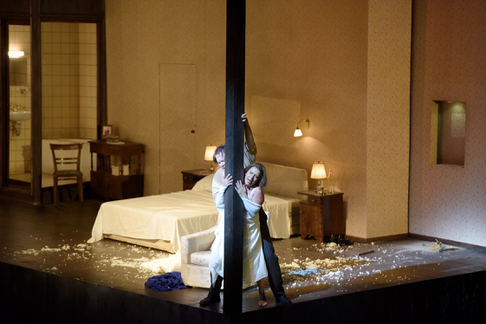 Nina Stemme as Katerina, Brandon Jovanovich as Sergey
And further kitsch — there was sperm everywhere — flying feathers of pillows ripped apart, hundreds of little phallus sized cans of aerosol spewing thousands of tiny bubbles, bottles dispelling liquid through narrow necks. And so on.
I would have loved to have been offended and amused by such grossness. Overheard comments at the intermission noted that it was indeed an "extreme" production. And finally Mlle. Muraveva's Lady Macbeth was greatly appreciated by audiences. But as it was I was disappointed that the Salzburg Festival did not respect Herr Kriegenberg's production enough to find an appropriate replacement for Mme. Stemme.
Michael Milenski
---
Cast and production information:
Evgenia Muraveva: Katerina Lvovna Izmaylova; Dmitry Ulyanov: Boris Timofeyevich Izmaylov; Maxim Paster: Zinowy Borisovich Izmaylov; Brandon Jovanovich: Sergey;
Tatiana Kravtsova: Aksinya / Woman Convict; Andrei Popov: Shabby Peasant; Oleg Budaratskiy: Porter / Sentry; Igor Onishchenko; Millhand Vasily Efimov: Coachman / Teacher; Stanislav Trofimov: Pope; Alexey Shishlyaev: Chief of Police; Valentin Anikin: Policeman / Officer; Ksenia Dudnikova: Sonyetka; Andrii Goniukov: Old Convict; Gleb Peryazev: Manager; Martin M¸ller: First Worker; Oleg Zalytskiy: Second Worker / Drunken Guest; Ilya Kutyukin: Third Worker. Chorus of the Vienna Statsoper; Vienna Philharmonic. Mariss Jansons: Conductor; Andreas Kriegenburg: Director; Harald B. Thor: Sets; Tanja Hofmann: Costumes; Stefan Bolliger: Lighting; Christian Arseni: Dramaturgy. Grosses Festspielhaus, Salzburg Festival, Salzburg, August 21, 2017.

image=http://www.operatoday.com/Mtsensk_Salzburg1.png
product=yes
product_title=Lady Macbeth von Mzensk at the Salzburg Festival
product_by=A review by Michael Milenski
product_id=Above: Eugenia Muraveva as Katerina, Brandon Jovanovich as Sergej [All photos copyright by the Salzburger Festspiele / Thomas Aurin]