But, in the event, this performance of Damiano Michieletto's production of
the verismo duo was so compelling that the December chill and
Christmas sparkles of the Covent Garden piazza were utterly forgotten and
for three hours we were in a village in south Italy, with its family
bakery, shabby school hall, kitsch Easter parade, black-veiled mamas and
flower-strewn madonnas.

In 2015

, I found the incessantly revolving set distracting and some of
Michieletto's gestures mannered; but, this time round (the first revival) I
was absolutely persuaded. How to explain my change of heart? Perhaps it was
that revival director Rodula Gaitanou seemed to have found a way to balance
stylisation and naturalism in such a way that the movement of cast and
chorus around the revolve, and the interweaving of motifs across the two
operas, felt genuine and 'real'. Just as, under the baton of conductor
Daniel Oren, the ROH orchestra gave us an introductory tour of the
emotional trajectory of Cavalleria, so the revolving set seemed to
take us on a stroll through the town, and not just into its homes and
houses but into the hearts and minds of its inhabitants.
Inside the Panificio bakery, with its sacks of flour stacked high
beside the mechanical weighing scales, the trays of loaves sat waiting for
the oven. The Catholic icon perched on a high shelf later found its way
into the scuffed school hall where the performance of Pagliacci –
advertised on the bakery wall – took place. The children scrabbling for
panettone at the bakery window donned tinsel halos and papery wings to form
an angelic Easter choir, and after the parade remained in costume to
reappear on the cramped school stage in a choral prelude to Pagliacci. The ROH Chorus – as ever, in tremendous voice –
wandered casually about the village, gathered in the square for a
post-parade knees-up, assembled eagerly for the ensuing entertainment, all
with complete naturalism.
There are some surreal and stylised moments too. When the devout villagers
raise their candles and adjust their shrouds during the Easter hymn, the
gaudy Madonna on the festive float seems to come to life, pointing an
accusatory finger at the traumatised Santuzza. And, the meta-theatre of Pagliacci is emphasised not just by the interlocking jigsaw of
Paolo Fantin's set, which allows us to witness parallel action as fiction
spills into fact, but also by Alessandro Carletti's lighting contrasts
which pit blinding strip lights against blackness, and a lurid green glow
against a rosy-pink shimmer.
What really swept me to the Italian South, though, was the terrific singing
of all involved. This was the first time that I have heard Latvian
mezzo-soprano El?na Garan?a and I was struck by the expressive weight of
her voice, which burst forth with power and punch – as if the betrayed
Santuzza's distress and dishonour were just too devastating to be
contained, literally overwhelming her and all around her too. Indeed, the
rich layers and grand plushness of her mezzo seemed almost too majestic for
the unlucky lass in a dowdy cardigan, but I guess that's what Mascagni's
music is telling us: that human emotions have no bounds or boundaries.
I remained unbeguiled by Michieletto's decision to begin Cavalleria at its end, presenting us with a play of maternal grief
as Mamma Lucia bends over the bloody body of Turiddu – a child's red
scooter-bike leaning on the street-lamp adds a touch of sentimentality –
and I again found Elena Zilio's histrionic head-clutching, body-convulsing
and hand-wringing to be hyperbolic. But, elsewhere Zilio was a strong
presence, physically and vocally, in the production – a true matriarch in
every sense.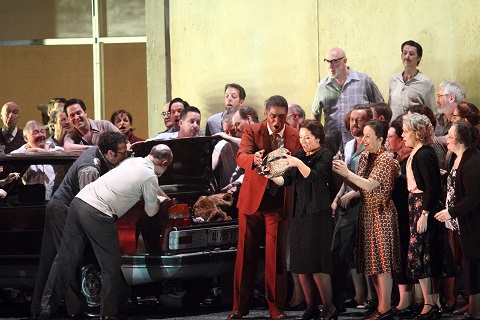 Mark S. Doss (Alfio/centre) and ROH Chorus. Photo credit: Catherine Ashmore.
Mark S. Doss convincingly cast aside the relaxed confidence which Alfio
displays when he rolls into town with a car boot full of fashionable wares
– the tussle between two girls who fancy the same handbag is a neat touch –
for dark-toned menace when he learns of Lola's betrayal. Martina Belli
returned to the latter role and her glossy mezzo-soprano gave the temptress
real allure.
Carmen Giannattasio (Nedda) and Simon Keenlyside (Tonio). Photo credit: Catherine Ashmore.
Also reappearing in her 2015 role, Carmen Giannattasio was a persuasive
Nedda in Pagliacci, encompassing a gamut from shining ardour to a
silvery whisper in her duet with Polish baritone Andrzej Filo?czyk's
warm-hued Silvio, and acting superbly when 'Columbine' is dragged by the
raging Canio from harmless play-acting to murderous reality.
Simon Keenlyside injected a terrible hostility into the Prologue of Pagliacci. Alone in Nedda's claustrophobic, starkly-lit backstage
dressing-room, as he invited us to enjoy the ensuing drama, Tonio seemed to
sneer with contempt at our gullibility and casual ignorance as he reminded
us that what we were about to see involved real people with real emotions.
And, Keenlyside made sure that the rejected hunch-back's latent menace was
evident throughout, despite Tonio's shabbiness and shuffling: think
Rigoletto meets Iago.
Elena Zilio (Mamma Lucia) and Bryan Hymel (Turridu). Photo credit: Catherine Ashmore.
It was American tenor Bryan Hymel, though, who stole the show. Cast as
Turiddu, he also stepped into Canio's shoes (family circumstances obliged
the originally cast Fabio Sartori to withdraw from the first three
performances), and proved equally compelling in both role debuts, holding
nothing back despite the vocal, and expressive, demands. The confident,
bright ring of his tenor was imbued with deeper, darker colours when
Turridu was confronted by the vengeful Alfio, and in his farewell to Mamma
Lucia, Hymel heartbreakingly conveyed the doomed Turridu's honesty,
self-knowledge and vulnerability. Canio's account of the evening
entertainment to come, at the start of Pagliacci, had a
lyricism and power that hinted at terrifying tragic potential. And, indeed,
Hymel continually ratcheted up the emotional thermometer until the mercury
exploded in a blazing conclusion.
Tonio may have spoken the truth when he spat out his closing line, 'La commedia Ë finita!',
but the impact of this double bill's punch will surely be long-lasting.
Claire Seymour
Cavalleria Rusticana
: Santuzza – El?na Garan?a, Turiddu – Bryan Hymel, Mamma Lucia – Elena
Zilio, Alfio – Mark S. Doss, Lola – Martina Belli.
Pagliacci: Canio – Bryan Hymel, Tonio – Simon Keenlyside, Nedda – Carmen
Giannattasio, Beppe – Luis Gomes, Silvio – Andrzej Filo?czyk, Two Villagers
– Andrew O'Connor/Nigel Cliffe.
Director – Damiano Michieletto, Conductor – Daniel Oren, Set designs –
Paolo Fantin, Costume designs – Carla Teti, Lighting design – Alessandro
Carletti, Orchestra of the Royal Opera House, Royal Opera Chorus.
Royal Opera House, Covent Garden, London; Wednesday 6th December
2017.

image=http://www.operatoday.com/Santuzza%20and%20madonna.jpg
image_description=Cavalleria Rusticana and Pagliacci at Covent Garden
product=yes
product_title=Cavalleria Rusticana and Pagliacci at Covent Garden
product_by=A review by Claire Seymour
product_id= Above: El?na Garan?a (Santuzza/left) and ROH Chorus
Photo credit: Catherine Ashmore